Topshop closing: where to buy clothes from the brand as ASOS takes over - and what happens to returns, vouchers and store cards
Topshop, Miss Selfridge and Topman websites have all been closed down and redirected to new owners, Asos
Shoppers may get a surprise when they try to buy their favourite jeans on the Topshop website this week, as they will be redirected to the Asos website.
The British online fashion retailer has purchased Topshop, Topman, Miss Selfridge and HIIT for £265m and the stores and websites of those brands are set to close down.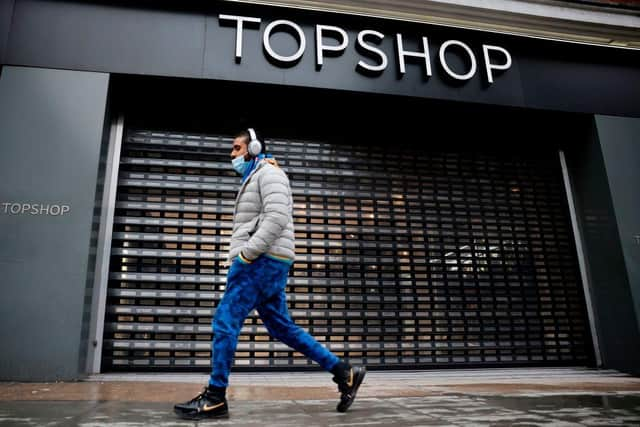 Customers will be wondering what this means for returns, future purchases and gift and store cards. This is what we know so far.
Will you still be able to buy Topshop clothes?
Shoppers will still be able to access merchandise sold by the Topshop, Topman and Miss Selfridge brands.
However, these will now be sold as part of the wider Asos site and shoppers will no longer be able to shop for products in store or on the brands' previous websites.
In order to view only Topshop or Miss Selfridge items, you will need to go to the 'womens' section menu tab on the Asos site, click on the brands section and then select either Topshop or Miss Selfridge.
Topshop also features on the main drop down menu from the women's section.
Can I return my Topshop items?
Yes, despite the Topshop site being closed and redirecting shoppers to the Asos website you can still return Topshop items.
Items bought from the previous website can still be returned if within the returns period.
The current period for returns is 28 days, though this could change and you should always check the returns policy before purchasing an item.
The return of items bought before 4 February are the responsibility of Arcadia's administrators, Deloitte.
Often when a company enters administration there can be issues with returns so you should always check the policy before proceeding with returning an order.
Topshop merchandise cannot currently be exchanged or returned in store.
Deloitte has not disclosed whether it will accept returns of items bought in store.
Can I still use my Topshop gift card?
Gift cards which were purchased while Topshop was owned by Arcadia are no longer being accepted by Asos.
The websites belonging to Arcadia closed on 4 February, customers were given until this date to use gift cards for up to 50 percent of their purchases.
This meant, for example, you could only pay £50 of a £100 order from Topshop using gift cards and the other would need to be covered by a credit or debit card payment.
Now that Topshop, Topman and Miss Selfridge have transitioned over to Asos, you can no longer make use of gift cards purchased from Arcadia.
Can I still use my Topshop store credit card?
No, store cards are only able to be used in the retailers who distribute them.
Your store card is linked to the high street chain you entered into the contract with and not the new owners, Asos. Therefore, these cards will be of no use from 4 February as this is when Asos takes over from Arcadia.
You will still be expected to pay back your store card credit usage in full, and any issues with these payments should be raised with the card owners, New Day.
What will happen to the clothes which are still in the Topshop stores?
It has yet to be revealed exactly what will happen with the clothes and other merchandise currently held in the 70 Topshop stores across the UK.
The stores could reopen for a brief period when the government allows non-essential retail to reopen, in order to sell off any products in a flash sale.
Asos could also launch a sale of the products, though nothing has been confirmed to date.