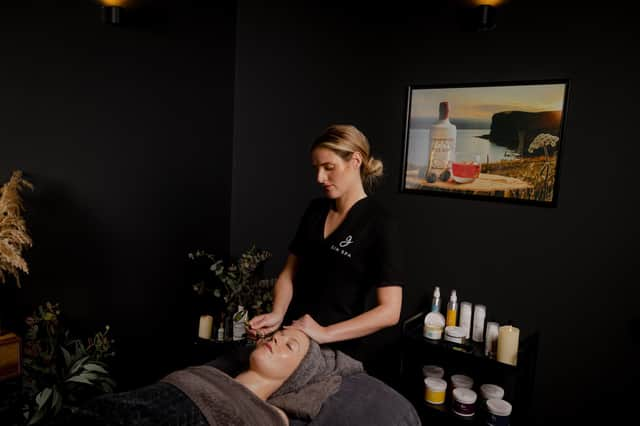 I've never been in more need of a gin and massage combo than on my recent visit to The Gin Spa in Glasgow.
The adverse weather meant my train had been delayed by 40 minutes, I'd missed my original appointment, and arrived feeling stressed, with wet feet and a broken brolly. Thankfully, I'd phoned them en route and they'd managed to kindly accommodate me later on in the day.
This was my first look at this five-year-old business's £300k and 2500 square foot expansion after coming under new ownership. While they used to be just on the ground floor, they've now also taken over the basement of this building, where they've installed a low lit, sparkly carpeted space, with a fireplace and treatment rooms that are each sponsored by a Scottish gin brand.
You can have your therapy in Caorunn, Rock Rose, Edinburgh Gin or Gin Bothy, among others, but I'm taken into the Isle of Harris Gin room, where there's one of their ridged bottles on a plinth, a kelp mosaic on the wall, and a painting of a deserted beach.
My therapist, Alice, is from Islay, and has a beautiful and suitably soothing accent. She gives me the introductory foot wash, using sea salts, then tells me to get ready. "And I'll chap on the door, to see if it's okay to come in," she says.
I'm also instructed to choose three cards from the deck, designed by Scottish company Just Be, who also create the aromatherapy lotions for this place. They all feature inspirational phrases, and one is, "it's never too late", which seems apt, after the journey I've had.
I go on to have a spectacular massage, and Alice is as tough as a shot putter. She works on my knots, with thumbs, forearms and elbows. My back gets most of the work, but there's still plenty of time to work on legs, arms and shoulders, using a eucalyptus-based oil. As well as the rub down, my limbs are each lifted off the bed and manipulated until every muscle is soft as Luskentyre sand. The experience concludes with some neck stretches using a towel to extend my tight scalenes.
Once I've dressed and been decanted into the lounge, I'm invited to choose a gin and tonic from their menu, which also features mocktails.
Unfortunately, as my schedule has gone awry, I have to rush home without that drink. I'm just glad that the inspiration card told me it was never too late, though that doesn't seems to apply to the trains.
Signature Full Body Massage, £85 for 60 minute, The Gin Spa, 2 Virginia Court, Glasgow (0141 471 0419, www.theginspa.co.uk)