Fashion designer Alice Temperley talks to us on her first proper visit to Scotland
She visited the Capital for a trunk show at Rachel Scott Couture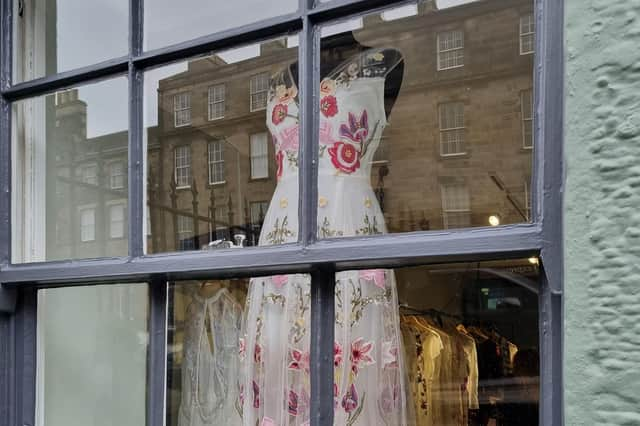 I wish I hadn't worn jeans to meet fashion designer Alice Temperley MBE.
They are the antithesis of her signature style.
"I don't wear those, or tracksuits either. I like your walking boots though", she says, while I try to tuck my muddy soles under the sofa.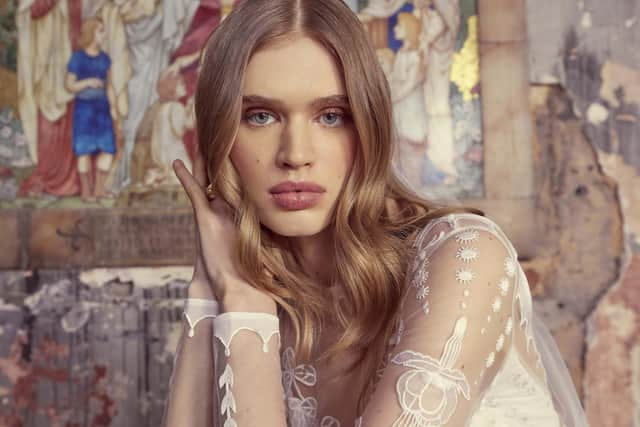 In contrast to my scruffy look, the 47-year-old is sporting her usual Bohemian ensemble.
This includes a black strapless semi-sheer dress, with knee high boots and a fedora, all of which she's teamed with a belt that has the sparkliest diamante clasp I've ever seen. She also has her teenage son's name, Fox, tattooed in capital letters on her wrist, and wears silver rings that are as chunky as knuckle dusters.
She hasn't underdressed for what is the second ever visit to Scotland - "well, I once visited Edinburgh when I was studying" - for the Somerset-based designer, who is as English as Scrumpy Jack.
"Sorry Scottish people", she says. "I'm really embarrassed that I haven't properly been here before".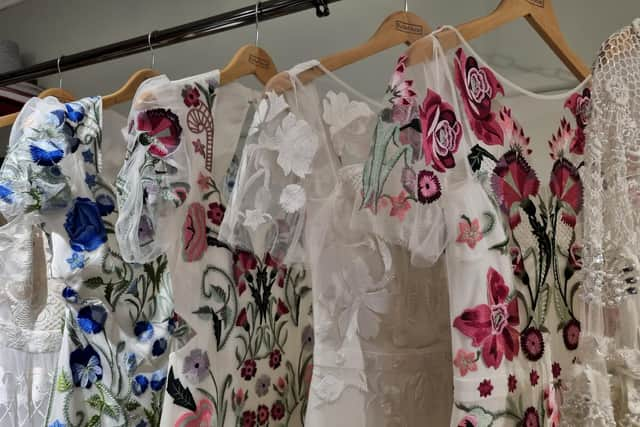 Over the last six months, Temperley has visited almost everywhere else. According to her, that includes Bali, as well as Nigeria, Kenya, and the US, where she's been promoting her new Temperley London x Romo homeware collection.
"This will be my last travelling for a bit, before catching up with my day job", she says.
She's in town to showcase her collections at Edinburgh stockist, bridal boutique Rachel Scott Couture.
Her gowns are already hanging in rows on the shop shelves, but they're not all ivory and lace. Among other pieces, this Dundas Street shop also stocks her eveningwear and Heritage pieces, which include the Opera Tattoo dresses, which are heavily embroidered and beaded in bright zesty colours.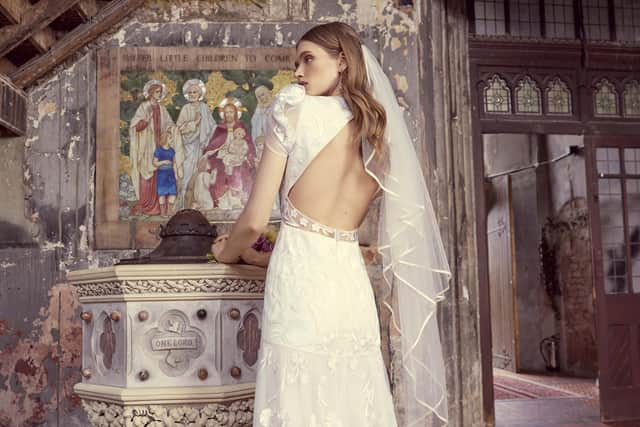 She's keen to show off the workmanship.
"I hope that people still unpack them in hundreds of years and go, oh my God, this is a work of art," she says. "They're heirlooms and I want people to understand their story. That's why I don't want to do T-shirts and jeans, I want to do things that are really special. That's where my passion is".
Indeed, they're the sort of thing you'd wear to a very glitzy premiere.
Since her label, which was set up with her former husband, Lars von Bennigsen, launched in 2000, her designs have been celebrity favourites.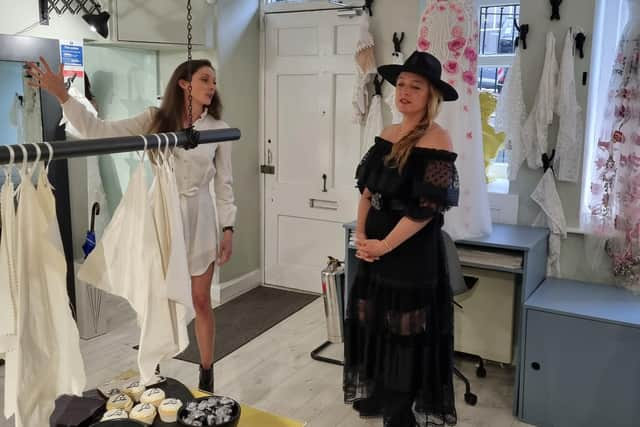 Fans include Pippa Middleton, Madonna, Florence Welch, Beyonce and Kim Kardashian.
Although you might argue that her label had its ultimate heyday in the Noughties, the A-list endorsements haven't slowed down.
As she says, "There are dresses that I designed 10 years ago that are still pulled in for the red carpet".
This still matters, in the age of influencers and social media.
"Every day, there's something, and that's flattering, because we're still relevant and it does still help with awareness, when there are so many brands out there. So much noise," she says. "Just yesterday, Carrie from Sex & the City wore one".
It turns out this was for the teaser for the second season of And Just Like That.
However, this designer would really love to get one of her frocks on Annie Costner - the daughter of Kevin Costner, who is appearing in the Amazon Prime television series Yellowstone.
"I've just reached out to her to see if I can shoot her. Her character is just so wickedly brilliant. There's none of that kind of wet, kind-of girly, sissy type thing. She says it how it is," before adding that she tries to channel this persona by having conviction when it comes to her designs. "I'm sticking true to what I believe in".
Although the stars are still wearing her creations, it's been a tricky time for the Temperley London brand, which has shops in Somerset, Dubai and Chelsea, London. Over the last couple of years, there have been reports of financial problems.
"My electricity bill came through, and it was the price of a luxury holiday," she says.
They're now trying not to spread themselves too thinly and avoid catering to transient trends. Although the Somerset by Temperley collection was the fastest ever selling collaboration for John Lewis, back in 2012, that high street pairing is unlikely to be repeated anytime soon.
Although the wedding business is certainly picking up, post-lockdown, the business has still had to restructure.
"We're not wholesaling because that's too volatile. We sell directly to customers and are avoiding the sales cycle. The Bridal and Heritage businesses run with consistent stock, which is never put into sale. It's a more sustainable model" she says. "I would like an incredible dress to still be offered in 10 years time. It doesn't need to be redesigned if it's beautiful. And that's how the bridal business works, which is amazing, though, obviously, we add styles for a bit of newness, but stores still want their best-selling pieces. We've also reduced the size of our team. We took our atelier out of London and literally jumped through hoops. I've never worked as hard".
In order to get some presumably brief respite, Temperley will be heading back to Somerset first thing in the morning, after a night at Gleneagles Townhouse on her Scottish whistle-stop tour. After recent travels, her trip to this Edinburgh shop was a one night affair.
"I was so tired this morning that I put diesel in my petrol Land Rover and it broke down and we had to get a taxi to the airport, " she says. "Sometimes it's really challenging and I think, f*ck it, give me a canvas and I'll just paint instead. Twenty years ago, I would be crying with stress and anxiety before a catwalk show, but now that I don't do those anymore, I still get the adrenaline. I go 100 miles an hour, but it's better than doing nothing. I love what I do and don't want to stop making these beautiful things".
Comments
 0 comments
Want to join the conversation? Please or to comment on this article.