Chanel: We visit Harvey Nichols Edinburgh to get some colour in our cheeks
This brand is ideal if your skin is looking peaky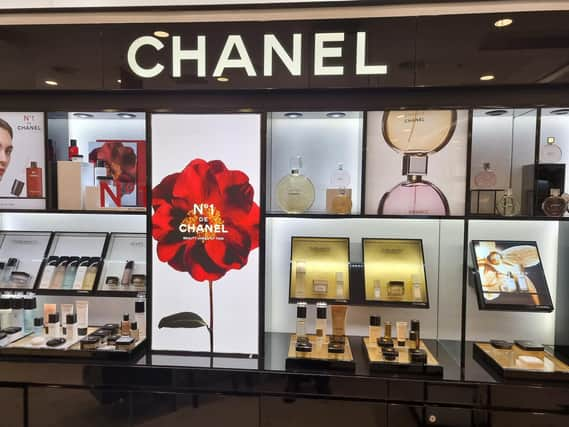 My complexion is grey and wan. I blame this time of year and the low winter light.
If there's any beauty brand that knows how to fix my peely-wally woes, it's CHANEL. Book me in.
I'm visiting them at Edinburgh's Harvey Nichols, where their field retail manager, Lucinda Paterson-Brown, will be showing me what's new.
I can already tell that she knows her stuff, thanks in part to her perfect blusher and her nail lacquer in a charcoal hue. Make me look like you, I want to say, though maybe I'll let her take her tailored approach.
Once I'm perched on the high stool by a mirror, she talks me through the new collections.
First up, it's the CHANEL No1 de Chanel line of skincare, which features the main ingredient of red camellia. After gently removing my makeup, I'm anointed with some of this collection's aqueous and easily absorbed Revitalizing Essence Lotion. It takes its cue from Korean skincare, and goes on underneath their matching serum. The third layer is some of their winter-friendly Rich Revitalizing Cream, which launched this month and seems to cushion my parched epidermis.
After applying the moisture, Lucinda shows me a short massage sequence, to get the lymph moving.
Now the painting can start. There's some of their Le Blanc de CHANEL primer, then a Revitalizing Foundation. It's matched on my chin, with stripes in three different shades.
I'm surprised to not be the palest of all, as Lucinda chooses something in the middle, which is applied using a soft brush.
I want to take her lead when it comes to blush. TikTok recently told me that you don't apply it to the apple of your cheek anymore. Lucinda agrees. Instead, she recommends a teardrop shape, moving from the cheekbone outwards. She uses a coral-hued Les Beiges Water-Fresh Blush, which consists of tiny suspended capsules that pop on application.
I'm sold, and I also love the lipstick she goes for. It's from this month's new Rouge Allure Velvet line, which comes in 20 colours. To find a match, Lucinda holds these up to my face in the mirror, as you would with clothes, to see if the shade suits you. We end up going with the nude-y pink of Intemporelle.
Lucinda provides a refresher on applying eyeshadow, brushing up and out, and finishes me off with liquid liner and mascara.
Am I still grey? Absolutely not.
This may feel like the longest winter ever, but at least I can see the rest of it out in chic technicolour.
Their L'Heure Iconique hour long make-up session is £60, which is redeemable on products bought on the day of the appointment.
Comments
 0 comments
Want to join the conversation? Please or to comment on this article.