Working from home wellbeing: how to stay fit, healthy and happy while working from home
Working from home has its perks. It means getting up a little later, wearing comfy clothes, and avoiding the usual commute since your office is in the room next door
But since you're moving less throughout the day and spending lots of time in the same place, it can be hard to stay fit, happy and motivated.
So, here are some tips to stay in shape, maintain a positive mindset and beat the lockdown blues.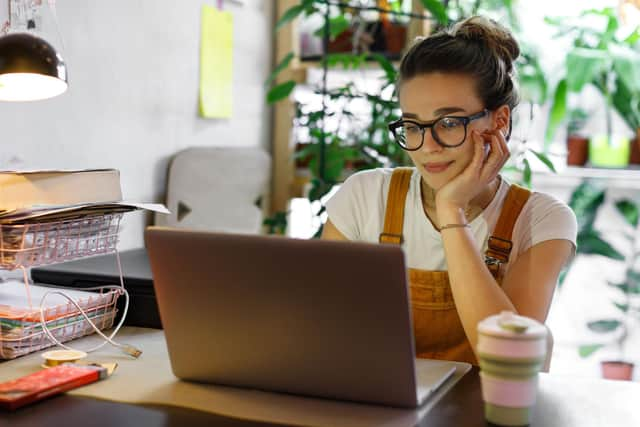 Start the day off by exercising before work, or even during your lunch hour. A walk, run or even an at-home yoga workout could be beneficial to your fitness and mental wellbeing.
If you're a fan of yoga or it's something you're wanting to get into then you could try out Yoga with Adriene.
Choose from short and long videos, different areas of the body to target, or 30-day challenges you can get stuck into while under lockdown.
Advanced yogis can also try the Fightmaster Yoga YouTube channel run by Lesley Fightmaster, who offers powerful, fast-moving yoga practices.
Even if just for five minutes at the start of the day, meditation can help reduce stress, increase calmness and clarity and promote happiness.
Try this five-minute YouTube meditation practice that you can do at home.
Swap out crisps and chocolate for carrot sticks and hummus or easy-to-peel tangerines for something light that will boost your energy levels.
Plan your meals in advance and stick to the plan. Try cooking in batches and freezing meals ahead of time - this is a good way to reduce food waste too.
Up your daily intake of nutrients that help to support your immune system to ensure you have plenty of energy.
Boost vitamin A with sweet potato and spinach, vitamin C with berries, tomatoes and peppers and zinc with meat, dairy, bread and shellfish.
If possible, choose a place for your workspace environment that has natural lighting. This can be beneficial to your mood and increase productivity.
Being near a window while working can also up Vitamin D levels, which helps regulate the amount of calcium and phosphate in the body to keep muscle, teeth and bones healthy.
Make sure your desk is free of clutter so that you have space to work, and tidy loose wires with zip ties or clamps.
Green or colourful plants add colour to your home office, boost your mood and reduce stress - pick one that's easy to maintain.
Although it can be difficult when working from home, try to stick to your usual office hours rather than doing overtime or unusual shifts.
When you're finished work, close your laptop and put away your things to revert your home to a comfy living space.
If it's possible, your workspace should be in a room or space as far away as possible from the place where you sleep if you want to increase your productivity.
Getting some fresh air can also really help clear your head, so if it's possible and safe, head into the fresh air before work, on your lunch break or after your shift.
Try a brisk walk, a run or get out on your bike and enjoy the spring weather, but of course bear in mind the government's daily exercise rules.
Stay in touch with family and friends
Keeping in touch with friends and family can be a great way to boost positivity all round.
Even if it's just for five minutes or during a lunch break, a quick text, phone call or video call with those close to you can be a great way of stay in touch.
If you live with flatmates or your family then grabbing lunch with them during your break while working at home can also be a great way to relax.
Don't get bogged down with working all of the time - take time to wind down, relax and enjoy your hobbies.
Although you can't travel just now, why not take a holiday and spend time doing what you enjoy, whether that's learning a skill or simply relaxing on the sofa with a book.