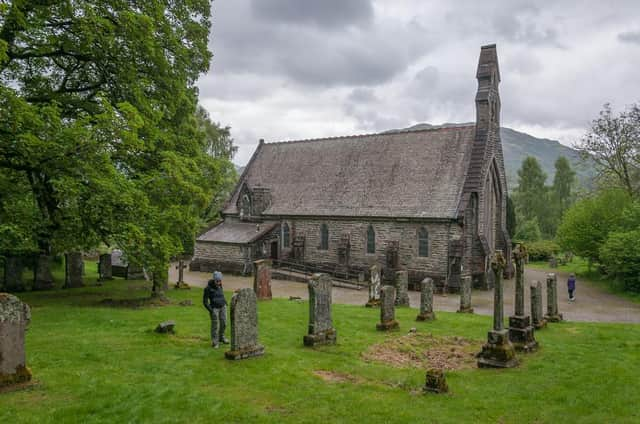 When Isobel Cuthbert embarked on a hunt for her soldier uncle's gravestone in 2013, she wasn't holding out much hope.
She'd recently discovered that, after his death during the Aden conflict in 1965, her uncle, John Francis Lonerganl had been buried in a local cemetery in Aden, Yemen - today one of the world's most dangerous countries.
For obvious reasons, she'd never seen the headstone for herself, and suspected she never would when she posted on an off-chance photo request on Findagrave.com, the world's largest online database of cemetery records.
Yet within weeks, the chaplain for the church attached to the cemetery emailed saying he would be delighted to take a photograph of the stone.
Even more astonishingly, recounts Isobel, "a local man who looked after the cemetery, unpaid, washed the stone and laid flowers on it for me for the photo...it was absolutely incredible".
The goodwill of these strangers, half a world away, is just one example of the numerous quiet acts of kindness that take place on and offline through Findagrave each day, a website bolstered entirely by unpaid, individual volunteers.
In Scotland, as in most other corners of the globe, local volunteers take it upon themselves to scour hundreds of cemeteries nationwide, from the Borders to the edge of the Shetlands, photographing, transcribing, researching and uploading the gravestones and memorials they find there.
Oftentimes, they set out in search of personal family records, but the bulk of their efforts benefit strangers across the globe, some of whom are also searching for long-lost family, but many, too, who have no prior awareness of their Scottish roots.
For Kayleigh Smith, whose name has been changed for the purposes of this article, becoming a member of Findagrave was not the beginning of her interest in ancestry and genealogy, but in fact provided somewhere to upload the photographs she'd been taking for years.
"I had a whole lot of photographs [of gravestones] myself and I never knew what to do with them...it seemed an awful waste for them to just be in an album when they could be of use to someone".
Like Isobel, Kayleigh, who is retired and based just outside of Aberdeen, came to Findagrave after discovering a relative's headstone uploaded onto the site around nine years ago.
Since then, according to her Findagrave profile, she's added upwards of 55,000 photographs to the site.
Somewhat paradoxically, given it deals so much with the dead, herself and her husband have found that the hobby is a great way of meeting new people, as well as getting out to interesting places:
"You meet a lot of nice folk in graveyards...we've been invited into churches and church halls because they often have photographs and memorials that can be relevant...We get to a lot of places we wouldn't normally have been to".
The stories that gravestones and cemeteries reveal about a person and place, says Kayleigh, are fascinating.
In her travels around the cemeteries of Scotland, she's come across sailors lost at sea, war graves for soldiers who died off-duty, and even a ghostly graveyard in the middle of nowhere:
"There'd obviously been a community there at some point, but you just wonder what happened...a lack of industry, plague maybe".
For many volunteers, this process of recording memorials and headstones is about more than just an interest in history.
In Isobel's case, volunteering with Findagrave is partly about "paying it forward" for the kindness she was shown by other members of the online community.
When herself and her husband Tim began fulfilling specific requests from other Findagrave members near their home in Paisley, they did so in small quantities, taking "just the odd photograph here and there", but found that their enthusiasm quickly snowballed.
"As weeks went by, we thought this is mad because we'd spent all this time reading every gravestone, looking for maybe just two or three. And all these people, especially the service personnel from the world wars, you're passing them all by and thinking - these people should be being recorded too".
Soon they started recording Commonwealth gravestones, followed by any bearing the name 'MacCauley' after a request came from someone of the same name over in Canada. It wasn't long before the pair began taking photographs for "anyone with an overseas connection [in Scotland]".
The feeling of "know[ing] that we were putting photographs up and people were discovering family connections", says Isobel, is "amazing".
Yet Isobel doesn't always rely on ancestors happening upon the photographs. Occasionally, she'll come across a headstone for someone who died abroad, and, using her paid Ancestry account, she's able to track down family members overseas:
"If I come across a headstone for somebody who died in Australia, I can look on Ancestry and see if they're on somebody else's family tree. Then I can email them and just say, 'look, I found your ancestor's headstone, it's on Findagrave, here's the reference if you want to check it out'".
Over the years, Isobel and Tim's volunteering has gifted them friends from around the world, with their photographs bringing long-lost relatives from Australia, America and New Zealand overseas to visit the graves in person.
On one particularly memorable occasion, the pair picked up a Findagrave request from America; a man named David looking to locate a headstone for a mother and infant daughter in Scotland:
"He sent us a photo of the headstone as it was when it was put up in 1870. Of course, [back then] it was beautifully clean and fantastic".
Yet after Isobel worked out the headstone was in a poorly-kept Craigton cemetery, "my heart sank...we advised him there wasn't much hope of finding it".
Nonetheless, Isobel and Tim set out to the cemetery with their grandson, who spotted the stone, fallen on its face, after recognising a decoration from the 1870 photograph.
Just a few weeks later, David met with Isobel and Tim in Craigton, who directed him to the stone they'd located:
"We met him at Craigton, showed him where the stone was...when we do that we always just leave people with the stone...We did that with David, who'd typed up the story, [of the people in the grave] put it in a sealed plastic folder and tucked it underneath the headstone...it was an emotional journey for him".
It's fairly common, says Isobel, for gravestones to either fall of their own accord or be toppled by local councils for safety reasons - a process that can see the people on them forgotten, and historical records lost.
"It's a case of preserving the information for future generations", says Kayleigh, of her volunteering.
This is a sentiment Isobel echoes, pointing out that after a tragic incident in 2015 where a young boy was killed by a falling headstone in Glasgow, a number of stones were assessed as dangerous by Scottish councils and toppled.
While necessary, she points out that toppling them can mean "the headstone and its information is lost forever".
Fortunately, it's thanks to the efforts of volunteers like Isobel and Kayleigh that this information is living on in digital form for future generations of Scots and their ancestors to discover.
And though lockdown has somewhat dampened their ability to get out to graveyards, Isobel and Tim's volunteering has continued to help strangers track down their ancestors.
"One man is visiting Paisley this weekend to pay respects and leave flowers for his great uncle, about whom he knew nothing till he saw our photo", Isobel tells me.
"As he told me, it was unlikely that anyone had visited the grave in over 100 years – until this weekend!"