Thurso's reluctant longboarder Phoebe Strachan gives Scots a lift at Eurosurf​​​​​
She may only have been competing in the women's longboard division at this year's Eurosurf 'because we didn't have anyone else who would', but Phoebe Strachan still gave the best in Europe a run for their money. Interview by Roger Cox
There are certain surf spots, and certain kinds of conditions, that are ideally suited to longboarding – that is, surfing on boards nine-feet long and over. Malibu in California is an obvious example, preferably on a windless day, with glassy, waist-high waves peeling all the way along the famous point. Waikiki on the Hawaiian island of Oahu is another, perhaps with its gently surging breakers fanned by a light, fragrant offshore breeze.
It's at places like these, where the waves break cleanly and predictably, that longboarders are able to perform their most stylish manoeuvres, cross-stepping to the nose to hang five toes over the end of their board, perhaps even hanging ten, before gliding back to the tail, flowing through a graceful drop-knee cutback and then setting up to do it all over again.
However, there are certain spots and conditions where longboards work less well. All that surface area provides a wonderful, stable platform for performing tricks on in small waves, but in bigger, hollower surf, it can become a liability – even paddling out to where the waves are breaking can be a trial. A surfer on a skinny six-foot shortboard can easily duck-dive under a six-foot wave. Sinking nine feet of foam under the water requires considerably more strength and skill, however, and if you don't have enough momentum to duck-dive your only real alternative is the turtle-roll; get that wrong as a big wave approaches and you'll wish you hadn't.
On the whole, conditions for this year's European Surfing Championships (Eurosurf for short) in Santa Cruz, Portugal, were far from longboard-friendly, which makes it even more remarkable that Phoebe Strachan of Thurso advanced all the way to the last eight in the women's longboard category, even posting a win in her three-woman second round repechage heat, knocking the talented Italian surfer Francesca Rubegni out of the competition in the process.
The waves for this round were a solid five-to-six-feet, and backed by a stiff cross-onshore wind that made them break unpredictably. One second, a surfer could be flying along what seemed like an open face, the next they could suddenly be engulfed in an explosion of whitewater.
Even paddling out to the take-off spot was a challenge. "I got absolutely destroyed in the shorebreak to start with," Strachan says. "But in the end [the conditions] seemed to actually work quite well in my favour – I just put my head down and paddled."
Once she'd negotiated the shorebreak, Strachan started the heat strongly, skipping down the face of a big, choppy right-hander and hanging on through a tricky cutback to ride all the way through to the inside. With seven minutes left of the 20-minute heat she managed to cling on through another rodeo-ride of a right, giving her a slender lead over Rubegni and Sofia Soori of Sweden.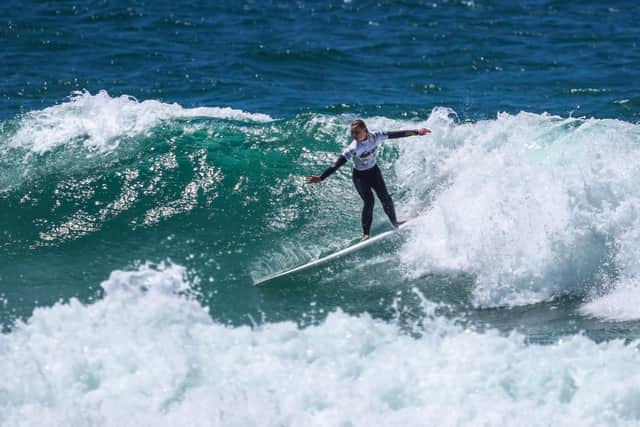 At this point, however, the strong current running through the competition zone started to play a role, pushing Strachan and Soori out of position. "They were shouting over the Tannoy that I wasn't even in the comp zone any more because I'd been washed so far down," says Strachan, "so I was having to battle just to get back into the comp zone to be able to catch another wave."
While Strachan and Soori fought against the current, Rubegni had her pick of the waves. With a minute and a half to go she finally took off on a promising looking left, built up some speed, banked off the top... but then lost her balance and fell. "It will be hard for her to get back to the line-up in the next 55 seconds" predicted one of the commentators, and so it proved, with Strachan hanging on for the win.
She may have been beaten in the next round, but by making the last eight Strachan still posted Scotland's best result of this year's Eurosurf, helping the team to 12th place overall – an even more impressive feat when you consider she mostly rides a shortboard. "I'm not a longboarder," she says, "I just took one for the team and entered it because we didn't have anyone else who would."
Strachan also competed in the women's shortboard, alongside Clover Christopherson and Olivia MacKay, and Team Scotland also fielded surfers in the men's shortboard and men's longboard categories. Mostly they all made early exits, but there were still some memorable moments.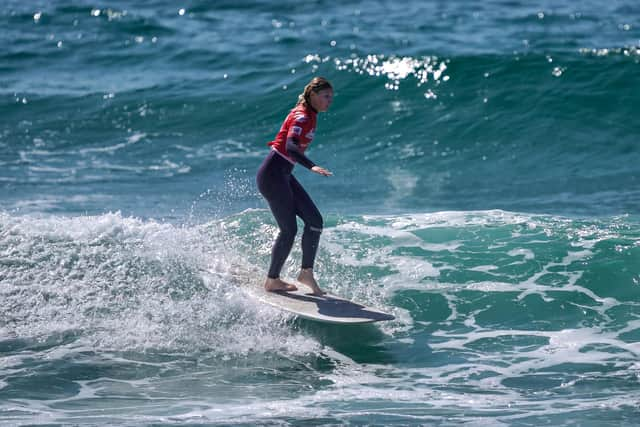 "I really enjoyed seeing Craig [McLachlan] getting through his Round One heat," says Strachan, "that was pretty exciting because he beat some pretty good boys. And also seeing Olivia compete – she's one of my groms who I've coached pretty much since she started surfing, and for her to make not only the adult team but also to compete and make it through a round, that was pretty special. I've seen her all the way through, from starting off on a foamie [foam board] to competing on the world stage."​​​​​​​