The summer of '69, when Scotland's surfers first found waves on the west coast
In the late 1960s, a group of pioneering surfers thought they'd found "the best surf in Scotland" on the Mull of Kintyre, writes Roger Cox
Earlier this month, I was asked to contribute to the daily "Passions" slot in the main edition of The Scotsman, so I took the opportunity to revisit my large and disorganised collection of surfing magazines from the last three decades or-so, and pick out some of my favourite editions. Inevitably, though, I missed a couple, so – just for the record – if my house was burning down, in addition to the various mags which I've already saved from the theoretical flames, I'd also do my best to rescue the 200th anniversary issue of UK surf mag Carve from January 2020, with Dylan Stott's awe-inspiring account of taking on giant, deep-water waves off the coast of Ireland, and Issue 282 of Australian publication Surfing World, a souvenir from a memorable 2006 trip to the surf spots around Hobart in south-eastern Tasmania which, as it happens, has an 18-page special on Tassie.
Anyway, it turns out I'm not the only person in Scotland who has ludicrously impractical amounts of surf literature stashed away in their garage. Not long after the Passions piece appeared, I received an email from pioneering Scottish surfer Andy Bennetts. "I've got most of the magazines you mention," he wrote, "but attached is one which I would rescue from the fire. The first ever article about Scottish surfing in a UK national publication."
There were actually two attachments. The first was the front cover of Surfing UK's June 1969 edition, printed entirely in black and white apart from a striking red masthead. Billed as "Britain's only surfing newspaper" it was published in Porthcawl, South Wales, cost 12 shillings and sixpence and claimed to have a readership of over 5,000, which, in those days, must have meant more or less every surfer between Land's End and John O'Groats. The second attachment, meanwhile, was a story taken from that edition headlined "Scotland 'The Green Wall'".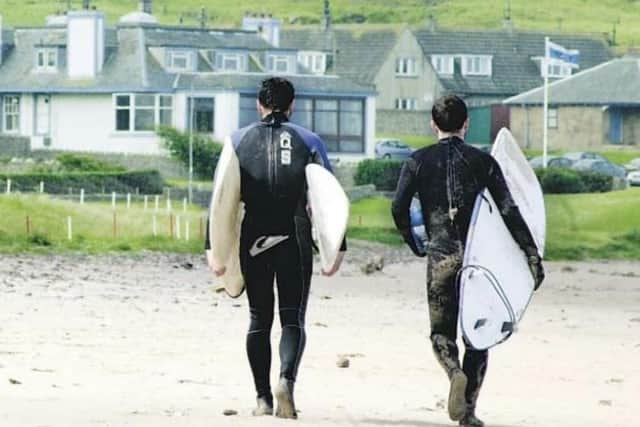 Given that much of Scotland's early surfing history happened on the east coast – in Aberdeen, in Fraserburgh and on various beaches within easy striking distance of Edinburgh – you'd think that the first mention of Scottish surfing in the UK surfing press might feature one or all of those places. But no. The first Scottish surfing location to get nationwide exposure was... Machrihanish, near the bottom of the Mull of Kintyre.
In his feature, George V Raynes, UK Surfing's (presumably newly-appointed) Scottish correspondent gets straight to the point. "We have found surf on the west coast of Scotland," he begins, "and the Scottish Surf Club has been formed. The treasurer is Jim Short and the social convener Bill Mitchel, who are founder members of the club."
There's so much to love about that first paragraph it's hard to know where to start, but in particular I'm a big fan of the idea that surf on the west coast of Scotland could still be said to have been "found" in 1969. So many miles of coastline exposed to the giant swell generator also known as the Atlantic Ocean, dotted with so many surf spots that are well-known to us now, and yet back in the summer of '69, Machrihanish was proof of concept for surfers looking for waves in the west. Before that? Nothing but a vague suspicion that surely, somewhere between Stranraer and Cape Wrath, there must be something worth surfing.
Also of note: the wonderful, civic-minded way in which, almost as soon as a viable surf spot had been identified, a club had to be formed, replete with a treasurer and social convener. It all speaks of a warm, community-spirited post-war optimism: we may be small now, but just watch us grow.
The next line in Raynes's story also bears repeating, as it's the big reveal: "The best surf in Scotland can be found at Machrihanish Bay, Kintyre, Argyllshire." It's something of a bold claim, given some of the discoveries that were to follow on the north coast over the next few years – not least the now internationally famous reefbreaks at Thurso East and Brims Ness – but still, Machrihanish is an undeniably magical place to catch a wave, and to the lucky few who got there first and had it all to themselves, it must have felt like something close to paradise. "The waves are beautiful rights and lefts," enthuses Raynes, "about 6ft to 8ft high, but I saw them 12ft high at times. With an offshore wind they form walls of pure glass and are excellent for riding."
The story is illustrated with two images – grainy, but very much legible. One, which shows an unnamed surfer dropping in to a messy-looking left-hander, doesn't exactly make you want to catch the next bus to Campbeltown. The other, though, has very much stood the test of time: a surfer in shorts and a T-shirt is streaking across a frothy four-footer, knees bent, arms stretched out in front, eyes on the future. It's of its time, but also timeless.