Surfing Scotland: New book to chart the history of Scottish wave riding
Written by veteran surfers Andy Bennetts and Malcolm Findlay, Surfing Scotland will be the first book dedicated to telling the story of Scottish wave riding, writes Roger Cox
Scotland may be something of a surfing backwater compared to Hawaii, California or Australia, but Scottish surfing has a longer and more illustrious history than you might think. In 2006, a touring exhibition organised by the British Surfing Museum identified Princess Victoria Ka'iulani Cleghorn as the first known Scottish surfer. She was born in Honolulu in 1875 to Princess Miriam Likelike, sister to the reigning monarch of Hawaii, King David Kalakaua, and a Scotsman called Archibald Scott Cleghorn, a businessman, horticulturist and eventual governor of the island of Oahu. These days, Ka'iulani is mainly of interest to historians because of her role as a figurehead for the Hawaiian independence movement, but, before her untimely death at the age of just 23, she was also an expert surfer, riding the waves at Waikiki in the 1890s.
The princess did spend some time in Scotland during her short life, visiting Dreghorn Castle just outside Edinburgh, then the home of a Scots-Hawaiian plantation owner called Robert MacFie, but there's no evidence that she ever surfed here. To find the first instances of people actually surfing in Scotland, it's necessary to fast-forward to the 1960s, when surfing – and surf culture – began to explode in popularity, and spread across the globe.
Who was the first person to surf in Scotland? It's hard to say for certain. However, a new book called Surfing Scotland by pioneering Scottish surfers Andy Bennetts and Malcolm Findlay, due out at the start of October, promises to give, if not the definitive answer, then at least the closest thing we're likely to get.
"You're correct in saying that this element [of Scottish surf history] is quite nebulous," says Findlay, who believes George Law was probably the first in 1966. "There were people getting into the sea on surfboards prior to George Law surfing in Aberdeen, but they weren't surfing in a 'performance' style – that is, cutting across the face of the wave and looking to turn the surfboard, as George was. In the book, we cite Graham Carnegie and Brian Morgan as using home-built wooden boards in 1965, also in Aberdeen. So, the answer really depends on how you want to define surfing."
From these early days, Surfing Scotland then charts the development of the sport in locations around the Scottish coast, taking in the formation of the Scottish Surfing Federation, the evolution of surfing businesses and even speculating on the future of Scottish surfing.
The book, which is self-published and will be available on Amazon, will also outline Scotland's surf geography and climate, and "consider the social and cultural aspects of being Scottish and how these have influenced surfing development."
Bennetts explains: "Apart from being largely isolated from the mainstream surfing world, surfers in Scotland have been conditioned in a different way to those from mainstream surfing nations. They grow up immersed in Scottish culture, where taking oneself too seriously is scorned, value is placed upon education and hard work, and they're hardened to the cold and the winds. It's a lot easier for a young person to get into surfing in Hawaii, Australia and California, than it is in Scotland, where it takes hard work and a stoic approach. Either way, surfing is a lifestyle choice but the surfing lifestyle in Scotland is very different to that in Hawaii, or even south-west England for that matter."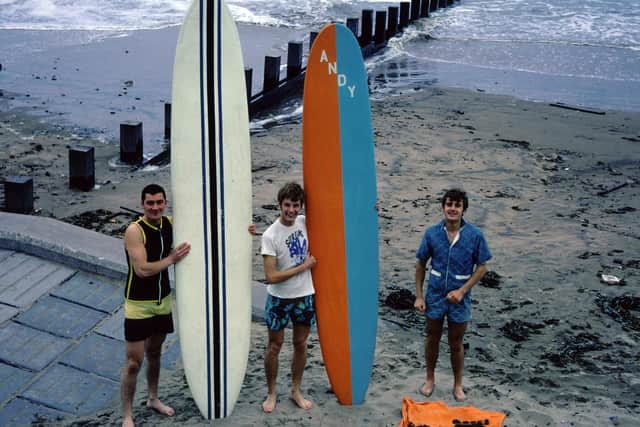 Bennetts and Findlay's book is significant for all kinds of reasons. For a start, Scottish surfing has never had a single volume devoted to its history before – up until now, anyone wanting to piece together any kind of coherent timeline has been forced to rely on various short extracts from other books about surfing in the UK, in which Scotland usually just gets bolted on as an afterthought. Also, importantly, it has been written by two people who have been involved right from the very early days, and so are perfectly placed to give a full overview of how the sport has developed over the years.
Perhaps the most exciting thing of all, though, is the way Bennetts and Findlay have chosen to go about their task – not only looking at the various factors that make the Scottish surf scene unique, but also exploring the "disparate strands of early surfing activity" and the way these gradually coalesced.
One of the most interesting aspects of Scotland's surfing story is the way it began as a few small groups of surfers in different locations, surfing entirely independently for many years and developing their own distinctive local surf cultures, before finally becoming aware of each other and arranging to meet up for contests – as when surfers from the Edinburgh area first realised there was a thriving surf scene in Fraserburgh in 1974. As a result, there isn't just one History of surfing in Scotland, but multiple histories, and a book that gives all these different narratives their due and then ties them all together should be well worth reading, whether you're a surfer or not.
Surfing Scotland will be available to buy via Amazon from early October