Stay away from seals, Scottish wild swimmers warned
Sealife watchdog Marine Scotland has issued new guidance calling attention to the dangers of approaching Scotland's seals on rocks and beaches.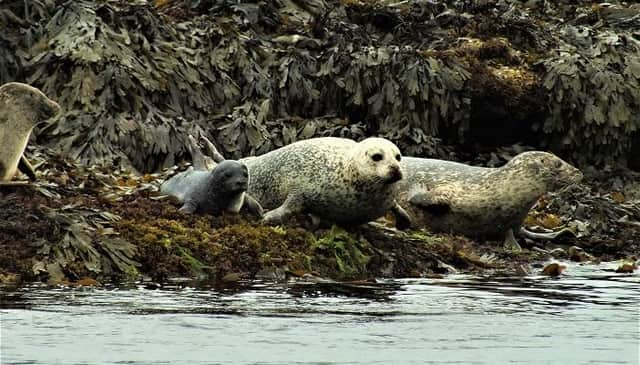 A rise in wild swimming and people visiting Scotland's beaches and coastlines during lockdown has forced national sealife watchdog Marine Scotland to issue new guidance to call attention to the dangers of approaching seals hauled out on rocks and beaches.
While seals can become friendly and accustomed with familiar visitors to their areas or seas, the guidance keenly stresses the importance of not approaching them at their designated 'haul outs' - favoured spots on shores or rocks – which can cause the seals to stampede into the water and risk injuring themselves or killing younger seal pups.
"Seals hauled out on land may be particularly sensitive to approach by humans whether from the land, sea or air and therefore caution is required in such circumstances," the guidance said.
While Marine Scotland acknowledged the difficulties of lockdown and the public's desire to explore nature as much as possible, their guidance reinforced the need "to do so safely for the animals that know those beaches as safe places."
The rise of wild swimming and exploring the great outdoors has alerted many marine life conservationist groups and response teams to the risk posed by a lack of awareness around seal disturbances at their designated haul out sites.
Karen Bates of Wardie Bay Beachwatch in Granton, Edinburgh has emphasised the importance of such awareness at those visiting Wardie Beach and approaching seals on pontoons and haul out sites in the area.
She said: "This year, we have seen more members of the public approach the pontoons directly, in kayaks and swimming alone. It almost always results in the seal leaving.
"Harbour seal populations are declining therefore it's important for people to know that they could have an impact here where harbour seals have come to rest for over a decade."
She continued: "Many have called for signage as some say they simply don't know the pontoons are here for nature and not people, and perhaps they aren't aware that harbour seals are in decline as a species, or are drawn to getting as close as possible to them, unwittingly out of love for wild animals.
"This is a city shoreline after all and people's experience of animals might be more at a zoo, or on television especially during a pandemic. We are pushing for educational resources to be given to this stretch of shoreline. Sadly the more people that come, the more pressure it is under."
Colin McFadyen, Scotland Coordinator at British Divers Marine Life Rescue, welcomed the guidance for highlighting the need to pay greater attention to where designated haul out sites are and how nearby human behaviour can disturb resting seals.
Based in Aberdeen, McFadyen explained that a nearby site in Newburgh can have up to 3000 grey seals resting on it.
"You have people happily just walking past, thinking they are alright because they aren't on the haul out," he said. "But the animals in the haul out are still getting disturbed by you. And that is something people aren't getting – they do not need to walk or move into the haul out space themselves to actually disturb the animals."
A message from the Editor:
Thank you for reading this article. We're more reliant on your support than ever as the shift in consumer habits brought about by coronavirus impacts our advertisers.
If you haven't already, please consider supporting our trusted, fact-checked journalism by taking out a digital subscription.