Snaggle Rats: Three young skaters and the fight to save Livingston Skatepark
Parisa Urquhart and Ling Lee's documentary Long Live Livi is on BBC Scotland on Thursday. Here, Urquhart tells Alison Gray about the story behind the film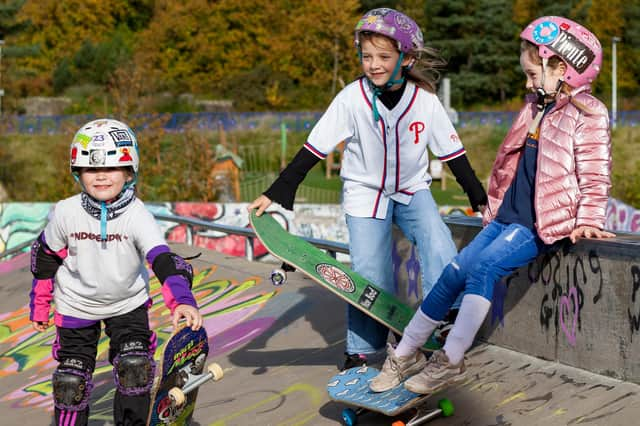 AG: Tell us why Livingston Skatepark aka Livi is legendary among skateboarders around the world.
PU: My uncle, Iain Urquhart, an award-winning Scottish architect, was working for the Livingston Development Corporation (LDC) in the 1970s. Along with his wife, Dee Urquhart, he was pivotal in nurturing the Scottish skate scene at that time, establishing and running the Scottish Skateboard Association and creating the first ever Scottish skate magazines.
Livingston, a 'new town' between Glasgow and Edinburgh, was in the throes of being built in the 1970s and it needed amenities. So Iain grasped the opportunity to propose a skatepark to the LDC. Iain's architecture skills, knowledge of materials, attention to detail and dogged persistence made it happen. Iain and Dee made research trips to iconic Californian and European skateparks which our documentary shows 8mm footage of, including time with a very young Tony Hawk.
Iain was known not only for the pipe in his mouth but the measuring tape in his pocket. He was always measuring angles and sections of skateparks and this fed into his beautifully handwritten drawings of Livi. The bowl was ahead of its time – he designed and created a wooden 'transition machine', shown in the documentary, that successfully created the perfect angle and smoothness of the bowl. He also tweaked the design of the halfpipe to make it flat-bottomed, enabling skaters to have the chance to prepare for their next trick. This is what made Livi (known then as Rock 'n Roll skatepark) a properly designed skatepark. The word spread about how good Livi was and skaters from around Europe travelled to Livi to experience it for themselves.
What put Livi on the map was Californian pro-skaters Steve Caballero and Mike McGill skating the park in 1982. Iain and Dee had a major coup and flew these boys over for a demo. The event was massive. Approximately 2,000 people flocked to Livi and the boys loved skating the park - we show 'never before seen' 8mm footage of them in our film. Since then generations of skaters and pro skaters, like Tony Hawk, have travelled to Livi from around the world.
How has it been allowed to fall into disrepair?
It has been nearly 40 years since Livi was built. The bowls were successfully resurfaced in the late 80s, coping was fitted and the smaller bowl was resurfaced more recently. But on the whole the original section is gnarly with a really rough surface, cracks, and holes. Money available over the years seems to have been spent on expanding the park but not much put into the iconic section. I haven't been involved in the additional phases and resurfacing over the years but I am aware from speaking to local Livi skaters that it is crucial for skaters to be welcomed into the design and decision-making process to ensure what's done works for skaters such as the Snagglerats.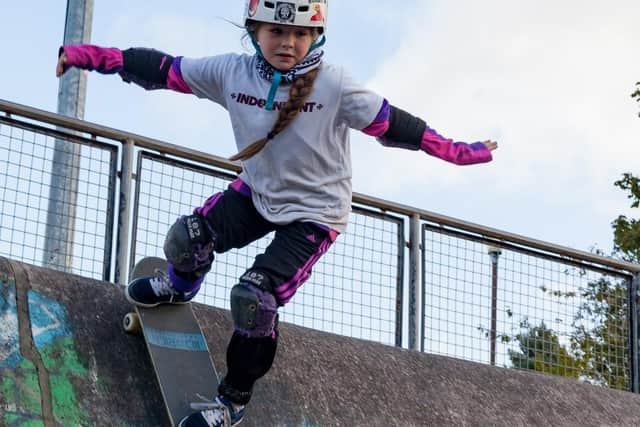 The Snagglerats are three local girls – Poppie, Rudi and Mac – aged between six and seven – who absolutely love skateboarding – especially at Livi. They were so happy to have met each other via Instagram. As we follow the girls in the documentary we get a palpable sense of the emotional connection between them and their love for skateboarding. They are endearing and ambitious and created a mission when they called themselves the Snagglerats – to encourage as many girls and boys to skate – especially at Livi. It is also inspiring to watch their mums, Kerry and Romany, support them in their mission. With the help of their mums and old school skaters, the girls discover Livi's unique history and have an unexpected chat with Tony Hawk that strengthens their determination.
What do they love about skating?
Here's what the girls say in their own words: Rudi and Mac – "We love the friendship it brings from all sorts of people, being outside and being able to challenge ourselves. We love how much support we get from others," while Rudi adds that she loves hearing people say, "wow look at that wee girl skating, she's amazing."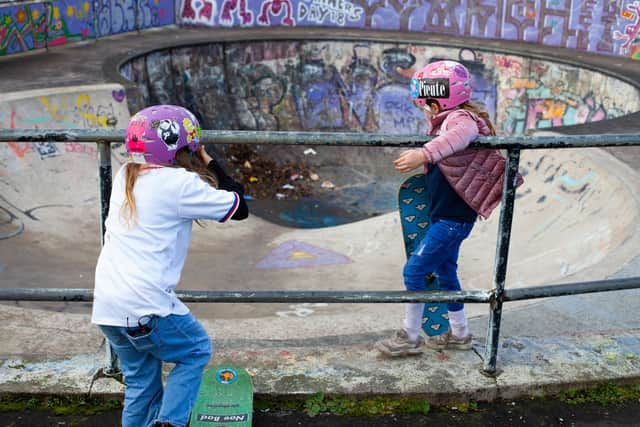 Poppie says, "I love that I get to challenge myself. There's always a new trick to learn. Making friends who support me and encourage me too. None of my school friends or people I play with outside like the same things as me, but when I'm skateboarding I feel like I fit in. It's just like I'm flying and no one can touch me."
Tell us how the documentary Long Live Livi came about
I found out about Iain and Dee's involvement in the Scottish skate scene in 2018. I couldn't believe it as I was an avid snowboarder and had worked in the snowboard industry so I knew a lot of skaters. A contributor in a previous documentary I produced and directed, Sir Geoff Palmer, showed my film to his skater son and he was the one who made the link. So I started learning about this history and knew it was a story that needed to be told. I visited Livi a few times, spoke to locals and noticed these young girls who were skating. I knew the way to tell the story of Livi was to interweave the history of Livi with this youngest generation that Livi is having an impact on. It shows that Livi is not dead and it will never die if you have people like the Snagglerats involved.
I won a commission with the Scottish Documentary Institute (SDI) who had teamed up with Screen Scotland and the BBC Scotland channel to create an initiative called 'Right Here' for creative documentary makers. As my background was in journalistic documentaries I co-directed with the amazing Ling Lee, an award-winning creative director and editor who I had worked with in the past. She was fantastic to direct with and brought her experience and creative skills into the project. I am also grateful to producer Noe Mendelle from the Scottish Documentary Institute who was so supportive of the story from the start – it was a pleasure to work with her.
What's the future for Livi?
I am hoping that through this film more people are made aware that Livi is a special place with an amazing history and we need Scotland to care for Livi so it continues on for future generations.
Long Live Livi airs on BBC Scotland on 11 June at 8.30pm and will be available on BBC iPlayer: https://www.bbc.co.uk/programmes/m000k06j/episodes/guide