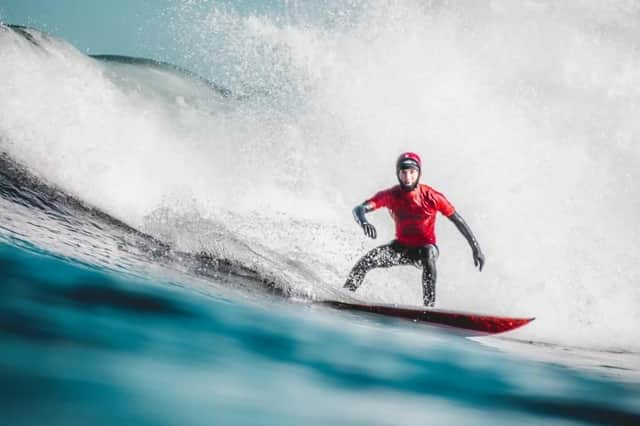 Last month, something remarkable happened at the Scottish National Surfing Championships at Brims Ness – an experts-only surf spot a few miles to the west of Thurso, where the full force of the Atlantic Ocean comes into explosive contact with a series of shallow rock slabs. Not only did 17-year-old local Craig McLachlan win the Junior Boys division – no mean feat in itself – he also surfed his way into the Men's Open final, where he faced previous event winners Mark Boyd and Mark Cameron and another seasoned competitor, Andrew Robertson.
For most 17-year-old surfers, that would have been more than enough of an excuse to crack open a celebratory (non-alcoholic) beer and relax, but McLachlan wasn't done yet. In the fiercely-contested four-man heat he surfed out of his skin in fast, hollow, overhead waves. He thwacked his top turns with authority, toyed with the axe-like lip of the Brimms breakers as if a beating on the shallow, unforgiving reef wasn't even a remote possibility, and landed high-risk manoeuvres so effortlessly that his knees appeared to be made of the same rubber as his wetsuit. He didn't just win, he won in style, with two eight-point scores (out of a possible ten) putting him comfortably ahead of last year's champ Mark Boyd in second.
"The first day [of the contest] was pretty hard to surf, but by the second day the waves were super fun," he says over the phone from Tiree, where he's spending some time with celebrated Scottish big wave surfer Ben Larg and his family. "It felt like I got a pretty nice rhythm going through the comp in the second day, which for me is a really special feeling."
McLachlan certainly hit the ground running at the start of the second and final day of the Nationals, with a high-speed tube ride and perfectly-timed exit that scored him a near-perfect 9.7. In terms of his compact body positioning on the wave and the way he uncoiled himself to come rocketing out from under its falling lip, it wasn't dissimilar to 2000 world surfing champion Sunny Garcia's memorable second wave at Brimms back in April 2008, when he made an unexpected appearance at that year's Highland Open pro contest. Sure, McLachlan's barrel may have been shorter, but his wave was bigger and faster, and the exit – with the wave about to detonate both in front of him and behind him – more critical.
"I watched the heat before mine and nobody was really getting any waves, so I was a little bit nervous," he says. "I wasn't sure how it was going to go, but I knew there were good waves out there and I got that one, and that just set me up for the rest of the day."
Incredibly, this is actually McLachlan's second Men's Open title, following his maiden win in 2021, and it means that between them he and Boyd have now won the division five times in the last five years it's been contested. Boyd won his first two titles in 2018 and 2019, the Nationals had to be cancelled due to the pandemic in 2020, and then, following McLachlan's win in 2021, Boyd won again in 2022. To long-time observers, it feels as if a new rivalry may be developing, perhaps similar to the era-defining one between Mark Cameron and Chris Noble that saw Cameron win seven titles to Noble's six between 1999 and 2016.
"Boydie's so switched on technically with his surfing, and so strategic, so it's always super-fun to surf against him," says McLachlan. "There's quite a big age gap between us, so when I was younger I used to really look up to him and I still think he surfs incredibly, so I'm always happy to surf a heat against him."
McLachlan is keen to point out that his fellow finalist Andrew Robertson could also feature prominently in future battles for the title of Scotland's best male surfer. "I surf with Andrew quite a lot," he says. "Just this last winter he moved up to Thurso and he has some crazy natural talent so he's progressing at such a fast rate. It's cool to be able to surf with somebody closer to my age because in Thurso there's not really anyone else my age that I get to surf with."
Born and raised in Thurso, McLachlan first got into surfing via his older sister Iona – interviewed in this slot back in 2019, after she won the Women's Open division at that year's Scottish Nationals. "My sister sort of surfed a little bit by herself," he says, "and then a club started in Thurso and we knew the people that started it. My sister started going for the first year, and in the second year I joined and from then I just couldn't stay out of the water."
In addition to his two Scottish titles, McLachlan also turned heads by becoming last year's British Junior Champion. The next challenge on his radar is the 2023 Eurosurf contest, staged in Santa Cruz, Portugal from 21-30 July, where he'll be representing Scotland in the men's division alongside Marks Boyd and Cameron. "It's kinda hard to say what the waves will be like," he says. "It could be absolutely huge or it could be tiny." Whatever the conditions, however, some of Europe's leading surfing nations could be in for a shock if they come up against Team Scotland.