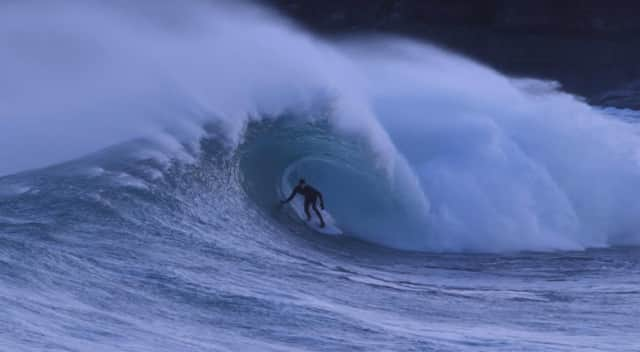 It's so miserable out there!" moans Aussie surfer Torren Martyn still half-asleep in bed as an Atlantic squall batters the outside of his camper van, "And it's so warm in here too!" Martyn and his filmmaker buddy Ishka Folkwell are parked up on the edge of a low cliff, overlooking a deserted but stunning surf spot on Scotland's north coast, and Martyn is giving voice to a dilemma that will be familiar to anyone who has ever ridden waves in this part of the world: to stay inside where it's warm and comfortable, or to pull on a wetsuit and brave the elements.
Given that Martyn honed his skills in the balmy waters of Byron Bay, it's hardly surprising that he's a little reluctant to leave his warm bed and jump into the Pentland Firth, but it isn't long before he's suited and booted (and gloved, and hooded) and paddling out into chunky, barreling waves. What follows is one of the most memorable scenes from the recently-released first episode of Lost Track Atlantic – a four-part travelogue, filmed in 2019, in which the duo pick up a clapped out Ford Transit van in England and then use it to explore the prime surf zones of Ireland and Scotland before heading south towards the tropical waves of West Africa.
To begin with, Folkwell focuses on the wave itself (they don't name the spot so we won't either), showing in slow motion how it lumps up out of deep water when it hits the edge of the reef, how the lip feathers as it's caught by the offshore wind, and then how it folds over itself to form a perfect, reeling cylinder. Surfers will also note that the foam explosion thrown up by the breaking wave is almost twice the height of the wave itself: a tell-tale sign that the water in the impact zone is board-breakingly shallow.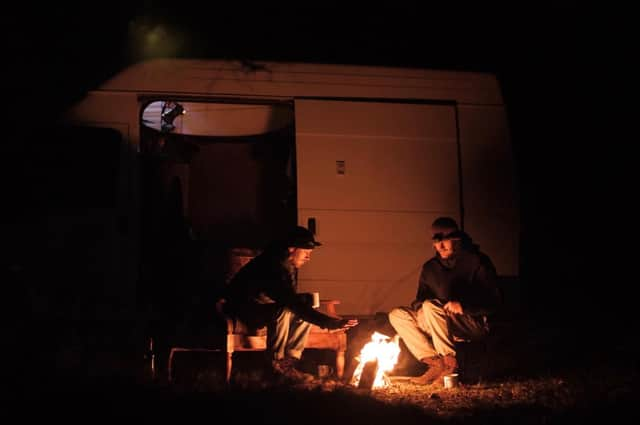 Then, back in real time, we see Martyn paddling hard for a wave, skimming down its face and ducking under the lip as it morphs into a huge, circular waterfall. And if he seems to be drifting casually along in the barrel, rather than frantically pumping for speed as a pro contest surfer might do, that's partly down to his choice of surf craft; because, while most of the rest of the surfing world remains obsessed with three-fin surfboards, Martyn favours twin-fins, last dominant on the pro tour in the early 1980s. These boards lend themselves to a more mellow, graceful style of surfing, and so, even if some of the waves Martyn surfs in Lost Track Atlantic will be familiar to viewers, the way he interprets them almost certainly won't be.
"O wad some Pow'r the giftie gie us," wrote the Bard, "To see oursels as ithers see us!" That's not quite what we get from Lost Track Atlantic – there's not much attempt to engage with Scottish surfers or Scottish surfing culture. What we do get, though, is an outsider's view of Scotland as a surf destination, and through the eyes of Martyn and Folkwell, Scotland looks pretty darn good. Scottish surfers tend to think of warm-water locations like Australia and Hawaii as "exotic" but these are places where surfing is mainstream – as far as most of the surfing world is concerned, Scotland is exotic. "We'd hardly rolled off the ferry and we were stunned by the beauty of Scotland," says Martyn in voiceover. "The snow-capped mountains, the freezing weather... it really felt like we were such a long way from home."
There have been some magical Scottish surf flicks over the years, from Mark Lumsden's Cold Rush, released in the early Noughties, to Malcolm Anderson and Rups's 2017 film 01847 (named after the dialling code for Thurso, in case you were wondering). On the whole, though, these films have tended to be homegrown productions featuring local surfers, so it's always good to see what waveriders from elsewhere make of the place.
The climax of Lost Track Atlantic: Episode One is a sequence showing Martyn surfing Thurso East. Thanks to the series of pro contests held at the break in the Noughties, its contours will now be familiar to surfers the world over, but watching Martyn tackle it at double-overhead on one of his channel-bottomed twin-fins is to see it through fresh eyes. His bottom-turns are so long-drawn-out you fear he'll be hammered by the whitewater long before he's able to pivot back up into the face of the wave, and when he stalls for a tube it seems like an age before he's able to re-establish forward momentum. Somehow, though, his casual-yet-radical approach works – better than works: makes you wonder if the aggressive aesthetic that currently dominates the sport of surfing is really as good as it gets.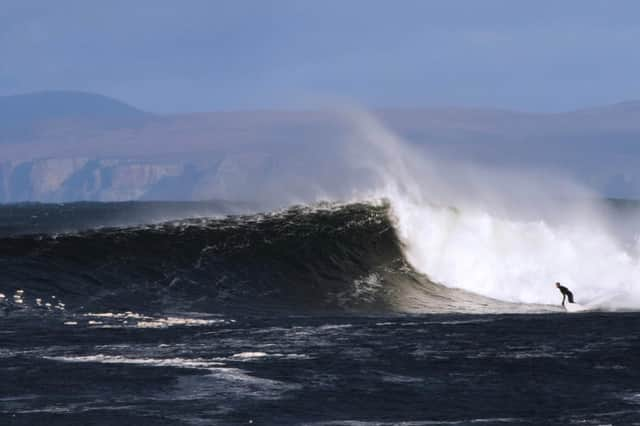 After making it back to Thurso harbour, where Folkwell has been filming him, Martyn struggles to say "My face is all numb!"
"You can't even talk properly!" laughs Folkwell.
"But that was great fun," Martyn sort-of says, wiping his frozen face with a wetsuit glove, "I got it all to myself, hey? That was unreal."
And so he nails another great truism of Scottish surfing: the cold may be brutal at times, but at least it keeps the crowds down.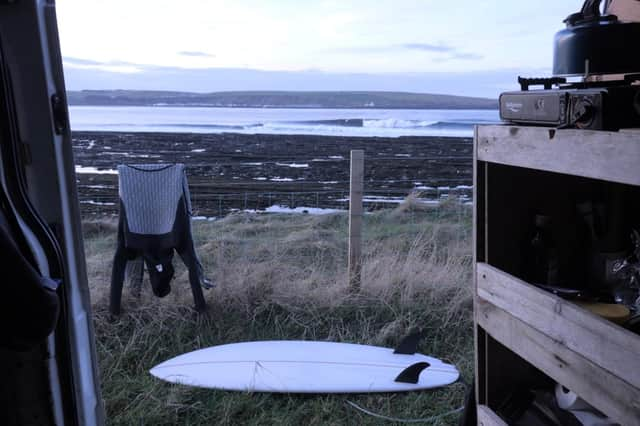 For more on the Lost Track Atlantic series, and to watch the first episode, visit www.ishkaimagery.com
A message from the Editor:
Thank you for reading this article. We're more reliant on your support than ever as the shift in consumer habits brought about by coronavirus impacts our advertisers.