Quiet Life Scotland 2023: Here's how to embrace quiet living this autumn - and where to go
It's time to slow down, take a deep breath and enjoy some quiet relaxation.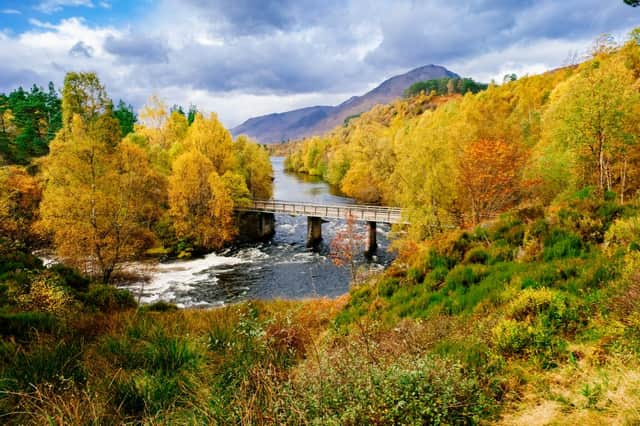 The world is slowly moving away from hustle culture, which promotes overworking, multitasking and having an endless to-do list. As a reaction to that, there's been a new trend that's emerged – quiet living.  
The essence of this trend is to take time to oneself, whether that's having a lazy morning at home, going out for a crisp autumnal walk or completely switching off in a cottage nestled in a serene forest, without technology of course. 
As the colder months approach, it becomes all the more crucial to carve out moments for oneself, away from the busyness of life. Scotland offers breathtaking natural landscapes, from lush forests to rolling hills and serene lochs, providing the perfect backdrop that fosters a sense of peace and serenity.
To help with that, VisitScotland has created a list of the best ways you can embrace the quiet life trend. 
Head out for an autumnal slow hike 
Autumn is often associated with rainy, cold days where everything you want to do is stay on the couch and binge watch movies, and that's of course needed sometimes, but it can also be a great time for picking up a new habit that could boost your daily steps. Getting outside and appreciating the nature around you is the one of the best ways to embrace the quiet life. 
Scotland is abundant with incredible hiking spaces so to help with the choice VisitScotland has selected a couple of the best autumnal slow hikes. 
Brough of Birsay – Orkney
This petite island situated off the northwestern coast of Orkney's Mainland is easily accessible via a brief stroll along a tidal causeway, starting from a modest parking area in Birsay. As the tide recedes, it reveals an abundance of captivating rock pools. Amidst them, you'll encounter a variety of crustaceans, while the skies above often showcase seabirds like puffins, razorbills, shags, and guillemots. Always checking tide times before heading off.  
Crinan Canal Hike – Crinan to Ardrishaig  
While boating, fishing, and kayaking are often what people picture when visiting the Crinan Canal, there's something truly special about acquainting yourself with its intricate details on foot. Start your journey from the charming village of Crinan and simply follow the towpath that stretches 14 kilometers southeastward to the village of Ardrishaig. You'll be treated to a diverse landscape from marshy habitats to lush woodlands. 
Indulge in a slow morning 
While it's great to have a productive morning, it's also important to take a breather from time to time and allow some moment to indulge in a slow morning instead. Is there a more splendid way to do so than amidst the embrace of nature? Booking a charming, cozy cottage or a rustic cabin nestled amidst Scotland's picturesque countryside is the first step towards this idyllic escape. It's a perfect way to reduce stress and anxiety before tackling your to-do list.  
VisitScotland have selected some tips to help you craft the ultimate leisurely morning below.  
Start with some quiet time  
Let's face it, we've all been guilty of checking our phones first thing in the morning. However, it's beneficial to start your day with some quiet time to help regulate your dopamine levels. Instead of aimlessly scrolling through socials, just take some time to reflect and be alone with your thoughts. No podcast, music or anything to distract you – just you and your thoughts. Grab a journal and do some free writing or meditation and you'll be surprised at the effect it can have on your day ahead – you'll be more focused, creative and less stressed. Or perhaps spend some quiet time admiring the gifts of nature - the rugged charm of the Isle of Gigha, the tranquil beaches of Uist, or a stroll along Portobello beach in Edinburgh. 
Prepare your breakfast of dreams 
Most people don't usually spend much time or thought on breakfast as they rush into the day but preparing your breakfast in the morning can be an act of self-care and a great chance for some off-screen time. And is there a more indulging breakfast than a full Scottish fry up? It's packed with flavour, history and heritage. The iconic full Scottish breakfast encompasses many important parts of our culture and celebrates the amazing ingredients that can be found on our doorstep. It invites you to linger in the moment, to savor each mouthful so you can truly have a slow morning experience. To make it even more delightful, enjoying this hearty feast in a quaint café like The Dowry cafe in Shetland, for instance, adds an extra layer of warmth and authenticity to your morning ritual. 
Forest bathing  
Forest Bathing, also referred to as Shinrin-yoku, which translates to "absorbing the forest's ambiance," is a practice dedicated to immersing oneself in nature to promote overall health and well-being. This unique experience allows you to harness the benefits of nature's own therapeutic essences known as "phytoncides," released through the trees' essential oils. Additionally, you'll be able to dive into quiet life and find tranquility in the soothing effects of nature's intricate designs, like the spirals of pinecones and the unfurling ferns.  
If you're not sure where to go forest bathing, here are a couple of ideas.  
Glen Affric - The Highlands
Glen Affric stands proudly as one of Scotland's most expansive ancient Caledonian pine forests, surrounded by shimmering lochs and enchanting moorlands - the perfect backdrop for forest bathing. It's a great way to embrace the quiet life, and its numerous walking trails are filled with the cheerful melodies of birds and forest life, allowing you to reconnect with nature. 
Aberfeldy  
The lush landscapes surrounding Aberfeldy provide a peaceful sanctuary for immersing oneself in nature, promoting relaxation and well-being. The Birks of Aberfeldy is a great option if you want to disconnect from the hustle of daily life and connect with nature. The combination of rich biodiversity, fresh mountain air, and the gentle ambiance of the woodland makes it an ideal setting for those seeking the therapeutic benefits of forest bathing. 
 Stargazing 
What better way to slow down than looking up and seeing the millions of stars above? Scotland boasts some of Europe's most extensive areas of pristine dark sky, making it an ideal haven for stargazers. There are numerous Dark Sky Discovery Sites, where light pollution is minimal to nonexistent, unveiling velvety, obsidian skies decorated with a dazzling array of stars.  
For an unforgettable stargazing experience, consider a couple of recommendations. 
Tomintoul and Glenlivet – Cairngorms Dark Sky Park
This area boasts some of the best night skies, giving you the opportunity to enjoy the enchanting wonders of the millions of stars above, while truly switching off and being present. They run astronomy events throughout the whole year, and whether you're a first-time explorer or a pro with a telescope, you're in for a treat. Keep an eye out for the magical star patterns, the bright band of the Milky Way and if you're lucky you might even catch a display of the northern lights.  
Isle of Coll 
Situated off the western coast of mainland Scotland, this petite island stands out as one of the premier stargazing destinations in the UK. Earning the prestigious title of a 'dark sky community' from the International Dark Sky Association in 2013, the Isle of Coll boasts minimal light pollution, ensuring unobstructed views of the celestial wonders. Thanks to its flat terrain, pretty much any spot on the island offers a splendid view of the night sky, given the weather conditions allow it.  
Comments
 0 comments
Want to join the conversation? Please or to comment on this article.