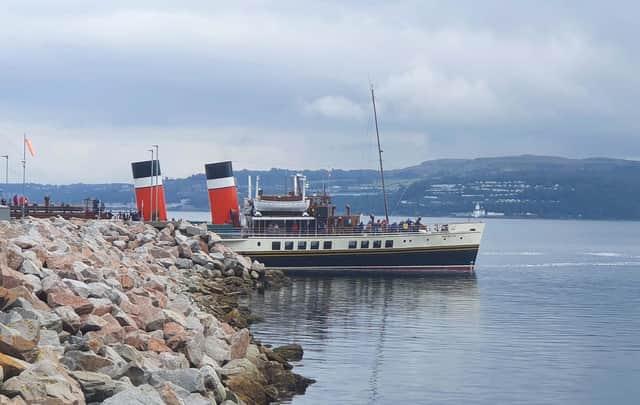 Not that way. Not yet. No: with an early start, I will be steaming down the Clyde with a tea in my hand, the familiar eight-in-a-bar rhythm of Paddle Steamer Waverley's paddles under my feet, nothing more strenuous to consider then a day sailing up the west coast, through villages and towns.
We'll cut our way through the early light and oily waters towards the open Firth, choppier but clearer. Last year, down there, dolphins joined us at Greenock, to frolic for a while forward of the Starboard beam as we set off for Dunoon. I'll keep an eye out again, just in case.
We will sail straight past the old seaside town of my youth today, as this isn't a straightforward doon-the-watter affair. Past Arran, we'll turn north, bound for Oban where, after my day trip, Waverley starts her week or so sailing the Inner Hebrides. Gourock, Dunoon, Largs and Millport are briefly replaced by Kyle of Lochalsh, Gairloch and Raasay, and the timetable highlights: Staffa, Fingal's Cave, the Sound of Eigg viewing Muck, Corryvreckan whirlpool.
I won't see all those today, though. My cruise is really a piece of repositioning: her long move from west to north west, but all the more thrilling for it. Probably the longest journey I've had aboard, even including her long cruises down the Thames, out and round the lonely Thames Forts.
I'm unworried by what to do. A book, some chat, some food and - later - a drink or two will mark the way. Along with the thrill of paddling off on a work day, with the phone signal occasionally - blessedly - fading to the levels that offer an excuse not to be available.
The term steaming - in the sense to be wildly drunk - comes from this sort of excursion, of course. When you couldn't get a drink on dry land, on the Sabbath, steamers offered a route to refreshment and, for some, to oblivion.
I won't be aiming for quite the same. The other steaming offers a hangover-free alternative: beautiful, short-lived, escape.