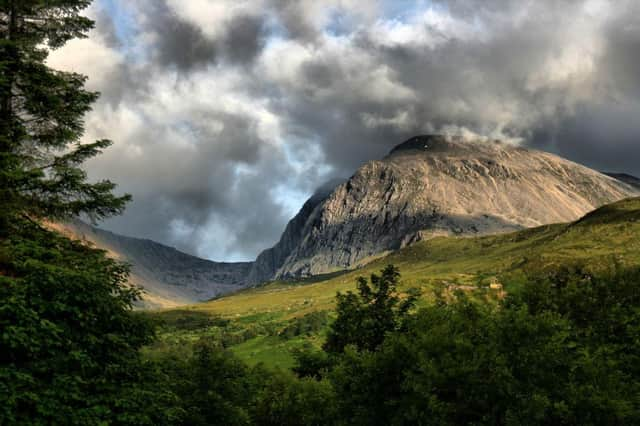 There are a total of 282 Munros in Scotland and 'bagging' them all is a huge challenge – equivalent to climbing Mount Everest 14 times – completed by only the most dedicated walkers and climbers.
It's thought that less than 7,500 so-called 'compleatists', or Munroists, have finished the epic challenge to date, making it a fairly exclusive club.
Many of the peaks can be scaled by anybody with a reasonable level of fitness, but some are more challenging prospects suitable only for those with experience and a head for heights.
Here's what you need to know about these mighty parts of Scotland's landscape.
What is a Munro?
A Munros is a peak that is over 3000 feet (914.4 metres) high. There is no hard and fast rule about now high they have to be relating to the surrounding landscape but they should have "sufficient separation" from their neighbouring peaks. The Scottish Mountaineering Club maintains a list of all official Munros.
Alongside Munros, there are also Corbetts (Scottish mountains between 2,500–3,000 feet in height), Grahams (Scottish mountains between 2,000–2,500 feet in height) and Donalds (Scottish Lowlands mountains over 2,000 feet in height).
Who are they named after?
Scotland's Munros are named in honour of Sir Hugh Thomas Munro, 4th Baronet, who was a Scottish mountaineer born in 1856.
A founder member of the Scottish Mountaineering Club in 1889, in the 6th issue of the Scottish Mountaineering Club Journal in 1891 he published a list of all of the mountains in Scotland over 3,000 feet totalling some 538 summits and 282 separate mountains. The lesser summits would become known as Munro Tops.
This came as a shock to many, as at the time is was generally thought the number of peaks in excess of 3,000 feet was in single figures.
Since this first list the Scottish Mountaineering Club has revised what mountains may be called Munros and used the most accurate ways of measuring their height
Sadly Sir Hugh failed to climb all the mountains he identified as Munros – falling three short in his lifetime.
Discussions about which peaks are Munros and which mere Munro Tops continue to this day.
What are the highest Munros in Scotland?
The 15 highest mountains in Scotland – all of which are automatically Monros – are as follows:
5. Sgor an Lochain Uaine (1258m)
7. Aonach Beag (Nevis) (1234m)
9. Carn Mor Dearg (1220m)
11. Beinn a' Bhuird (1197m)
12. Beinn Mheadhoin (1183m)
15. Stob Choire Claurigh (1177m)
What are the lowest Munros in Scotland?
The lowest 15 mountains that still qualify as Monros are as follows:
4. Beinn a' Chleibh (916m)
5. Meall na Teanga (917m)
6. Geal-charn (Drumochter) (917m)
8. Sgurr a' Mhadaidh (918m)
9. A' Ghlas-bheinn (918m)
10. Ruadh Stac Mor (919m)
14. An Socach (Affric) (921m)
15. Tom na Gruagaich (922m)
Record Compleatists
According to the Scottish Mountaineering Club, by the end of 2022 a total of 7,390 people had climbed all the Munros.
Depending on who you listen to the first person to climb all the Munros was one of two different adventurers. Some believe the Reverend A. E. Robertson was first to reach the target in 1901, althoughy researchers have found he's unlikely to have reached the top of Ben Wyvis and the Inaccessible Peak of Sgùrr Dearg. Ronald Burn certainly completed the challenge in 1923, as well as being the the first to climb all the Munro Tops.
Edinburgh climber Steven Fallon has completed the most 'rounds' of Munros, having climbed every peak a remarkable 16 times.
It's thought Ben Fleetwood is the youngest person to have climbed all the Munros - doing so by the age of 10 years and 3 months in 2011.
In 2020 Donnie Campbell of Inverness completed the fastest self-propelled round of Munros, climbing them all – and travelling between – in 31 days, 23 hours and 2 minutes.
The women's self-propelled continuous record is held by Libby Kerr and Lisa Trollope who completed their round in 2017, in 76 days and 10 hours.