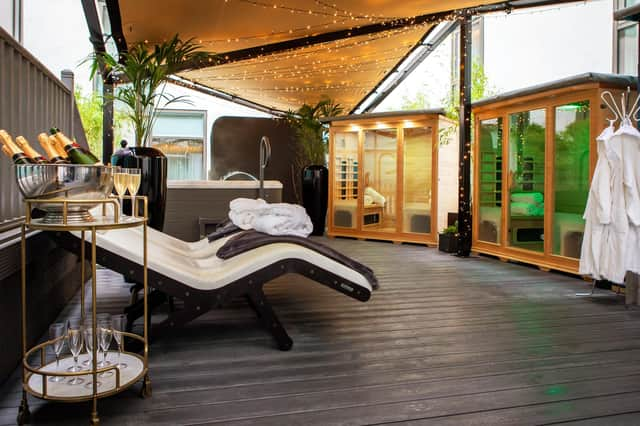 In my opinion, the spa at Kimpton Blythswood Square is the best in Glasgow.
I'm sure I'm not the only one who feels like that. Thus, when they decided to shut their doors for a major refurbishment of their offering, with an unveiling in spring 2023, they had to offer an alternative to their dedicated fan club.
The result is a Scandinavian-inspired winter spa garden, THAW. Until the end of March next year, it's open to residents of this five-star hotel only during the week, and they can get a gratis 50 minute session. Non-residents can book a treatment at weekends only.
They're still offering their full menu of therapies, and we're booked in for an ishga Invigorating Massage, so we could check out this basement level stand in.
They've cleverly repurposed a few hotel rooms, and made them into treatment spaces.
The only clue is the headboard, which is still attached to the wall.
Melissa gives me a full body massage, using sinuous moves with elbows and forearms, along with a lavender, rose geranium and lemongrass scented oil, which contains Hebridean seaweed. She is brilliant, like all the therapists here.
My other half is enjoying the same, in the room next door.
"That was so amazing", he says, looking more chilled than I've seen him in months and with his hair sticking up, when we meet in their relaxation room and reception space.
This area leads out into the spa garden, which is in the hotel's internal courtyard. There are no passers-by to watch you flit around in your bikini or budgie smugglers.
Before you go out there, choose from a glass of Champagne, or a huge cup of gratis hot chocolate. We choose the warming option, since we're braving the outdoors in our gowns and slippers and also need our blood sugar raised post-treatment.
Under a tarpaulin that's decorated with fairy lights, you'll find a pair of loungers, wooden steam room, a sauna and an infra-red sauna, where music from sound therapy music producer Brian D'Souza plays, as well as a hot tub. They take a limited amount of guests at each time, so it doesn't get too cosy in this area.
We have a shot in each, and enjoy escaping each heat experience into the winter air, for a speedy cool down.
Apparently, the new spa will have a wellness area and snowfall feature. Bring on Spring 2023. For now, this is the place to defrost.
ishga Invigorating Massage is £89 for 55 minutes, use of THAW is free with rooms starting from £156. THAW at Kimpton Blythswood Square, 11 Blythswood Square, Glasgow (0141 248 8888, www.kimptonbyblythswoodsquare.com)