In the Family of Things: Dave Rastovich co-stars with critters in new surf film
By incorporating wildlife photography into his new surf film, Nathan Oldfield presents pro surfer Dave Rastovich as just another creature under the sky, doing what comes naturally, writes Roger Cox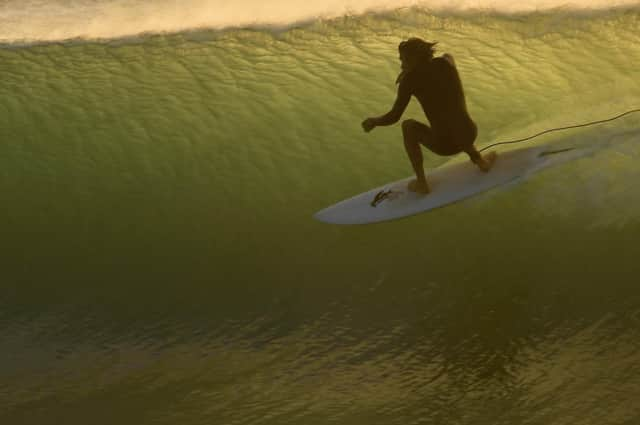 Surfing is often characterised as a simple, uncomplicated activity – as the old saying goes, all you really need is a surfer, a board and a wave. However, the ocean isn't empty – at least, not yet – so in addition to a board, surfers also need to develop a basic knowledge of some of the creatures who might be sharing the surf zone with them on any given day.
Obviously the critters most people tend to think of in this context tend to be large and grey and toothsome, but a whole host of other, smaller aquatic life-forms will also be on a surfer's radar. For example, are there likely to be urchins on the reef you're about to surf? If so, you might want to wear a pair of wetsuit boots, save yourself ending up with pincushions for feet. Surfing somewhere sandy at low tide? That might seem like an open invitation to go barefoot, but if you step on a weever fish and it sticks its poison spines into your toe, well, you're about to gain a much fuller understanding of the word "pain" so – again – if you're in a weeverfishy part of the world, wetsuit boots might be an idea.
The point is, surfers need to have an awareness of the living world around them while partaking in their chosen sport in a way that, say, a tennis player does not. (At time of writing, there is no tennis equivalent of the time Aussie world champ Mick Fanning had to fight off a shark in the middle of a competitive heat at Jeffreys Bay, South Africa.) And, over the last few months, there seems to have been a particularly high number of incidents involving surfers dramatically – and sometimes comically – coming into contact with sea creatures large and small.
Yes, there have been shark attacks, including one in Western Australia at the end of last month, in which an unidentified male surfer made a truly miraculous escape from a great white after losing a leg more than half a kilometre offshore. However, in terms of column inches and airtime, the most talked about surfer-critter interaction of the summer by far involves a sea otter in Santa Cruz, California who has taken to stealing surfers' boards and biting big chunks out of them. Efforts by the California Department of Fish and Wildlife to capture "Otter 841" in the interests of public safety have been met with protests from those who feel that she has more right to be swimming around in the water off Santa Cruz than a bunch of surfers, who could easily surf elsewhere. One meme doing the rounds depicts her in a Che Guevara-esque beret alongside the text "Keep Otter 841 Free", while, for $37.99, true fans can buy a T-shirt with a picture of Otter 841 surfing a wave beside the text: "Otter my way, dude!"
Also in the last few months: Brazilian pro surfer Michael Rodrigues found himself sharing a wave with two dolphins during a surf contest at Margaret River, Western Australia (he still lost his heat); "Sammy the Surfing Seal" has been hitching rides on surfers' boards in San Diego, California (scientists have described this as "unusual behaviour" but to surfers it seems pretty normal); and members of the West Coast Surf School in Pembrokeshire were treated to a rare sighting of a humpback whale.
So, what are we to make of all this surfer-sea-creature interaction? The obvious response is to try and rationalise it: yes, statistically, as surfing grows in popularity it makes sense that more encounters like these will take place. However, for a more thoughtful take, it's worth checking out the new short film In the Family of Things, filmed and edited in Australia by Nathan Oldfield and starring pro surfer and Patagonia global sport activist Dave Rastovich.
The film opens with a slow panning shot of a blood-red sunrise and Mary Oliver reading her poem Wild Geese, which culminates in the magnificent lines "Whoever you are, no matter how lonely, / the world offers itself to your imagination, / calls to you like the wild geese, harsh and exciting – / over and over announcing your place / in the family of things." What follows is a mixture of Rastovich alternately weaving through and carving up some perfectly formed turquoise cylinders and footage of dolphins frolicking in the same waves, birds flying high overhead and and whales breaching out beyond the break.
The subtext is obvious: this surfer is just one more creature under the sky, doing what comes naturally. Often, surf films cast the surfers they feature as somehow special, heroic even – the beauty of In the Family of Things is that Rastovich, for all his wave riding prowess, is framed as just one species of many inhabiting this particular corner of the globe.
In their Dark Mountain Manifesto of 2009, Paul Kingsnorth and Dougald Hine called for "uncivilised writing" – writing suited to our anthropocene era which "attempts to stand outside the human bubble and see us as we are" and to challenge "the myth of human centrality, and the myth of our separation from nature". It may not be uncivilised writing, but perhaps In the Family of Things might qualify as "uncivilised filmmaking".