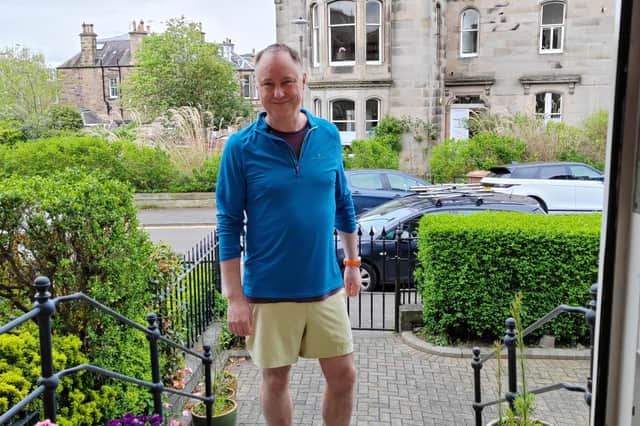 In my head I always thought myself reasonably fit but the reality is I last played football with the Tuesday Night Allstars at Saughton more than a decade ago. And my cycle to and from work came to an abrupt halt at the start of the pandemic. I now work from home so my commute is a walk downstairs.
So when a good friend, just a couple of years older than me, died suddenly at the start of the year it made me take a hard look at how I was living my life.
So now, I'm training for a triathlon. It's a classic mid-life crisis move, I know, but this is only a mini one. Inspired by the New Year's Day event run by Edinburgh Triathletes, I will swim 400m at the Commonwealth Pool, cycle round Holyrood Park three times (around 15km) and then run round it once.
It's not a challenge on the scale of a marathon but it's not nothing – at least for me – and enough to get me swimming, running and cycling.
Before I launched into a frenzy of fitness, I got a check-up at my GP, where blood pressure and cholesterol levels, among various other things, were checked and found, thankfully, to be fine.
I started with a short daily online workout. My chosen tormentor is Lucy Wyndham-Read, a smiley assassin and YouTube fitness guru, who my wife swears by. I do one every day now and am over familiar with such horrors as a skater's lunge and pendulum swing. I prefer resting crisp eater.
I also bought a pair of swimming shorts to replace my old Hawaiian-patterned ones and some goggles and can now be found at Gracemount Leisure Centre a couple of times a week doing breaststroke for 30 to 40 minutes.
The running is more problematic because I loathe it. I always think of being forced to do cross country at school when it was too wet and miserable to do anything else, but I've built up to 8km without stopping.
The thing I enjoy most, cycling, I have done least, as I'm saving that for when I've got to a good enough level at the other two. This isn't a race, though. I'll do it one day this summer, when I feel ready. It will be a moment to reflect on how far I have come, to remember a friend and then crawl into a corner and recover.