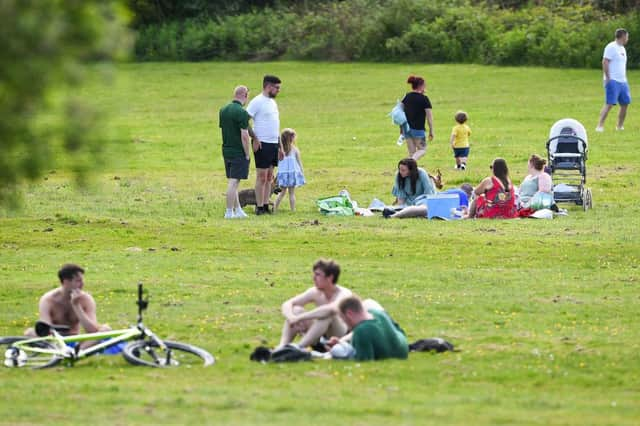 Four people from two households will be able to meet up outdoors in private or public spaces, with up to 15 for organised sports (Picture:Jeff J Mitchell/Getty Images)
Scots have been looking forward to 26 April for several months, as First Minister Nicola Sturgeon stated non-essential services and travel could commence from today.
On 16 April, she reintroduced the 'rule of six' and meeting up in private gardens but travelling for shopping and visiting hospitality was not permitted until April 26.
So, what are the changes to the route map and what does it mean for social distancing and the 'stay local' rule? This is what you need to know.
What changes have been made to social distancing?
From 26 April, up to six people from two households can socialise indoors in a public place such as a café or restaurant and up to six can meet outdoors in a public or private space.
People can also meet up with others in private gardens, though should only go indoors to reach a back garden or to use a toilet.
Unrestricted travel within Scotland, England and Wales – subject to other local restrictions in place – is also permissed.
Travel restrictions for wider purposes such as leisure, shopping, visiting hospitality premises or staying in tourist accommodation have also been lifted.
Outdoor non-contact sports and group exercise is also now allowed for adults in groups of up to 15 people.
What are the rules for children meeting outdoors?
Young people aged 12 to 17 will be able to meet outdoors in groups of up to four people from four different households.
They will also be allowed to participate in organised activities in groups of up to 15 and travel across into other local authorities to participate in organised activities.
Children younger than 12 remain able to mix in larger groups and do not count towards the limit placed on groups of adults of older children.
What advice has been given to reduce the risk Covid cases rising when we are allowed to meet up?
The latest statistics, released on 26 April, reveal there have been no new deaths in Scotland and less than 1,500 new cases in the past seven days.
However, there are still precautionary measures which must be taken when meeting up, the First Minister has stressed.
Announcing the latest roadmap update on 13 April, Ms Sturgeon said: "[From 16 April] you will be able to meet up with family and friends who live in different parts of the country.
"I know that many of those reunions will be long-awaited and much anticipated but please do remember that at this stage meetings, probably until the middle of May, must still be outdoors and not within our own homes and I would ask everyone to please be careful."
The First Minister reminded the public that these meeting must be outdoors and not inside homes.
Non-essential retail, beauty salons, gyms and hospitality also reopened on 26 April.