How James Otter is inspiring surfers to make their own wave-riding vehicles
​In his new book, wooden surfboard-maker James Otter encourages other surfers to have a go at building their own boards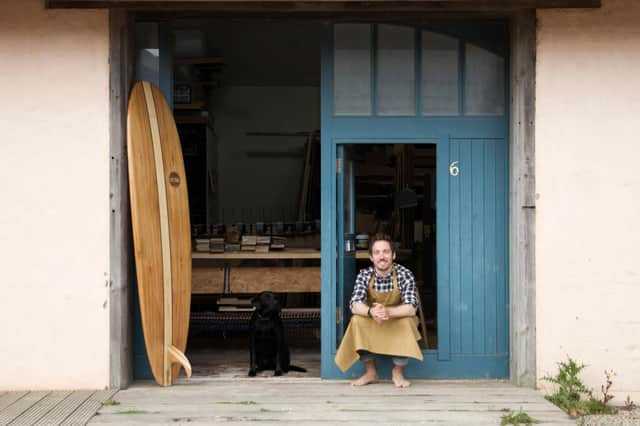 It is a truth (almost) universally acknowledged that as surfers get older, they start riding first thicker and then longer boards. That wafer-thin 6-foot pro-model might feel great under your feet when you're in your late teens and early twenties, and you're still supple enough to turn it on a sixpence in fast, hollow waves. Enjoy that feeling while you can though kids, because once you pass 30, the demands of the real world start eating into your water time and the old muscle-to-weight ratio starts shifting in the wrong direction, you'll probably find you're catching fewer waves than you used to, and moving a little more sluggishly when you do. Sooner or later, unless you've somehow managed to arrange your life so that you can surf as often as you did when you were 20, you'll probably decide that a little more volume is required.
​My own surfboard-owning history fits this pattern almost exactly. In my early 30s I decided to "try out" a mid-length board – a 7'6" Donald Takayama Egg. It was only supposed to be an experiment, but after a couple of surfs I was so smitten by how easy the extra length and volume made paddling and catching waves that all my six-foot-something boards were effectively retired.
Then, when I hit 40 I caved in and started riding a 9'6" longboard. Again, I tried to convince myself that this was just for research purposes – a way of getting back to the simple, point-and-shoot essence of the sport – but in reality I was relieved to find something that made life a little easier; sort of the surfing equivalent of an e-bike.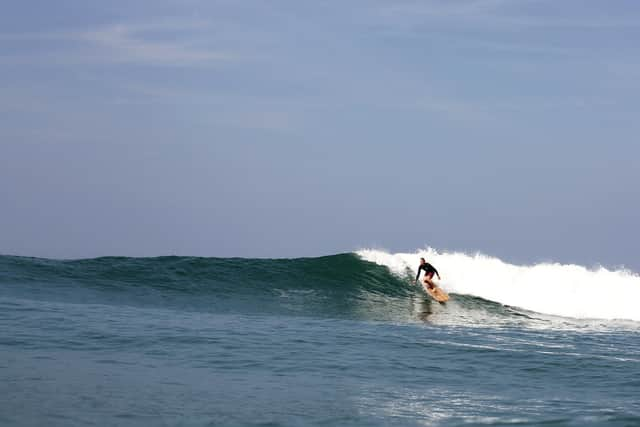 These days, if the waves are small I'll ride the longboard and when it gets good I'll use the egg; the six-foot-something boards of my youth have been gathering dust for years and I honestly can't remember the last time I rode any of them.Given my recent trajectory, you might think I'd now be eyeing something in the 11-foot-plus range to take me gliding smoothly past my 50th birthday, but while the idea of using a board the size of an aircraft wing in order to catch waves half a mile out to sea when they're still just ripples is pretty appealing, right now I have my sights set on something a whole lot smaller.
The surfer and surfboard shaper James Otter recently brought out a book called Do / Make / The power of your own two hands (Do Book Co, £8.99), in which he evangelises about the joys of creating your own surf craft. First he explains how, through a difficult but ultimately rewarding process of trial and error, he came to be one of the foremost makers of wooden surfboards in the UK, and then he tells the remarkable story of how, from a very early stage in his surfboard-making career, he realised that rather than keeping his hard-won board-building expertise close to his chest, he could do more for others – and, counter-intuitively, for his fledgling business – if he started sharing his know-how.
As well as shaping surfboards to sell – and his boards really are works of art – Otter now also runs board-building courses for surfers looking to shape their own boards, and to see how central this knowledge-sharing philosophy is to his way of working, you only need to visit his website. Try to buy a board and alongside the payment options you will find a message asking you if you'd like to have a go at making it yourself. "Building your board with your own two hands and literally knowing it inside and out makes it much more than just another purchase," reads the message, "you develop a deeper connection with your surfboard. [On our courses] you'll build the surfboard of your choosing alongside a maximum of two other people, with us guiding you through each step of the process."
Like most people who will read Otter's book, I don't have either the time or the money to attend a five-day surfboard-building course, much as I'd like to, but Otter has helpfully added a section at the back with instructions on how to make your own handplane. For those unfamiliar, a handplane is like a miniature surfboard which bodysurfers strap to their hands to help them ride waves more efficiently​. ​​Otter recommends using lightweight woods like cedar or poplar and talks you through the construction process in a clear, unintimidating style.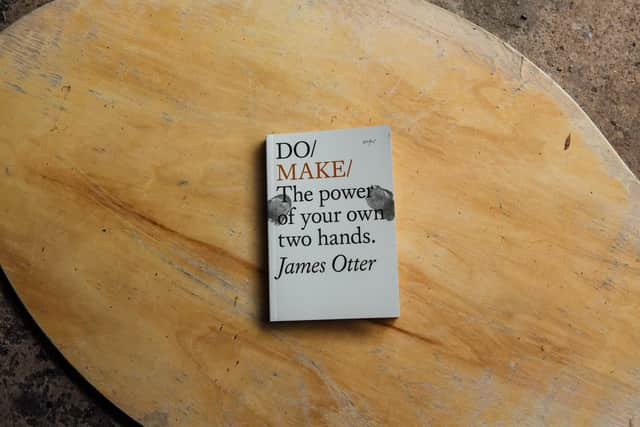 ​Bodysurfing isn't ​something I'd ever given much thought to until last autumn, when – in the gap between lockdowns – I seem to have spent most of my weekends out in the surf pushing our kids and our friends' kids into waves​. Often, once you've catapulted a small person into a wave and watched them scramble to their feet and fly off towards the beach howling like a banshee, you'll turn around and see an even better one heading your way, and with no surfboard handy the only sensible thing to do is at least try to bodysurf it. I'm thinking a handplane could be a useful addition to this set-up, and so I plan to spend the long winter evenings rasping and sanding.
Hopefully by the spring I'll have managed at least one functioning handplane. And who knows? A few handplane sessions might even inspire me to give the six-foot-somethings another go.
A message from the Editor:
Thank you for reading this article. We're more reliant on your support than ever as the shift in consumer habits brought about by coronavirus impacts our advertisers.
Joy Yates, Editorial Director