'Have a belter': Glasgow-based artists team up to create large-scale colourful mural for beer gardens reopening at SWG3's Yardworks in Glasgow
Two artists based in Glasgow have teamed up to create a 'big, fun, colourful mural' in only a week at a popular Glasgow venue to mark the opening of beer gardens in Scotland.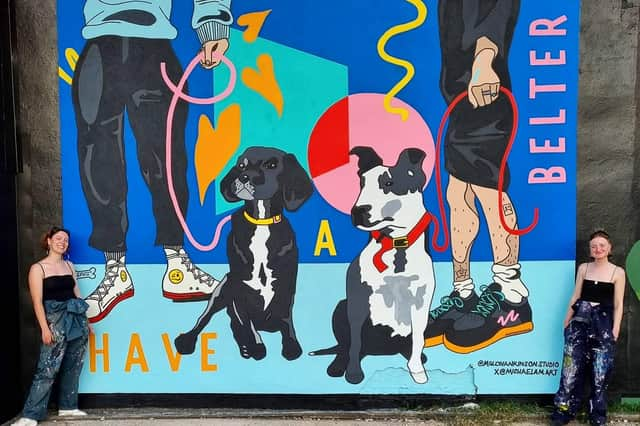 25-year-old artist Molly Hankinson and 24 year-old artist Michaela McManus have completed their 3.5 metres high by 4.5 metres-wide 'Have a belter' mural at the Yardworks at SWG3 in Glasgow to mark pubs reopening across Scotland.
Completed in only a week, the mural joins a range of artwork decorating the walls at one of Glasgow's largest beer gardens.
It hopes to bring colour and 'positive vibes' as people reunite with their friends over a pint in the coming days, according to the artists behind the work.
Seen from a 'dog's perspective', the colourful mural depicts two dog walkers based on the artists and their dogs Rudy and Nacho.
Full-time freelance artist, Ms Hankinson, 25, originally from South-East London, said : "We wanted this to be a big, fun, colourful celebration of all the good things in life."
"We knew that it was going in the Yard so we wanted it to reflect that summery beer garden vibe."
Talking about the 'dog theme', Ms Hankinson said: "One of the only connections people have been able to have recently is stopping having chats with people when they are out walking their dogs and those sort of impromptu interactions with strangers people are taking so much from at the moment."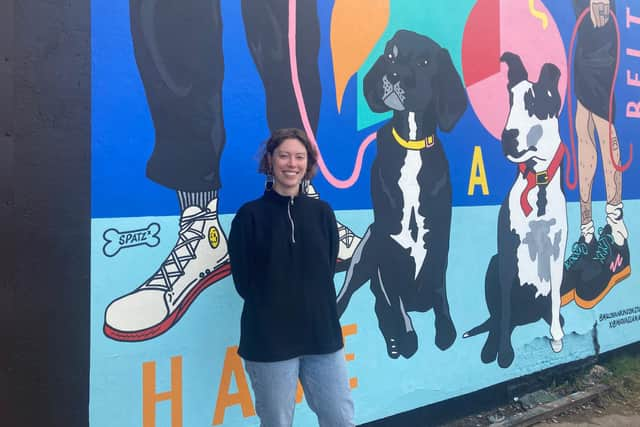 Practicing artist Ms McManus, 24, orginally from Dalkeith in the east coast of Scotland but now based in Glasgow, added: "We got to paint in the sun as well with Molly's dog Rudy which just made it feel like it all came together so nicely."
"We both have had dogs our whole lives- my dogs back in Edinburgh and I miss him so much- so it was a wee nod to our love of dogs.
"I think people are keen to socialise again and that was kind of what the mural is about- little moments of socialising that have become so precious to us. "
Friends since first year at the Glasgow School of Art, the two talented female artists were glad to team up to create the large-scale structure in just a week.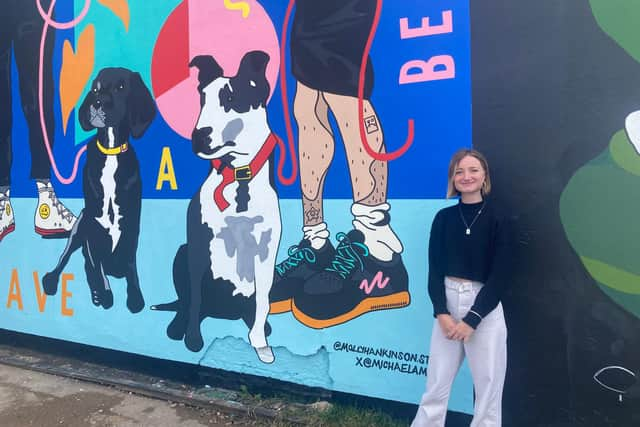 Currently juggling a part-time job at a cafe in Glasgow as well focusing on her art, Ms McManus said: "I actually met Molly on my first day moving into halls.
"It's really rare as we work so well professionally and we never wind each other up.
"We have collaborated in the past and we do work really well together so when we had the opportunity to paint on a huge wall at SWG3 we just wanted to do something fun and light-hearted which is what we are all about."
Usually specialising in art seen from an 'intersectional feminist lens', Ms Hankinson said she was able to experiment with new themes in this mural collaboration.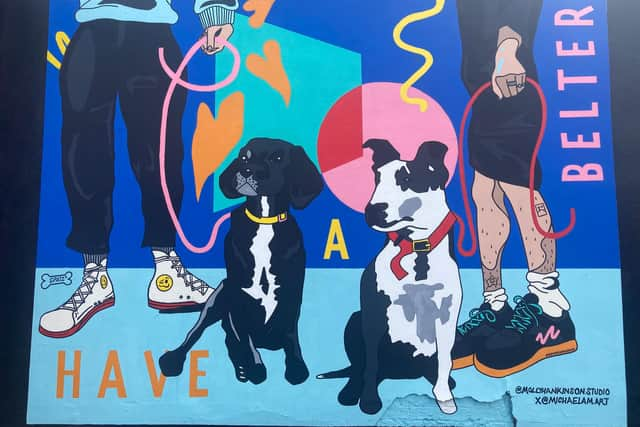 She added: "We wanted to combine shapes and patterns and create a composition that was a really strong, bold and summery- a little bit of fresh air from our own practices and to provide a bit of fun and positive, uplifting, summery and looking forward to the future.
Ms McManus who has a studio on Dornoch Street, Bridgeton in Glasgow also added that the joint work allowed both artists to compliment one another's styles.
She said: "My work is more monochrome so I drew the dogs and Molly drew the legs and there's clearly such a huge contrast between black and white and the colour so it's kind of our style combined to compliment each other."
"We designed it last Friday, put emulsion on the wall and then painted from the Tuesday to the Saturday night and it came back for final touches on Sunday.
"It was a fast turnover- we found out we had the wall the week before so when Molly and I got our heads down we were very quickly on the same wavelength and had our ideas down in one day."
"Hopefully it will bring a bit of sunshine into people's days.
"Very excited to see people's reactions and have a pint.
"The response on social media has been amazing so I can't wait to see in the next week or so how people respond to it in person."
Talking about the use of text in their art, Ms Hankinson said: "The text 'Have a belter' was just such a fun Scottish phrase that is always just really genuine and sincere when anyone uses it and we wanted that to be reflective of people getting out again and having a bit of fun and enjoy the sunshine.
"A 'things are looking up' sort of message."
"We used more general motifs from our works to create the patterns in the background so we used circles, windows and heart shaped leaves."
She added: "It's nice to be celebrated in the Yard where there is art literally all around and everyone is so talented so it's a real pleasure and great to have that sense of community again."
Keen to spread 'positive vibes' across the rest of Glasgow and Scotland, Ms Hankinson added: "If you have a free wall, let us know."
A message from the Editor:Thank you for reading this article. We're more reliant on your support than ever as the shift in consumer habits brought about by Coronavirus impacts our advertisers.
If you haven't already, please consider supporting our trusted, fact-checked journalism by taking out a digital subscription.
Comments
 0 comments
Want to join the conversation? Please or to comment on this article.