Everest: A new chapter in the search for British climber Sandy Irvine
The question of whether George Mallory and Sandy Irvine were the first people to summit Everest in 1924 has puzzled climbers for generations. Almost 100 years after they disappeared into the clouds, Mark Synnott set out to solve the mystery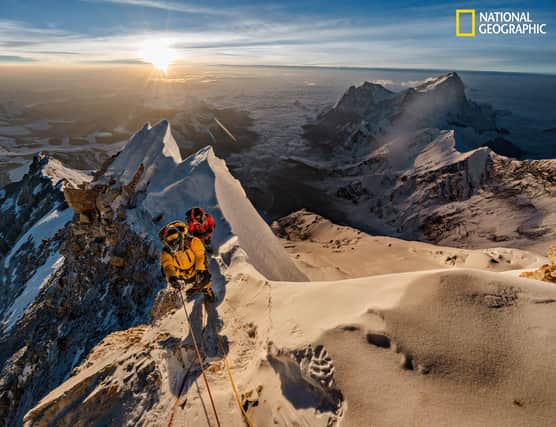 The ethics of climbing Mount Everest could sustain an entire season of Radio 4's Moral Maze. How comfortable are we with the idea of rich Western mountaineers paying poor local sherpas to carry their bags, cook their food and risk their lives so they can reach the world's highest point? Are we OK with the enormous amount of rubbish that gets dumped on the mountain every year, some of it, right enough, jettisoned by climbers close to the summit and nearing the end of their tether, but a lot of it left lying around Base Camp, where the excuse "if I'd tried to carry it down I don't think I would have made it back alive guv" doesn't sound nearly as convincing?
Can the whole circus be justified by the logic of trickle-down economics? Almost 70 years on from Tenzing Norgay and Sir Edmund Hillary's historic first ascent of Everest, the Khumbu region of Nepal, from which most sherpa guides are drawn, has a per capita income five times the national average. Clearly, then, there has been some not-inconsiderable trickleage. Still, given that the average annual salary in Nepal is somewhere in the region of £2,500, it seems unlikely that the residents of Namche Bazaar will be snapping up second homes in Cannes any time soon.
Then, of course, there's the question of overcrowding on the approaches to the summit, in the so-called "death zone" above 8,000m where the human body uses up its store of oxygen faster than it can be replenished. Every year, during peak climbing season in May, we goggle at the queues of brightly be-GORE-TEXed climbers strung out in a line beneath the Hillary Step (or the spot where the Hillary Step used to be before it fell off), patiently waiting their turn for a couple of minutes in the most desirable selfie-spot on Earth, and every year we read lists of those who have died, either on the way up or on the way down, and wonder if the rewards can possibly justify the risks. Every year, that is, except this one, because in 2020, thanks to coronavirus, Everest is taking a gap year after Nepal and China suspended all climbing expeditions.
But even though there's nobody climbing the world's highest mountain this year, it's still been making headlines. The cover story of the July edition of National Geographic is a piece by the climber and journalist Mark Synnott entitled The Great Mystery of Everest, and it concerns his attempts, on an expedition in 2019, to locate the body of the British mountaineer Sandy Irvine who, along with George Mallory, may or may not have been the first to summit Everest in 1924, back when Big Ed Hillary was just coming up to his fifth birthday.
Since 2014, when Susan Goldberg took over as National Geographic's editor-in-chief, good, old-fashioned adventure stories have been less numerous in its pages. Synnott's feature, though, is very 2013. Encouraged by Everest veteran Thom Pollard, and drawing on drone surveys conducted by Mallory and Irvine buff Tom Holzel (see video above), Synnott set out to investigate a small crevice on the mountain's north face, just below the summit, which Holzel had identified as Irvine's likely last resting place. Mallory's body was recovered in the area in 1999, but Irvine's had never been found. Crucially, he was the one thought to be carrying the duo's camera, so whoever discovered his body might also be able to clear up the mystery of whether the pair made it to the summit or not.
Like pretty much everything to do with Everest, the ethics of Synnott's expedition were labyrinthine and – to his credit – he doesn't shy away from exploring them. At the eleventh hour, it transpired that his 12-strong sherpa support team didn't know the real reason for his visit, and were none too happy about it. They favoured a quick, no-nonsense trip to the summit and back, and were appalled by the idea of their client burning valuable minutes in the death zone searching for a hundred year-old corpse. When Synnott set out on his final push to the summit, he was under the impression that this conflict had been resolved, and the sherpas had consented to his side-trip on the way down; at the critical moment, however, when he stepped off the beaten track and started making towards the crevice in search of Irvine's remains, he heard the lead guide, Lhakpa Sherpa, shouting "No, no, no! Very dangerous, very dangerous!"
What to do? Keep going and potentially put the whole party in danger? Or turn around and head back to base camp, even though Irvine's body might only be "a stone's throw" away?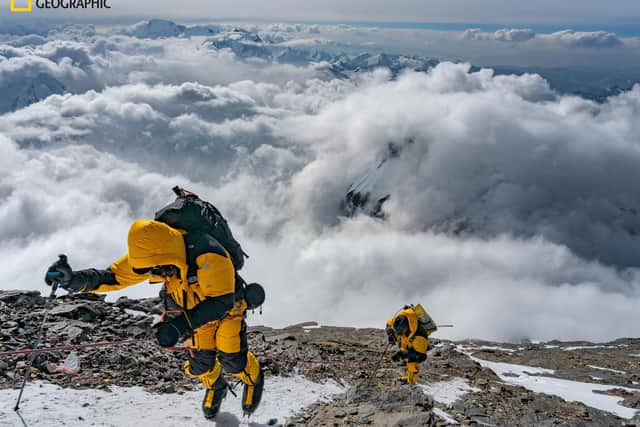 It's not really a spoiler to say that, in the end, Synnott decided to keep going but failed to find what he was looking for. The most interesting thing about his account isn't what happened or didn't happen but rather his honest, clear-sighted analysis of his reasons for acting as he did. Having started out with a deeply jaded view of the whole Everest scene, he ends his essay with the following line: "I had no answers. But I had learned something about the pull of Everest that drives people to push themselves so hard, because if I hadn't walked in Sandy Irvine's footsteps, I never would have felt it myself."
To read the full story of Mark Synnott's search for Sandy Irvine, see the July edition of National Geographic Magazine or visit www.natgeo.com/everest