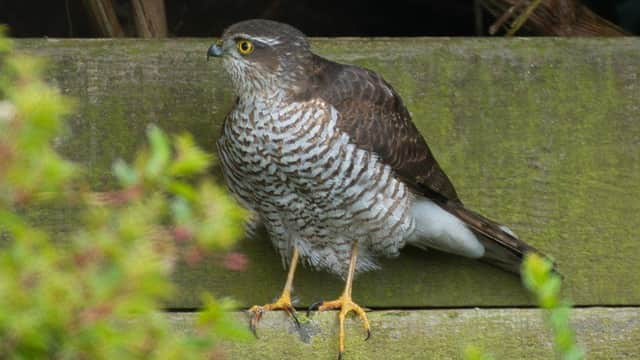 Huntress: female sparrowhawk
Researchers studied more than 800 photographs of sparrowhawks with their prey uploaded by members of the public across the UK, including nearly 100 in Scotland.
They found that adult females preyed on items up to 2.5 times heavier than their partners.
For juvenile birds, females caught prey around 1.5 times heavier than those targeted by their male counterparts.
The study, published in the British Ornithologists' Union's journal IBIS, found that female sparrowhawks' favourite meals consisted of wood pigeons. Male sparrowhawks mainly feasted on starlings and sparrows.
The study was made possible as lockdown allowed led more people to share pictures of wildlife on social media.
Researchers from the University of Brighton and the University of Cape Town, South Africa, took advantage of such photos to better understand the diet of one of the UK's most common birds of prey.
Connor Panter and Associate Professor Arjun Amar, a former scientist with RSPB Scotland, used photographs of sparrowhawks feeding on prey items uploaded onto social media sites, such as Facebook and Twitter, to reveal new insights into the species' diet.
Mr Panter, lead author of the paper, said: "People often discover Sparrowhawks on kills in their gardens or elsewhere. We noted that many people photograph these events and then upload their photos onto the internet. We wondered whether these photos could be used to study their diets.
"By searching the internet, we were able to extract huge amounts of data from photographs of sparrowhawks on their prey items."
The majority of Scottish photos used came from the Edinburgh and Glasgow areas, with others from the Isle of Lewis and the Shetland Islands to Castle Douglas and Kirkcudbright in Dumfries and Galloway.
The Sparrowhawk is of great interest to ornithologists because the sexes show one of the greatest size differences of any bird species, with females weighing up to twice as much as males.
Dr Arjun Amar, Associate Professor of Biological Sciences at the University of Cape Town, who supervised the research, said: "In addition to studying differences in prey size, we were able to identify important prey types within the Sparrowhawk diet. Wood pigeons are a favourite of female sparrowhawks, whereas males tend to prefer starlings and house sparrows."
Other prey species identified in the study included collared dove, rock dove, blackbird, goldfinch, greenfinch, blue tit and stock dove.
The paper, "Sex and age differences in the diet of the Eurasian Sparrowhawk (Accipiter nisus) using web-sourced photographs: exploring the feasibility of a new citizen science approach", shows how researchers can collect important ecological data very quickly with almost no financial costs.
Additionally, the new method did not require the researchers to visit nest sites, allowing them to collect and analyse these data during the national lockdown in response to the COVID-19 pandemic.
Mr Panter added: "We have shown that even during a national lockdown, there are ways we can study the birds around us. The internet is a vast resource of information and with help from citizen scientists such as the British public, we are able to answer ecological questions that have for years remained unanswered."
A message from the Editor:
Thank you for reading this article. We're more reliant on your support than ever as the shift in consumer habits brought about by coronavirus impacts our advertisers.
If you haven't already, please consider supporting our trusted, fact-checked journalism by taking out a digital subscription.