Dad sells home and stakes family's fortune on e-scooters being a success
There's no doubt Covid-19 has cemented 2020 as an annus horribilis of mega proportions.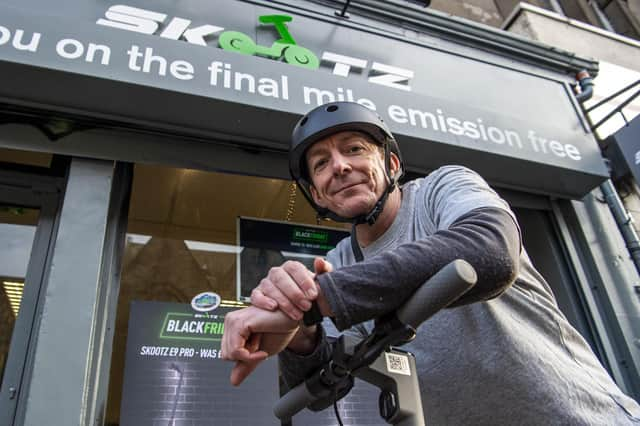 Millions of people across the world have lost their loved ones, their livelihoods, their well-being and their freedom.
But there are also stories of hope and human resilience, the promise of a brighter future.
Mark Bain was working as a sales director for a high street retailer when the pandemic hit.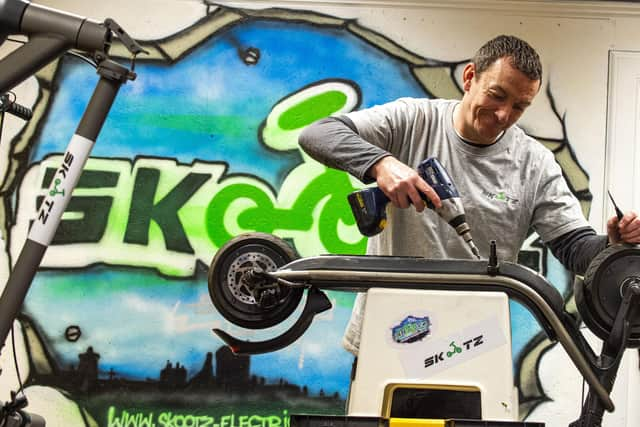 He was furloughed in April, then later made redundant.
Not one to sit about, he volunteered at a charity in the west of Edinburgh, helping make and deliver food parcels for vulnerable families.
He also helped out with gardening and general odd jobs around the community.
Throughout this time he was mulling what to do next – how best to support his partner Emma and sons Luke and Josh, and do something they could all be proud of.
Now, after selling his house to raise cash for the new venture, he has just opened the doors of Skootz, specialising in sales, hire and repairs of e-scooters.
"Patience and perseverance are what I live by, and that's never been truer than in 2020," he said.
"The great outdoors and the environment are real passions for both Emma and me.
"Whilst camping during lockdown I learnt more about e-scooters – not just the obvious environmental benefits, but also the potential for significant improvements to traffic management and accessibility.
"We purchased some the next day and this became the catalyst for Skootz and the foundations for our online store."
The coronavirus crisis has sparked a massive increase in the number of people turning to active travel, with a surge in sales of pedal cycles, electric bikes and e-scooters.
Health, environmental and social-distancing concerns have all been a factor in the trend.
Bain said: "We've helped people from all walks of life – nurses, chefs, bankers, nannies, parents and grandparents – start their emission-free e-scooter journey, whether it's to make the school run more fun, get a little help up Edinburgh's famous hills or just move around the city more easily easier.
"I'm excited to help more people join the e-scooter revolution."
His very first customer was Michael Fitzpatrick, who lives in Leith and recently retired from his job as a senior manager with the NHS.
"At the age of 60 my wife thought I was having a late midlife crisis when I declared that I was going to buy an e-scooter," said Fitzpatrick.
"I'm not a car driver and have always used buses but wanted to take the time I didn't have previously to explore parts of our city that buses don't get to.
"Since getting my e-scooter I haven't looked back. I've been all over the city and beyond.
"I suffer from back problems so the scooter lets me travel much further than I can on foot.
"It has honestly given me a new lease of life and is a much healthier way to travel than sitting in a car or a bus.
"I've not had as much fresh sea air in years from travelling up and down our coastlines.
"It also provese-scooters are not just for the kids."
E-scooters are not currently road-legal, but that's expected to change soon.
Skootz is on Edinburgh's Easter Road and online. And it's not too late to order for Christmas.
A message from the Editor:
Thank you for reading this article. We're more reliant on your support than ever as the shift in consumer habits brought about by coronavirus impacts our advertisers.
Comments
 0 comments
Want to join the conversation? Please or to comment on this article.