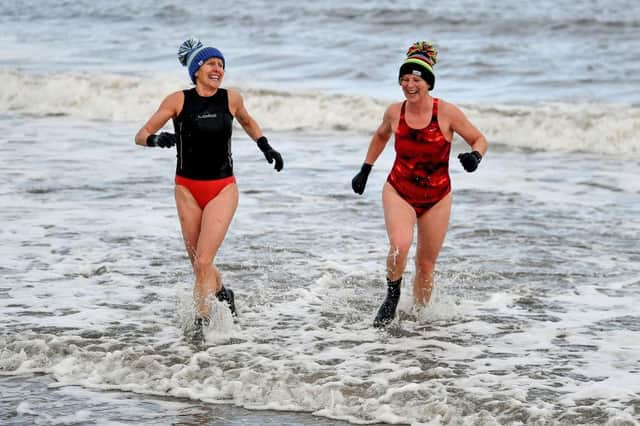 Two of my fellow swimmers braving the cold at Portobello yesterday. Picture: Jeff J Mitchell/Getty Images.
Little did I know that years later I would be walking across a beach covered in inches-deep snow in sub-zero temperatures, buzzing with the thrill of anticipation and lured by an irresistible pull towards the Forth for my latest dip.
And now, with the zeal of the recently converted, I am preaching to anyone and everyone about the unique and utterly addictive high of open water swimming (OWS).
I would like to stress at the point that it isn't for everyone, and should only be undertaken when you're armed with knowledge of the many dangers posed by the water and the cold – and the potent combination of the two.
Swimmers at Portobello - lockdown has helped turn a 'rising trend into a phenomenal spike,' according to coach Colin Campbell. Picture: Andrew O'Brien.
Swimming coach Colin Campbell says he considers OWS an extreme sport, and it was at one of his classes at Wardie Bay introducing people to the activity that I first literally dipped my toe in on a chilly October day.
But I hadn't been sure it was a good idea. If I was chilly in my flat with the heating on, surely heading into the icy depths would be unbearable?
Then again, it wasn't a total leap of faith – I'd always liked swimming in the sea, and once on a spa day I'd been exhilarated by repeatedly immersing myself in an icy plunge pool.
More recently, I was inspired by author Marianne Power, who in her autobiographical book Help Me! tells how she takes a dip in Hampstead Ponds on New Year's Day. "At first the water felt so cold I thought I was going to die," she says, but then the benefits become apparent. "This is what it's like to be alive, I thought… it was beautiful."
Colin's class involved an online briefing the night before on safety and recommended kit, but he also spoke of the joys of the activity.
And when I finally entered the water, the temperature wasn't as bad as I'd feared, and the blissful relief of acclimatising soon kicked in. I found it somehow both calming and invigorating bobbing around in the cold water, looking back to shore.
I soon found myself returning, initially once a week, which soon became twice and then three times when possible, armed with neoprene gloves and boots to help stave off the vice-like grip of the cold.
After a few swims I started to experience the buzz I'd heard people talk about – an electrifying tingling sensation from head to foot, feeling completely energised by the cold and ready to take on anything.
I've discovered a whole new world I never knew existed – Dryrobes (fleece-lined, tent-like coats to change under), the work of athlete and cold weather warrior Wim Hof, and watching some of the many documentaries where the protagonist overcomes their personal battle by taking to the water.
Colin says: "Frankly, I think it's been a lifesaver for many people during lockdown, and should be regarded as a superb and effective way to address the post-lockdown mental health catastrophe that we as a society are now facing."
My favourite swim to date was one morning when the water was as still as glass and topped with a wispy layer of fog, as a group of friendly ladies in brightly coloured woolly hats swam by.
Supportive
Colin says: "I love the passing greetings... With the rise in popularity [of OWS], it does means that you're often likely to see another swimmer even if you go on your own – that's very supportive."
I also look into the science behind it. It stimulates the parasympathetic system, which helps your body rest and repair itself, and can boost your circulation, metabolism and immune system – as well as improve your response to stress and potentially protect against dementia, for example.
Colin explains how he has done OWS his whole life, but only took it up seriously in 2013 to help deal with a back injury. He then started swimming in Loch Lomond, and around 2016/2017 had the "bonkers" notion of becoming a swim teacher and an OWS coach.
As for the recent boom in people taking up OWS, he says no one could have predicted the huge surge – and points out that Roger Deakin's 1999 book, Waterlog: A swimmer's journey through Britain, is widely credited with converting many people to outdoor swimming.
"But I think it's due to something far bigger and much less tangible," he adds, citing a growing appreciation of nature as one factor. "A desire to get away from the wired, online, urban lives so many of us lead. A need to be thrilled, to experience life-affirming risk and danger. To simply find meaning in life and connect with others and the land."
He also sees people being increasingly aware of the mental health benefits has been a big draw. "But also, what else is there to do?"
Well exactly – it's certainly given my lockdown-restricted weekends a welcome diary-filler, it's obviously a healthier option than watching yet another crime documentary on Netflix, and it's given me a much-needed conversation topic. Crucially, it's given me motivation – with the glowing feeling it provides a handsome reward for overcoming the challenge of the cold each time, a sense of victory.
Colin also stresses that the benefits of sea swimming could help us become a healthier nation. "Scotland has a great performance legacy in the pool," he adds. "Wouldn't it fantastic if that was matched in the open water, too?"
So who knows, maybe one day I'll be modelling some OWS medals. That seems as likely as me finding the lost city of Atlantis – and OWS is already giving me all the rewards I need.
A message from the Editor:
Thank you for reading this article. We're more reliant on your support than ever as the shift in consumer habits brought about by coronavirus impacts our advertisers.
If you haven't already, please consider supporting our trusted, fact-checked journalism by taking out a digital subscription.