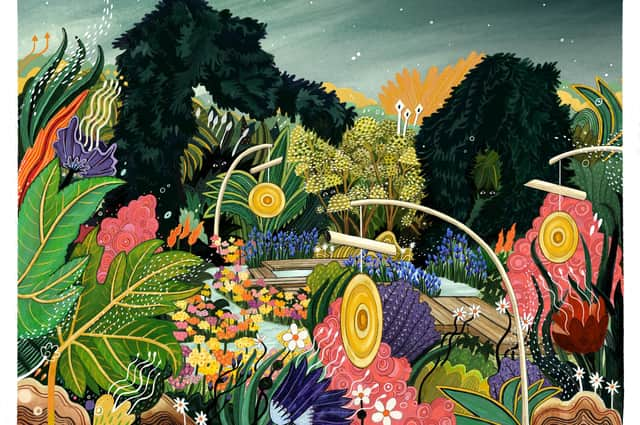 Gardens needn't be purely about structure and rules, they can also be places of whimsy and imagination.
That's something that Nicola Semple and Susan Begg, of East Lothian and Switzerland-based business Semple Begg Landscapes and Gardens, hope to prove.
Their Elsewhere Garden design, which was inspired by films including The Wizard of Oz, will be travelling to Chelsea Flower Show (May 22-27) in London.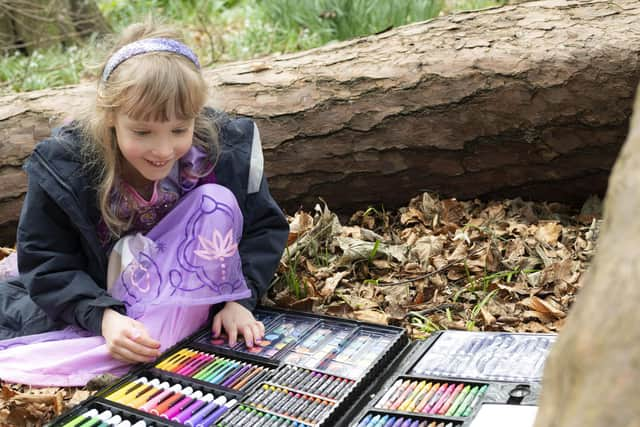 It was created to mirror the work of the Musselburgh-based childrens' mental health charity, Teapot Trust. After the show, the entire plot will be packed up and relocated to the Royal Hospital for Children in Glasgow.
We asked the duo to tell us more.
Tell us about your day jobs.
SB: "We're both garden designers. I'm based in East Lothian and Nicola is based near Geneva in Switzerland. Originally we were both in Scotland but for the last five years we've been running the practice internationally. We both work on projects local to us and always collaborate - the Teapot Trust Elsewhere Garden being a case in point. The UK-Swiss synergy brings alternative perspectives, ways of doing things and we believe, a better end result. Our clients range from private to commercial projects and our days are varied and interesting: talking with contractors and nurseries, visiting sites, and of course many hours at our desks and on Zoom".
How did you create the Elsewhere Garden?
NS: "At the beginning we held a workshop with children who benefited from Teapot Trust art therapy. We were blown away by the imaginary worlds they created in their artworks – the art therapy literally took them 'elsewhere'. Normal rules didn't apply and the children were supported to use their creativity to explore their fears - and ultimately resolve them. Out of this grew the Elsewhere Garden - a place where a child's imagination blooms in response to the freedom gifted by art therapy. Where the inner world of a child's anxiety is expressed as an outer wonderland. The next step was to tell the story through plants. We've used them to paint a picture of what 'elsewhere' might look like. A glimpse inside a child's imagination where there are bright pockets reflective of joy in conquering fear, as well as quieter, more dramatic, almost spooky areas around our picea trees, which are reflective of the spaces where fear can be safely explored. There's fun, fear and things that can't be entirely explained, like dancing grasses".
Which films inspired you?
SB: "Early mood boards featured imagery from The Wizard of Oz, Alice in Wonderland and Willy Wonka. And the Petit Prince was always there to remind us, "That all grown-ups were children once, but only a few of them remember it". We hope to remind adults what it is to be a child in a world you don't always understand. Visitors to the Elsewhere Garden are encouraged to engage with the hidden world of the garden via our interactive soundscape. They'll see and hear things behaving in unexpected ways and have to use their imaginations to figure out what's going on and express how they feel about it. Dorothy, Alice, Charlie and Le Petit Prince all have to find their way in worlds they don't understand and have no control over. The same is true for children living with chronic illnesses in hospitals and the medical world who face invasive procedures with no choice or control. It's no surprise this creates phobias and fears. Through the gentle process of art therapy and harnessing the power of the imagination children are taken 'elsewhere' away from their illness, helping them express and ultimately overcome their fears.
We love these children's classics, and the colour, drama and theatre are all there in the Elsewhere Garden - oversized and undersized plants, hints of hidden creatures and the sense that everything is possible. On Chelsea Press Day (May 22) media and guests are invited to our Mad Hatter's Teapot Trust Tea Party where our cast of child players take tea accompanied by the Elsewhere Garden Ensemble".
What practicalities did you have to consider?
NS: "The garden is in Chelsea's All About Plants category, now in its second year. Gardens must be at least 80 per cent planted. When designing we needed to consider how visitors could move around the garden without standing on the plants - the answer is via a wooden deck, which is how we water when the nearest access point may be four metres away - using a long-armed hose, again, from the boardwalk. And of course, many hours spent discussing which plants to use".
Which plants did you choose and why?
NS "Two picea abies Inversa - an intriguing form of the Norway spruce – stand on mounds either side of the deck. Their unusual form makes them look like creatures and we think of them as our guardians. When the lights go out in the floral marquee, it would be easy to imagine them coming to life, snuffling through the ferns and stooping to drink from the pond. The other standout is our signature Dolly Mixture stream - a ribbon of candelabra primulas chosen for their eye-popping, Willy Wonka, candy-coloured exuberance and whimsical form. This is a garden as a child might conceive it. Neighbouring plants share the same habitat preferences, but the combinations are unrestrained and unusual. It might be perfectly happy but conventions would stop us from planting a dramatic, dark-leaved canna in a meadow of briza grass amidst a candy floss of chaeropyllum hirsutum Roseum. But they wouldn't stop a child in the Elsewhere Garden, where normal rules don't apply".
SB: "The founder, Laura Young MBE, is a client. We have been supporters for many years and previously discussed collaborating on a Chelsea Garden. However funding was an issue. The Elsewhere Garden has been made possible through funding from Project Giving Back - a charity itself that gives money to good causes to raise their profile through having a show garden at Chelsea. We are enormously grateful".
What are the challenges of exhibiting?
SB: "We've both been many times before but it is the first time we have created a show garden. We are always working out the best way to do things and are very conscious of making sure the Elsewhere Garden stays true to the Teapot Trust's core values and that its relocated garden in Glasgow really does make a difference to the hospital's patients, parents and staff".
How will the relocation work?
NS: "Plants have to be packed efficiently to go to the Royal Children's Hospital. The cost and damage has to be minimised and we have to settle them in. The top growth will be removed from the perennials prior to travel to minimise stress on the plants. While a show garden is designed for instant impact, creating the Elsewhere Garden at the Royal Hospital for Children is closer to how we normally work. It's designed for the long term. Thankfully we're working with an incredible team at NHS Greater Glasgow and Clyde who are committed to its long term success. There is a genuine commitment to the health and well-being benefits of high quality green space. Our aspiration is to build an art therapy pod there. Demand for Teapot Trust services in Glasgow is high and an appropriate space to offer the service is one of the biggest barriers. Teapot Trust are currently seeking funds for the project".