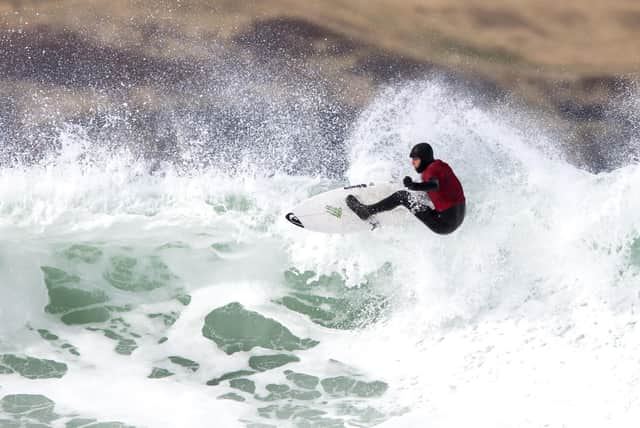 England's Stan Norman on his way to winning the men's division on day two of the British Surfing Championships at Thurso East. PIC: Jane Barlow/PA Wire.
This summer, the sport of surfing is due to make its Olympic debut in Japan. Before that, however, at the ISA World Surfing Games in El Salvador in May, national surfing teams will compete for the few remaining berths in the five-ring circus that haven't already been filled by pros from the World Surf League. In order to pick a six-person British team for El Salvador, then (three men, three women), there needed to be a British Surfing Championships, so the Thurso event needed to happen, and it needed to happen quickly.
Surf contests often have to be postponed due to a lack of waves, but fortunately elite surfers from England, Scotland and Wales were greeted with a solid 10-foot swell on Day One, dropping to 6-8 feet on Day Two. True, a cross-onshore wind made the waves lumpy for the early rounds, and it snowed, too – one heat even had to be re-run because whiteout conditions prevented the judges being able to see what was going on in the water. Still, by the time the finals rolled around the wind had dropped, the sun was out and the waves were looking almost glassy; the folks at the Scottish Surfing Federation and the local North Shore Surf Club who had worked hard to host a covid-safe event could hardly have asked for a better day to show off Scotland's most famous surf spot.
This was the first time the British Surfing Championships had been held in Caithness since the 1980s and the first time they had been held in Scotland since 1992. Team Scotland was packed with Thurso East regulars, too, so hopes were high that one or two Scottish names might end up in the Team GB line-up. In the end, though, it wasn't to be. Of the four Scottish surfers in the men's division, only George Watt made it as far as Round Three, where he was eliminated by Welsh surfers Logan Nicol and Harry Cromwell. Of the women, Phoebe Strachan came closest to making the final, scoring a 3.30 on the last wave of her semi when she needed a 5.51 to overtake England's Ellie Turner. Still, there was plenty for Scottish surf fans to enjoy, from Boyd's huge, powerful snaps under the lip to the uncanny, rubber-kneed way in which Watt often punctuates his top-turns by rotating his board through 180 degrees and back again in the blink of an eye.
George Watt competing for Scotland PIC: Tom Horig
Former British champ Sam Lamiroy once described the wave at Thurso as being like "an elaborate six-course meal with all the trimmings" and on a good day it offers a bit of everything: barrels, launch pads for aerial manoeuvres and long, peeling walls on which to perform high-speed turns. There may not have been many hollow sections on offer for the finals, but there was still plenty of wall to work with, and the surfers took full advantage.
In the all-English women's final, Lucy Campbell linked fluid, fully-committed turns to cruise to a comfortable win. Her combined score for her best two waves was 13.83 – almost a full five points ahead of second-placed Emily Currie. The men's final, by contrast, was a genuine nail-biter. England's Stan Norman had led for much of the heat, having posted a 7.17 and a 6.5 early on giving him an overall score of 13.67, but with Luke Dillon and Barnaby Cox of England and Harry Cromwell of Wales all racking up solid scores it never looked like a foregone conclusion. Then, with five minutes left on the clock, Dillon overtook Norman with a string of lightning-quick top-turns, leaving him hardly any time to come up with a reply.
Thurso East is famous as a right-hand surf break; that is, the shape and angle of the reef means that the waves typically peel from right to left as you look at them from the shore. Occasionally, the odd rideable left will roll through, but these waves don't last for as long, so don't offer as much in the way of scoring potential. According to conventional wisdom, then, what Norman should have done at this point was look for a big, peeling right, hit the lip as many times as he could and hope it would be enough; what he did instead was sneak into a fast, shapely left, blast a glorious turn under the falling lip, then swing through a graceful, arcing cutback before building speed down the line. With the section ahead of him already exploding onto the reef, leaving him nowhere to go, he launched himself into the air, spun a squirrelly 360 and landed cleanly to score an 8.67 and take the win. A victory for fearlessness, thinking on your feet and staying there - just.
England's Lucy Campbell during Round 2 of the Women's main event on day two of the British Surfing Championships at Thurso East. PIC: Jane Barlow/PA Wire
A message from the Editor:
Thank you for reading this article. We're more reliant on your support than ever as the shift in consumer habits brought about by coronavirus impacts our advertisers.
England's Luke Dillion competing in the men's final. PIC: Jane Barlow/PA Wire