Book review: Surfing Scotland - 60 Years of Surfing in the Cold Water Kingdom, by Malcolm Findlay and Andy Bennetts
A new book tells the full story of Scottish surfing for the first time, writes Roger Cox
In attempting to write their new history of surfing in Scotland, Malcolm Findlay and Andy Bennetts set themselves a Herculean task. Most sports generate copious records – not just results and league tables, but also newspaper reports, interviews and more. Surfing, by contrast, is mostly practised for fun, rather than for points or prizes, and is all-but ignored by the mainstream media in the UK. So, while the main problem facing a historian looking to tell the story of Scottish football might be sifting through the mountain of available material and deciding what to leave out, for Findlay and Bennetts the biggest challenge will have been trying to fill in some of the blanks in a sketchy and threadbare narrative.
Fortunately, in writing Surfing Scotland the duo had the advantage of having been intimately involved in the Scottish surf scene from the early days. Originally from Edinburgh, Bennetts first caught the bug as a boy while on family holidays to Cornwall in the 1960s. In September 1968, having bought his first surfboard, he and two friends travelled to Aberdeen in search of waves, where they met Aberdonian George Law, who had been surfing there since 1967. This was the first recorded contact between two of Scotland's early surfing tribes. Findlay, meanwhile, started surfing in Fraserburgh in the 1970s and won the Men's Open division of the Scottish National Surfing Championships five times between 1977 and 1995 – an achievement notable not just for the number of wins, but also for the fact that they span almost two decades, during which time surfing technique and equipment changed significantly.
The authors begin with three brief introductory chapters: Scotland's Surf Geography, Climate and Weather; Scotland's History; and The Body and Soul of the Scottish Surfer. As well as providing important background, these also set up their central thesis: that Scottish surfers are "proudly different" from surfers in the rest of the UK, and that Scotland "stands apart... from an increasingly homogenised global surf culture." Such distinctions can be tricky to nail down but Findlay and Bennetts make a convincing case, referencing not just the harshness of Scotland's weather, but also the influence of its history and culture and the Scottish sense of humour.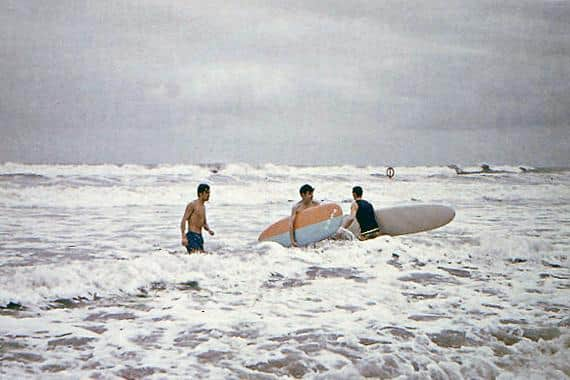 Findlay and Bennetts then launch into the meat of their story with a chapter on "The Early Days". Even before Law started surfing in Aberdeen in '67, the Granite City already had an informal surf club. In 1965, Boy's Own magazine carried instructions on how to make a hollow wooden surfboard for £4 – Aberdonians Graeme Carnegie and Brian Morgan decided to get a couple built by a local joiner and these became the (leaky) surf vehicles of choice in the area until Morgan eventually bought a fibreglass board on a trip to Cornwall.
From here, the story is one of coalescence: small groups of surfers in Aberdeen, Edinburgh and Fraserburgh gradually became aware of each other, and a Scotland-wide surfing community began to take shape. This soon led to the formation of official surfing organisations, which are dealt with in the following chapter – first the short-lived Scottish Surf Club and then the Scottish Surfing Federation, which survives in good health to this day, not to mention various regional and university surf clubs. These organisations performed an important social function, bringing together like-minded souls committed to pursuing a minority sport. However, they also established competitions, the longest-running of which, the Scottish National Surfing Championships, has now been going for over 50 years. The book's sixth chapter deals with competitive surfing – not just the Scottish Nationals, but also the various professional contests held in Scotland over the years as well as the Scottish national team's often colourful adventures on the international stage. There is also a chapter on Scotland's surf industry, taking in everything from surf schools to clothing brands, and a series of first-person accounts from present-day surfers living all around Scotland's coastline. Meanwhile the final chapter, The Future of Scottish Surfing, looks at the possible impacts of climate change , new technologies and demographic shifts.
Could there have been more on Scottish surfing culture? A mention for Johnny Barrington's recent surf film Silent Roar, Stephen Greenhorn's surf-inspired play Passing Places, Mark Jackson and James T Duthie's Scottish surfing novella Sans Peur, the work of surf photographers like Malcolm Anderson and Mike Guest, even the music of Scottish surf band The Nukes? Perhaps, but then this is all fertile ground for Scotland's future surf historians. The great achievement of Findlay and Bennetts is to have set out, in a readable and accessible format, the main plot points of Scotland's surfing story. Others will no doubt add detail to the picture, but this seems destined to be the definitive book on the subject.