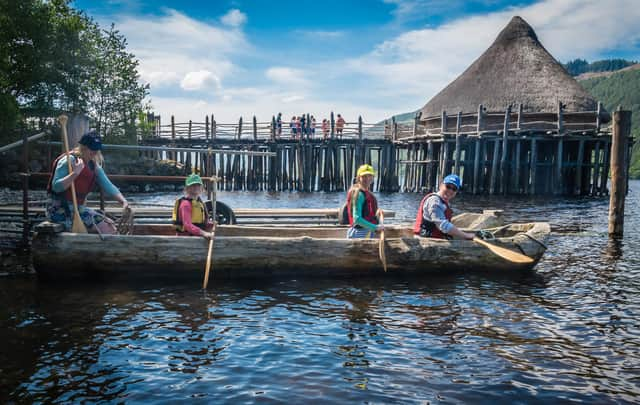 From half-day outings to multiple days of sightseeing during a weekend break or holiday, you'll discover an amazing range of world-class cultural attractions.
You are also sure to enjoy the warm welcome of enthusiastic staff and volunteers who are very happy to see visitors through their doors again.
A new Good to Go scheme ensures visitors to museums and galleries feel safe inside attractions during the coronavirus pandemic.
Look for the logo, which shows you tourism businesses that adhere to government and public health guidance and that a COVID-19 risk assessment has been carried out.
2 There's something for everyone
Whether you're interested in archaeology, arts, community, fashion, geology, history, nature, people, transport, science or technology, there's a museum filled with an array of exhibits for you.
The scale is also vast, from tiny museums set in old Scottish crofts to museums with enough room to house Concorde (yes, you can see this famous plane at the National Museum of Flight in East Lothian.)
3 It's a great day out for families
Museums are perfect for families with a wealth of treasures for both adults and kids to discover.
Many attractions provide child-friendly exhibits and experiences. How about Rozelle House Museum & Galleries in Ayr to see the special V&A Museum of Childhood exhibition: It's a Pirate's Life for Me?
Young pirates can board RRS Discovery, at Discovery Point in Dundee, the world-famous polar research ship that took Robert Falcon Scott and Ernest Shackleton to Antartica in 1901.
And there's also a gory but intriguing-sounding "Blood and Guts" walking tour at Surgeons' Hall, Edinburgh.
To help explorers of all ages discover new and exciting places to visit, Museums Galleries Scotland has launched an interactive map to show which venues are open as part of its #MuseumsAreGo campaign.
So, whether you are staying local and visiting your nearest town or city for a day trip, or you are on holiday in Scotland, you'll find a museum around every corner and over every hill.
5 For an island adventure
Taking a ferry or boat to an island, or driving a bridge over the sea, brings an extra element of excitement to a family trip.
Visit an island museum for tales and exhibitions of history connected with people and community.
A few to suggest are Bute Museum, Isle of Arran Heritage Museum, Ness Heritage Centre on Lewis, Orkney Museum and Shetland Museum and Archives.
6 Now there's even more to discover
During lockdown, many museums have worked behind the scenes to create new displays and showcase lesser-seen items.
There are plenty of places to choose from, including The McManus: Dundee's Art Gallery and Museum with its two new exhibitions, plus a fabulous new Scammell tank recovery lorry at Grampian Transport Museum in Alford.
Verdant Works, also in Dundee, has opened more areas of the historic jute mill for visitors, while Kirknewton's Military Museum Scotland has been expanded to include a fully operational field kitchen and first aid post.
Glasgow Women's Library has a new lockdown-inspired exhibition, "Collecting in the Time of Coronavirus", which showcases some of GWL's new lockdown acquisitions, from handmade face masks to items supporting the Black Lives Matter movement.
And at Perth Museum and Art Gallery the popular exhibitions, ICONS II: John Bellany and Conservation in Action, which opened earlier this year, are extended.
Museums provide a world of wonders, where you can get lost in your own imagination. Many attractions offer further educational and mental stimulation with a range of creative activities.
You could literally spend a week in Kelvingrove Art Gallery & Museum, Glasgow, discovering everything from art to animals, Ancient Egypt to Charles Rennie Mackintosh and so much more.
At The National Museum of Scotland in Edinburgh, there's a host of collections that take you on a journey through history, nature, culture and arts. A great tip is to follow the Family Puzzle Trail.
Also in Edinburgh, visitors to St Cecilia's Hall at the University of Edinburgh are encouraged to bring devices to access the museum's visitor app. There's sound recordings of 90 musical instruments on display.
At the Devil's Porridge Museum, which commemorates HM Factory Gretna, the largest munitions factory in the world during World War I, there are brilliantly immersive gardening and baking projects to try.
8 For a moment of nostalgia
Let the grown ups take a wander down memory lane at one of Scotland's transport museums: Grampian Transport Museum and Dundee Museum of Transport.
It's always the cars that provide the biggest jolt of nostalgia, especially those from the 1950s, 60s and 70s.
Visitors to Shetland's Textile Museum can enjoy a new exhibition, "Claes" (clothes) through the ages.
9 Step back further in time
No matter what age we are, most people are enthralled by Scotland's rich history.
Montrose Air Station Heritage Centre showcases the human side of the air station's war-time past, while at The Scottish Crannog Centre, Kenmore, you can visit a reconstructed Crannog and find out about Crannog dwellers from more than 2000 years ago.
Further north, The Highland Folk Museum, in Newtonmore, takes us back to an 18th century replica township and a 19th century schoolhouse.
Dunrobin Castle Museum, in Golspie, tells the story of one of Britain's oldest continuously inhabited houses dating back to the 1300s.
At the Glasgow Police Museum, visitors have the unique opportunity to step into the compelling and dramatic history of the UK's oldest police force.
10 Discover Scotland's historic celebrities
Scotland can boast of many famous people and explorers – and there are museums dedicated to some.
Take a trip to the John Muir Birthplace Museum to find out about the Scottish-American conservationist. Did you know that a long-distance walk, the John Muir Way, starts at the Dunbar attraction?
Learn about the life and work of Scotland's most famous poet at the Robert Burns Birthplace Museum in Ayrshire
Visit the Andrew Carnegie Birthplace Museum in Dunfermline to learn about the handloom weaver's son who became the world's richest man in 1901, then gave away 90 per cent of his wealth.
11 For something completely different
Creetown Gem Rock Museum provides endless interest for visitors young and old with displays of crystals, a 4.5 billion year old 3kg meteorite and even the fossilised egg and dung of a dinosaur. Kids will love this!
Museums are not only about spending time indoors – many have some fabulous outdoor areas, too. Being outdoors is great for mental health and children will enjoy the space to run around.
The National Museum of Flight at East Fortune is open-air, while Innerpeffray Library at Crieff has great indoor displays plus lovely heritage trails and grounds to explore.
And in the Scottish Borders, how about joining a walk at the Trimontium Trust to a Roman fort site?
Dogs are welcome, too, at some attractions, including Grampian Transport Museum and the Scottish Crannog Centre.
13 Entertainment for rainy days
Weekends and school holidays are not always dry and sunny (after all this is Scotland!). But our museums and galleries are guaranteed to be rain-free.
You might need a waterproof jacket to wear to reach the entrance to a museum, but once you are through the doors you'll enjoy a warm atmosphere inside.
You might be surprised to know that some museums and galleries offer free entry, while most others have excellent family discounts.
With COVID-19 restrictions still in place, it's important that you check the museum's website and book your ticket on-line rather than simply turning up.
Museums have long been at the heart of Scottish communities and a thriving part of the tourism economy. But 2020 has been a difficult time and the attractions need your support.
By visiting museums and galleries now, you can help to ensure they are here for generations to come.
Find all of the museums above and more on the interactive map, which also has opening times and safety measures - visit https://museumsarego.com/map