Do you have buyer's remorse? Here are your returns rights - Martyn James
Are you sick of the sales already? I know I am. Let's face it, we're becoming increasingly aware that the pre-Christmas sales aren't exactly filled with bargains. In fact, Which? analysed over 200 Black Friday deals from sales last year and found a whopping 86 per cent of the items were the same price or cheaper in the previous six months.
Nethertheless, as December rolls around we're going to start hitting the online shops to find affordable gifts for our family and friends, regardless of whether we have sales fever or not.
But if you wake up the next day with buyer's remorse, don't worry! I have some tips on how you can get your money back.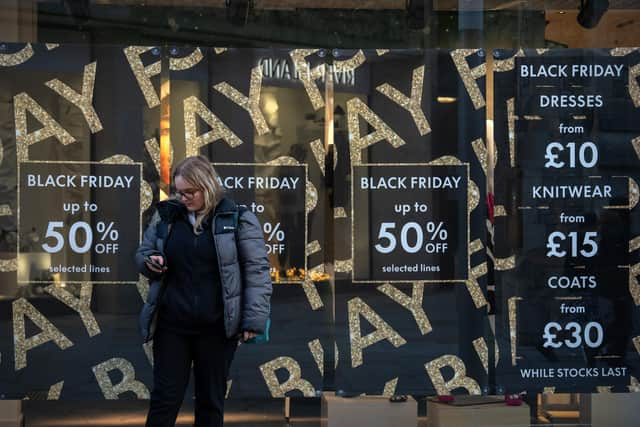 If you buy goods or services online, then there's a fantastic – and often overlooked – law that can help you get your cash back.
The Consumer Contract Regulations 2013 give you 14 days to return an item if you've realised it's not for you or changed your mind.
There doesn't have to be anything wrong with it either. You just need to contact the business and cancel.
This is much easier if the items haven't already been posted. If they have been, then you'll need to pay for the cost of the return.
Remember, the clock stops ticking on the 14-day timescale when you cancel the deal, not when the item wends its way back to the shop. You might want to confirm this in writing though.
The business should process the refund within 14 days from the cancellation or from when they receive the returned goods.
Now… some retailers can be rather tardy, shall we say, about returning your cash. But fear not! Contact your debit or credit card provider and tell them that the money hasn't been refunded. They can then 'charge back' the money to your account.
You might need to fill out a form or provide proof of the cancellation but in the vast majority of cases, this should help you get your cash back.
What goods can't I return?
For example, perishable goods. From food to flowers, if it's time in this world is limited then chances are you can't return it.
If you've opened or damaged the packaging, things can get a bit complicated. If something has been worn, clearly you won't get a refund.
Some retailers don't allow returns of underwear or other 'intimate' items even if the package is undisturbed, so make sure you tell the shop you want to cancel before the item is delivered.
If the goods have been personalised then you can't return them (so think twice before getting that expensive phone engraved).
The same goes for things created for you, as these have effectively been commissioned to order, though the seller may consider a return if the item could be resold.
The big exception, though, is most travel contracts. If you've splashed out on an expensive holiday or cruise, it's likely you won't be able to change your mind. The same goes for lots of financial services – though these often have other cooling-off periods.
What if I'm over the 14 days?
If you want to return something that you don't like or it just isn't your thing then the rules are a bit different.
Some stores do allow you to return items with standard or gift receipts. The shop is allowed to set the rules and timescales for returning items that you don't want but they can insist on you providing the receipt, so don't lose it.
The jury is out on whether a photo of a receipt counts, so speak to the store before you go in to avoid an argument over the tills.
You may have to settle for a credit note for these returns if that's the store's policy. But remember – if the goods are damaged or not as advertised, you are entitled to a full refund. Tell them I said so!
Martyn James is a leading consumer rights campaigner, TV and radio broadcaster and journalist. Visit martynjamesexpert.co.uk.
Comments
Want to join the conversation? Please or to comment on this article.