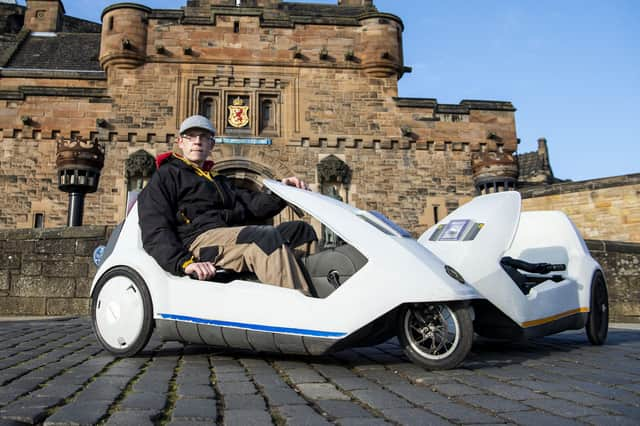 But now an intrepid Scottish businessman is convinced he can breathe life into the ailing reputation of the Sinclair C5….by buying four of them as the basis for a guided tour business round the streets of Edinburgh
Chris Rockett, a self-employed joiner from Leith is a fanatic devotee of Sir Clive Sinclair, the entrepreneur behind the invention of these three-wheel electric cars trumpeted, for a brief moment in 1985, as the future of personal transport, the invention of its time, an end to the combustion engine.
But unfortunately for Sir Clive, it was viewed as a dangerous toy, unfit for the road and lasted only a matter of months before a cautious response from the British public forced the company into liquidation.
Yet 34-year-old Chris is showing the gadget, described as "a giant white shoe" and sold off in a "buy a washing machine get a C5 for free" deal at the nadir of its existence, is making a comeback, even if it's gradual.
He is the proud owner of four and will soon be running C5 tours in Edinburgh, Covid restrictions permitting.
"I use mine all the time, and as soon as I get the opportunity to get another, I will," he said, pointing his C5s lined up in his kitchen over video call.
Out of the 14,000 C5s that were made, about 5,000 were sold, and Chris claims there are only about 42 in Scotland (he would know, he's part of a bespoke Scottish Sinclair C5 Facebook group).
His C5s are so retro, with white polyfibre shells shaped like giant lego spaceships. The father of four said the material is robust enough that you can "throw it against the wall and it just bounces back."
"That one I use all the time is called The Batmobile," he said, pointing it out.
Chris, who makes C5 keyrings and miniature C5 models with a 3D printer in his spare time, has also "modernised" one of his fleet with LED lights, an inbuilt sound system and a modern go-kart motor that reaches 25mph. The standard C5s reach a maximum of 15mph.
"Once you get into collecting and making parts, it's really hard to stop," added Chris, who subtly dropped in that he owns C5 boot signed by Sir Clive himself.
With his niche choice of commuting stead, it comes as no surprise when he says he gets attention in the city.
Author Ian Rankin has previously stopped him and asked for a spin on The Meadows.
"I've also been flagged down by two policemen," he laughed.
"They pulled me over and I thought 'oh no, here we go' but actually they just said 'mind if we have a go?'."
But he has recently generated even more interest after making a sign last week saying 'Rocket Sinclair C5 tours' which is now attached to his Batmobile.
"I've really drummed up interest since making this sign," he said, "I am looking forward to getting people out in them."
Chris has travelled some distance in his C5s from Edinburgh, including a trip over the Forth Road Bridge and back again which he said "turned some heads."
With new lithium batteries to replace the original lead-acid ones used in the 80s, Chris said his C5s can run up to 40 miles before needing a recharge.
He has even taken his C5s on holiday with him to Blackpool and to a caravan park in Ayr.
His tours however, costing £40 a day, will be kept local.
"The tours will just be me and two others at a time so it's safe and manageable," he said.
"I couldn't handle a huge tourist group on C5s, that would be stressful, but what a great image that would make."
Like a weird hybrid between a Reliant del Boy and a trike, the C5s measure just over one and a half metres long and about 80cm high.
Chris is 5ft5 and fits comfortably in the one-seated gadget, but he said the small size shouldn't put people off having a go.
"I have a friend who is 6ft3in and rides one with his legs sticking out the side, it still works."
Having bought his first C5 Sinclair about ten years ago for £200, Chris said the cost of them is creeping up.
"You can now see some online going for about £1,000 plus," he said.
"Fixing them can be quite expensive, but there's a real community around them and we all chip in and help each other with advice."
Chris also has all the C5 accessories - a C5 jacket, original mirrors and a high vis - although the latter is two plastic poles that stick on the back of the gadget with a plastic reflector which Chris said makes his prize possession look like a shopping trolley.
"Some of the memorabilia I just keep as a collectible," he added.
The C5 may forever be known as the next big thing that never was, but Chris is showing the heart of Sir Clive's cult following is still beating strong.
A message from the Editor:
Thank you for reading this article. We're more reliant on your support than ever as the shift in consumer habits brought about by Coronavirus impacts our advertisers.
If you haven't already, please consider supporting our trusted, fact-checked journalism by taking out a digital subscription.