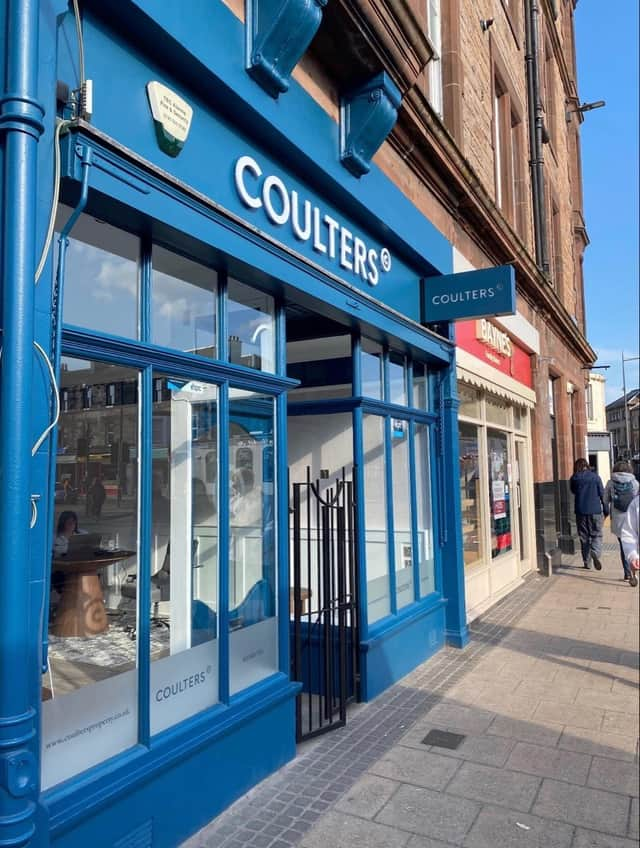 While the frenzied property market activity from the months of pandemic has started to cool down, levels still remain higher than before Covid. Delays in new house building and issues with labour and materials has also tempted buyers back to browsing second-hand properties.
In the latest figures from Rightmove, the number of people contacting estate agents to view properties is up 31% compared with the same period in the last 'normal' housing market of 2019, pre-pandemic.
Prices in Scotland are up 6.6% year on year, with properties taking an average of 21 days to sell.
As the new tramline extension nears completion, now is the time to get ahead of the trend and buy property in Newhaven and Leith. Both are potentially good investments for first-time buyers.
The seaside setting of Portobello also has good bus links to the city centre, for first-time buyers and families. Francesca says: "It offers seaside living with a strong community feel, is bursting with local amenities and independent businesses too."
Francesca also recommends considering areas including Musselburgh, Haymarket, Dalry and Broughton. She says: "These areas are all fantastic locations that are typically lower in price than their traditionally more prestigious neighbouring districts. Take Dalry for example which is minutes from the desirable, and much pricier West End, but equidistant to the fantastic amenities in the area. We also anticipate strong growth potential due to the substantial investment in new developments and infrastructure within these areas, so it's worth considering now before prices increase.
"For those looking for a trendy Stockbridge vibe without the price tag, Broughton is a location to look at. It definitely has the cosmopolitan atmosphere of the New Town, with a plethora of great local bars, restaurants and boutiques. With the arrival of the St James Quarter just a stone's throw away, it's a great affordable destination and one we see increasing in popularity.
"North Berwick will continue to be incredibly sought after, particularly for families and those looking for a different pace of life. Dunbar, which offers seaside living and transport links without the North Berwick price tag, is also enjoying a spike in popularity."
Francesca's top tip: Do your homework first. Visit areas, spend time there to get a feel for the location and whether it's 'you'.
Free home report and marketing
Coulters is offering a free home report and no up-front fees to sellers marketing property within the Portobello area. For the full details see here *T&Cs apply
Coulters is also investing in its own local presence, in addition to its established Stockbridge base, they have opened new offices in Portobello and North Berwick. The Coulters team will also be moving to a new HQ in the West End of Edinburgh in summer 2022 to bring their expertise to your doorstep.
According to the ESPC House Price Report, the average selling price of property across Edinburgh, the Lothians, Fife and the Borders rose 3.3% year-on-year to £267,941 in the first quarter of 2022. The highest price increases were seen in West Lothian, where market activity has ramped up in recent months thanks to buyers seeking larger, more affordable homes within easy reach of the capital.
Francesca explains: "With hybrid working becoming the new norm, buyers are seeking homes that can accommodate comfortable home working whilst also being close to quick transport links into the city".
She adds: "The counties surrounding the capital have offered this solution to buyers and this is reflected in the figures we are seeing where prices have increased as much as 37% year on year, according to ESPC".
Rightmove has also recorded a 70% increase in searches for properties with gardens, compared with two years ago. In order to get what they want, buyers are more willing to consider a wider search area.
Location, location, location
Meanwhile, the flat market has also experienced a resurgence driven in large by first-time buyers looking to get on the property ladder within the city.
New Airbnb legislation, requiring change of use planning permission for properties rented for more than 90 days, has also prompted some landlords to sell.
Francesca believes now may also be a good time to buy and sell flats in Edinburgh. She says: "With pandemic restrictions a thing of the past, the appeal of the capital with its world class amenities has quickly drawn buyers back to considering a home within the city centre. The introduction of government backed 95% LTV mortgages has further boosted the market for flats.
Francesca's top tip: With rising interest rates, it is more important than ever to get good advice from an independent mortgage advisor. Especially if you're a first time buyer, they can run figures and let you know your maximum borrowing and the lender most suited to you. Speak with a local solicitor and they can also advise what you may need to offer to be in with a chance of securing your next property.