Is this the ultimate venue for a house party in Scotland?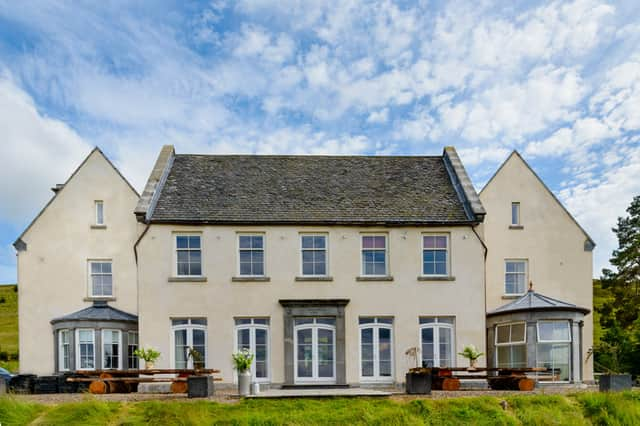 Scotland is no stranger to a party, whether it's the famous Hogmanay celebrations, Burns night or the Edinburgh Festival, there's a reason to be merry at any time.
There's also an abundance of self-catering holiday rentals to escape to for festivities - most of which have a touch of luxury. From glamptastic Yurts, treehouses and gypsy caravans to lodges with hot tubs, large stately homes and castles, we have it all.
But when it comes to the ultimate in luxury, this Auchterarder home may be the top of the list for future parties.
Picture: one of the sitting rooms, alexanderhousescotland.com
Sleeping 21 in a range of nine decadent room (sleigh bed anyone?), Alexander House, which sits on the site of a former farm steading in picturesque Perthshire, has everything to get a house party started.
Picture: a bedroom with gilded sleigh bed, alexanderhousescotland.com
Guests can entertain themselves for days here; the games room has access to the rear courtyard where the covered, heated swimming pool is located.
Picture: heated outdoor swimming pool, alexanderhousescotland.com
Four acres of land are home to a swing, slide, croquet lawn and a barbecue, not to mention a hot tub strategically positioned in front of those jaw-dropping panoramic views.
Picture: the house has a covered hot tub, alexanderhousescotland.com
And for kids (big and small alike) there's a sunken trampoline, full sized snooker table, darts and mountain bikes.
Picture: the games room, alexanderhousescotland.com
Activities can also be arranged for during a stay here, from gin tasting, archery, chocolate making and spa packages - for when the party gets too much.
Picture: Master bathroom, alexanderhousescotland.com
Catering can also be supplied, which is perfect for all kinds of celebration (and for when no-one fancies dishing up dinner for 21 people).
Picture: the spacious kitchen, alexanderhousescotland.com
A private chef can be booked to cook anything from hearty, home-cooked local fare to five course, fine dining.
Picture: The open plan living room/kitchen is perfect for socialising, alexanderhousescotland.com
With top of the range interior finishing such as underfloor heating, a 50-inch widescreen TV, WiFi and en-suite bathrooms with luxurious tubs and Raindance showers by Hansgrohe, Alexander House is a truly luxe holiday location, perfect for a party.
Picture: four poster bed in one of the mater bedrooms, alexanderhousescotland.com
Even the owners agree: "Why is Alexander House the best? Well, it's a home from home, maybe just a bit bigger than your own home and we have some of the most spectacular views in Scotland too!"
"There's something for all ages here and we've had everything from first Birthday celebrations to 100th Birthday celebrations. Whether it's a glass of bubbly in the hot tub, a game of Marco Polo in the pool, a game of darts or snooker, or simply curling up with a good book in a quiet corner, taking a walk in the stunning surrounds, or being your own Masterchef in our fabulous kitchen/entertaining space, we hope everyone will be happy."
"And with extra accommodation in our brand new en-suite yurts, and every room in the house being utterly unique, we hope everyone staying with us feels equally special."
"All the happy times had in the house give it a fabulous atmosphere, which hopefully comes across in all our online Facebook reviews too. The house is perfect for all your celebrations, including a festival stylewedding on the lawns."