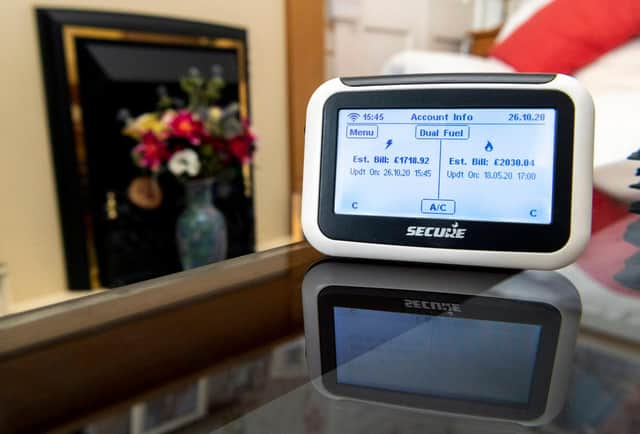 Jean pulled on another jumper, a gift from her family last Christmas.
It added a layer to her clothing as she peered out the rain-speckled front windows into the grey beyond.
She knows that as the late October chill bites and the nights grow darker and ever colder, snow and ice won't be far behind.
First she will turn on the central heating, then in time the gas fire. On a budget, there has to be careful monitoring of energy spend. And it is not just her generation either.
The surge in people working from home through the Covid-19 pandemic means that families' energy costs are soaring compared to the norm as computers, kettles and lighting take a bashing all day long, as well as the usual activities.
Some estimates say that could easily work out as an extra £107 for home workers this winter alone as the UK's bill climbs by an estimated £1.9 billion nationwide.
Fortunately for Jean, 68, at least, she does not fall into that category.
As with so many others living with analogue energy meters, a combination of budgeting and estimates were the only tools she had for working out how much she was likely to be spending on her fuel bills in her Edinburgh flat.
Then she saw an advert from the council about smart meters and how they might help her to save money on her fuel bills and decided to find out more.
The problem was, there were some confusing claims on the web about smart meters, and she wasn't sure which were true.
"I just didn't know what to believe," she said. "A few of my friends were looking at getting a smart meter installed at the time too, so we all spoke about it and I decided just to go ahead."
Like Jean, people who rent their homes are entitled to have smart meters fitted, not just homeowners.
She said the installation process was simple – and confirms a smart meter will ensure you can continue to use energy as you have always done.
"I live in a council house, but that wasn't a problem," she said, "A trained installer came out, did some work for probably less than an hour and that was it.
"Nothing changed with regards to how I go about my day. There were no extra buttons to press, no mess around the house, just a handy portable display which shows me my energy use in pounds and pence in near real-time.
"It was a bit odd at first seeing how much energy different things in the house would use, like leaving things plugged in or boiling a full kettle. Now, I'm not entirely sure how I'd track my usage without it."
Because the in-home display can help people identify ways to reduce unnecessary energy use, Jean estimates she has saved £40 on her monthly bill since having the smart meter installed.
Yet had it not been for the group of friends checking out the positives of having one installed, it is quite possible she might have been put off by some of the myths on the web.
One of the things they discovered was that smart meters could actually allow for cheaper tariffs.
Smart meter tariffs are priced differently because it costs suppliers less to supply these customers. For example, companies don't have to send people out to read the meters – the meter sends them automatically to the supplier – and billing enquiries tend to be easier to manage.
While voice-activated gadgets and phones might be all the rage, smart meters neither see nor hear you.
They only measure how much gas or electricity you use, and you decide how frequently that information is shared, busting the myth that they "spy" on you.
They were designed in consultation with the UK's top security experts. They're not connected to the internet – instead, they operate on their own secure wireless smart data network. Your energy readings are encrypted and sent to your supplier in a similar way to how your mobile phone sends and receives information.
Because of the secure connection, it means no more meter readings are required and you will only receive accurate bills.
"It's just another layer of reassurance," adds Jean, "It means I don't need to open my door to anyone unexpected, especially in the dark. I can just stay put and keep warm instead, safe in the knowledge that my meter readings have already been submitted automatically."
Among the most common misconceptions is the claim that smart meters can stop you from switching energy suppliers, something that simply isn't true. You can switch energy supplier with a smart meter.
And with a new second-generation smart meter, you will be able to switch and keep all of your smart functions with no interruption.
If you have an older, first-generation smart meter, there's a chance it will lose some smart functions for a little while, but people can still switch supplier.
Many people with one of these meters will have a seamless switching experience, but others may have to temporarily send meter readings again. Your meter will still continue to accurately measure your usage as before, even if your in-home display may not show it.
Another myth is that smart meters are unsafe. The truth is that smart meters comply with UK and EU safety standards, and are fitted by trained installers. When fitting a smart meter, installers will also perform visual safety checks to identify signs of risk in your gas appliances, at no extra cost. More than 635,000 unsafe situations unrelated to smart meters were identified by installers in 2017 and 2018.
"Everyone I know who has one is happy with it," Jean added. "The only thing is, I just wish I'd asked for it sooner."
'I DEFINITELY SAVE MONEY'
Retired Jean Milne, 68, lives on her own and has been using a smart meter for more than a year now in her council flat in Edinburgh and says she would recommend it to anyone.
She said: "It makes you realise what exactly you are spending on the gas and electricity you are using and because you see it in near real-time, you can switch off any unnecessary appliances.
"For me, I am comfortable setting my rooms at 20C but even then I might only have the heating on half an hour in the morning for my shower, and then from around dinner time until I go to bed.
"I definitely save money, probably about £40 a month – so across the year, that's a pretty penny. It means if I get something like the Warm House Allowance I can decide when I need to spend a bit extra or not."
To find out more about smart meters, contact your energy supplier, or visit www.smartenergygb.org for more information
This article was paid for by Smart Energy GB. Smart Energy GB is the organisation tasked with informing Britain about the benefits of the smart meter rollout.