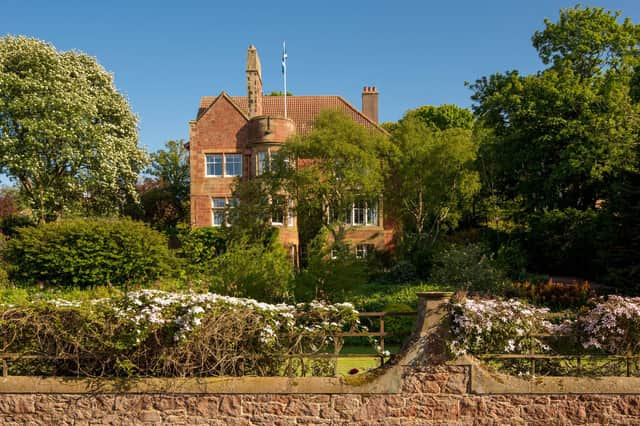 The seaside town of North Berwick is consistently popular with a lot to offer –and house prices reflect this, finds Kirsty McLuckie.
Fringe by the Sea, North Berwick's creative and quirky festival, kicks off this week and features 168 events over ten days with intimate performances from some big names.
Now in its 11th year, it is seen as an alternative to the capital's festivals, but then the East Lothian town has always had its own attractions to tempt those away from Edinburgh – whether for a day out at the seaside or a more permanent stay.
In terms of property prices, North Berwick is one of the few places in Scotland that could rival the capital but then East Lothian has a lot to recommend it to buyers.
Those who already live there are likely to extol its virtues: in a recent survey, 97 per cent of East Lothian respondents felt they were lucky to live there.
It is easy to see why; the wider area has 40 miles of Forth coastline with some spectacular beaches, while inland are character-filled villages and historic market towns in an area of Scotland known to enjoy more sunshine than anywhere else.
And golf is a major draw, with East Lothian having its share of world-class courses.
North Berwick is seen as something of the jewel in the crown, with a lively town centre, boutique shopping, excellent restaurants and tourist attractions.
Add in quality schooling and the town regularly features on lists of the best places to live in Scotland, and the UK.
All this desirability does come at a cost, however, with North Berwick featuring top of the list of most expensive seaside towns for property in Scotland.
The fact that there is quick and easy commuting to and from Edinburgh means that prices have always been inextricably linked to the capital.
Developers have responded to increased demand and new homes are springing up on the edges of the town, but there are plenty of traditional houses to choose from too.
Glenorchy House is a large detached house in Glenorchy Road. Built in 1897 and set in an acre of gardens, it is B-listed and has a turret balcony with views to the coast.
The house is residential on its upper floors, with a sitting room, study, dining room and dining kitchen on the ground floor and four bedrooms and two bathroom above, but there is also a lower floor which is currently laid out in a series of offices.
These offer potential for conversion to more accommodation, or they could be let, or used to run a business from the house.
A more typical North Berwick seaside home is at 3 Victoria Road.
Picture: Simpson and Marwick
Standing very close to the town's station, beach and harbour, the house has been divided into two flats, but is a Victorian terrace with four bedrooms and four public rooms in total and would make a fine family home, with a little work required. It has a private garden at the back.
Just outside the town, Courtyard Cottage is a charming two-bedroomed home which is part of a well established stone steading at Redside, five minutes from North Berwick.
It is a good-sized conversion with features such as a log burner and private courtyard garden at the front and a walled garden with decking at the back.
At a glance
Where is it: Glenorchy House, 15 Glenorchy Road, North Berwick.What is it: A detached Victorian house, set in its own acre of gardens and B-listed. Currently laid out with four bedrooms and four public rooms over the ground and first floors, there is also a lower ground floor consisting of a reception and office suites.Good points: Lovely position with views to the coast, particularly from the turret. Spacious interiors with excellent period features. The lower floor offers a great deal of potential, for business or accommodation use.Bad points: It is possibly too big for use as a family house, in its entirety.Price: Offers over £1.25 million.Contact: Paris Steele on 01620 892138.
Where is it: Courtyard Cottage, 2, Redside Farm Steading, North Berwick.What is it: A charming conversion, with sitting room, newly fitted dining kitchen, garage, private parking and pretty front and back private gardens.Good points: Beautifully presented with spacious rooms inside and the garden is a plus.Bad points: Only two bedrooms and one bathroom. It is a five-minute drive into town.Price: Offers over £312,000.Contact: Gilson Gray on 01620 893481.
Picture: Simpson and Marwick
Where is it: 3 Victoria Road, North Berwick.What is it: A four-bedroomed, four public room Victorian terrace house.Good points: Just around the corner from the beach and very close to the harbour, it is an attractive house which would work well as a home or a holiday rental.Bad points: No sea view and it has been used as two apartments so would need conversion back into a whole house.Price: Offers over £460,000.Contact: Simpson & Marwick on 01620 892000.