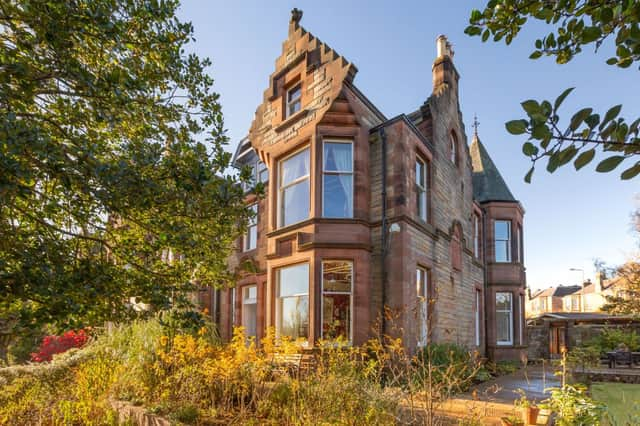 A grand Victorian villa in the Capital has received a radical art makeover, discovers Kirsty McLuckie
There can't be many homes in Scotland with a Surrealist bedroom or a Bauhaus bathroom but 1 Gordon Terrace in Newington, Edinburgh, is full of surprises.
It belongs to Caroline Campbell Robinson, an American freelance interior designer originally from New England, who bought the property six years ago looking for a project.
She says: "I have renovated properties all my life so I could see the potential and real character in the shape of the rooms."
The master bedroom, inspired by Mary Shelley's Frankenstein. Picture Coulters.
The house, which dates from the 1890s, had at one stage been gifted to Edinburgh University's mountaineering society before being converted back to residential use about 20 years ago.
By the time Caroline moved in with her two teenage sons, it needed a substantial upgrade. She says: "Some of the rooms may have been used as bedsits and much of the original fabric was covered. It had laminate flooring over carpet tiles over the original floor. The shutters had been boarded up and painted over, but most of the features, such as mouldings, fireplaces and tiles, were still there."Initially the heavy-duty work on the fabric of the building left the family stepping over piles of rubble and having plumbers, joiners and tilers practically living with them.
The stylish and practical kitchen. Picture: Coulters
Caroline says: "We replaced the plumbing, wiring and the boiler and water tanks so we could shower. It had to work as a modern comfortable home before anything else."From there, her background in art, textiles and design kicked in. "I took the age of the building and started researching artists and art movements which fitted the era and the life of the house."As you enter, the impressive hall is as it would have been when newly built, with a colour palette taken from paint found under layers of wallpaper which Caroline is confident was the original decor. The beautiful ornate stair is lit from above by a cupola.
The entrance hall with its traditional styling. Picture Coulters
Each room from here on is a revelation, however, with the craft and textiles in one bedroom inspired by Virginia Woolf and the Bloomsbury Group.
The Bloomsbury bedroom has quirky ceiling heights. Picture: Coulters
A geometric en suite bathroom is redolent of the Bauhaus movement.
Radical geometric tiling in an en suite bathroom. Picture: Coulters
The master bedroom has dramatic red and purple colours as a visual homage to Mary Shelley's Frankenstein,while the Surrealist room has an alcove built into the turret and is furnished with a 1930s coffee table and butterfly chairs.
The garden was another project which required research, attention to detail and age-appropriate upgrading. Caroline confesses that it looked not unlike a car park when she moved in but major landscaping, including getting planning permission to move the entrance, has transformed the space.Original trees have been retained and added to with Scottish specimens used in the Victorian era. A patio and path was laid to lead to the original sunken stone circle which now has a firepit.
The side of the house, with the firepit and secluded gardens. Picture: Coulters
Much of the work, inside and out, was done by Caroline, down to making the sumptuous quilts which are used in all the bedrooms.It is an impressive project, particularly when you consider that through much of it Caroline was undergoing treatment for cancer. She jokes: "I only used the 'C' card a couple of times. When we were replacing all the windows, they gave me a date so far in advance that I begged them to move it – to start before my chemo and they were done within a week."
Caroline Campbell Robinson. Picture: alixmcintosh.com
The energy required for such work would be daunting even for someone in perfect health but Caroline says that the project was a distraction and a therapy in itself. "Somehow I thought of the house improving as me getting better too."
As a designer, who is now project managing the fit-out of a new restaurant, she says that in the case of Gordon Terrace the house informed the project so much that she thought of it as the client. If that is so, I suspect it is a satisfied customer.Her sons are off to university and Caroline is looking for her next renovation. She says: "I'd like a wreck, perhaps something with 1930s brutalist architecture which would be a real challenge."
1 Gordon Terrace, Newington, Edinburgh has a dining room, sitting room, dining-kitchen and utility plus first-floor drawing room. Six bedrooms, six bathrooms.Detached summer house and secluded gardens.
Offers over £1.025m, contact Coulters on 0131-603 7333.