Two-bedroom flat with WFH space in Edinburgh
A stunning property where functionality has blended with fine design creating something straight from an interiors magazine has come on the market in Edinburgh.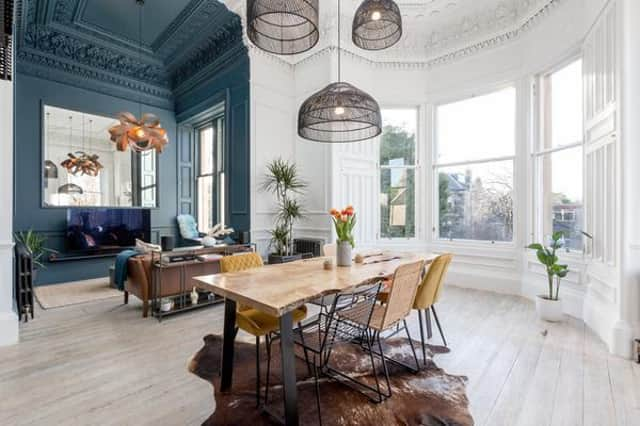 Vintage colours and bold paint designs open up the room
The creative talent and eye for detail of husband and wife powerhouse Colin and Sarah Burness have transformed the first floor flat in Ettrick Road, Merchiston.
Formerly a 250-year-old mansion house, it was split into flats in the 1970s. When the pair first looked at the property in 2018 they didn't initially have a project in mind – but they fell in love with this home and wanted to restore it to its former glory, with a truly modern edge.
Out went the brutal lowered ceilings which completely hid the true size and scale of the flat and work began to bring it back to life. That included complete rewiring, a new kitchen and bathroom, a stylish new hot rolled steel mezzanine office area and complete redecoration.
The roomy, 'industrial' styled kitchen has a versatile mezzanine space above
Colin, whose job as a designer has seen him work on projects from Belfast to Hong Kong, and Sarah, a regional manager for Kurt Geiger, said: "We loved the flat when we first saw it the main room took our breath away, but we could see real potential to create something more, a useable, practical space. I'd describe the creative vision as functional, industrial and traditional."
The softer Georgian and Victorian touches – like ornate cornicing in the main living areas and bay windows – help counter and yet complement the bold, modern and industrial structure. They used traditional colours in a modern way, with innovation and space-saving design, creating a contemporary yet period feel.
There's not a millimetre that hasn't been carefully considered before being re-planned, with much of that design work carried out themselves during the lockdown. Trained specialists created the grander building elements.
Colin restored much of the cornicing by hand, lovingly sanding down and remoulding it all. He also designed the myriad space-saving features throughout the home. From the handy kitchen larder cabinet that hides the kettle and clutter to the hidden space for the dog food and hoover under the stairs, from full-height storage space in the main bedroom to loft access, this home is stylish yet practical.
There is private parking included
Modern features like the stairway made from black OSB to the brand new mezzanine were put to good use, with Colin saying: "A staircase takes up so much room, so we built storage into it, including a hidden utility space. You cannot afford to waste any space in a flat, even one this size."
And the old wasn't sacrificed along the way – a classic Edinburgh press has a new life as a bar with a hidden door, perfect for entertaining.
The couple have very different treasured elements they are going to miss most of all.
Colin and Sarah's passion for property and design shines through
Sarah said: "I've got an overhead Victorian pulley, which means I don't need to keep a clothes horse – it's painted to blend in to the room, and when it is up at full height you almost don't see it. It's totally practical, and everyone who visits wants one!"
For Colin, it's the zoning effect he created through the open plan living room, kitchen and dining room, carefully created via an island, brass lines on the floor creating division without losing space, and a styling 'slice' paint effect, which crosses the wall, cornicing and ceiling. The effect is clear demarcation between each space, but with no hard barrier to stop the flow of this welcoming home.
So why is it on the market just months after their four-year labour of love to restore it was completed? They've got their eye on their next project, and want to take on something much bigger.
"I've seen a townhouse that is in a really poor state, but could become something amazing. We don't want a new build, we want to restore something old in the city, to do our bit to give these beautiful old buildings a new lease of life. I wouldn't want to see something knocked down when it can be made fresh and new, sympathetically."
The two-bedroom, one bathroom flat, with generous open plan living space and a mezzanine office, complete with private parking, has gone on the market at offers over £435,000. To book a viewing, contact Simpson and Marwick on 0131 581 5711 and see the listing here. You can enjoy a video tour here.