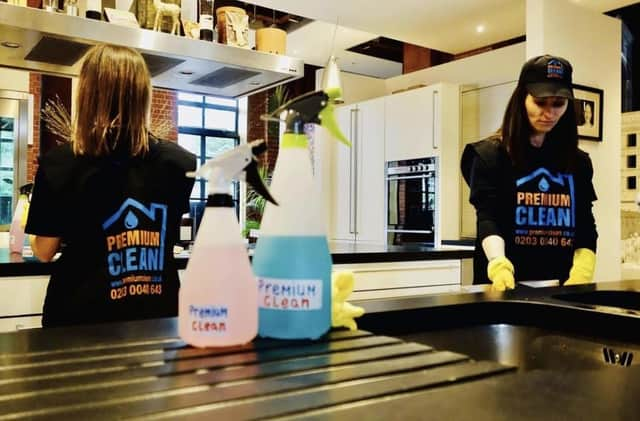 Premium Clean has been in business for 12 years and specialises in both the private and commercial sectors.
Owner Kiril Natov has rapidly grown the business throughout London, and is now one of the sector specialists.
He is IICRC certified for cleaning services, and has recently completed deep-clean training to help deliver appropriate cleaning during and after the Coronavirus (Covid-19) pandemic.
Why is professional end-of-tenancy cleaning worth it?
Many tenants wrongly presume that a surface clean will meet their landlord's standards, but instead they risk losing their hefty deposit – a false economy. Paying a professional firm is worth it long-term, both in saving your deposit and ensuring you get a good reference from your landlord.
Professional cleaning can often completely refresh carpets and furnishings that look beyond saving, which cuts down on the cost of buying new.
All staff are CRB and DBS checked, which means you can have them in your home with total peace of mind. This is no surface clean only; using steam cleaners the Premium Clean team can clean carpets, clear mites and bugs from under beds and carpets, deep clean bathrooms and kitchens, and ensure all surfaces are fully cleansed, using professional standard industry-leading tools and products.
They can even extend the service to include ovens, windows, hard floors and gutterings. And while they specialise in end-of-tenancy cleaning, they are also the perfect partners for a deep clean after building work or remodelling.
As well as removing all rubbish bags etc after they work, every job is guaranteed – if you are not 100 per cent happy they'll do the job all over again!
All prices are fixed, depending on the size of home you want cleaned.
Still not convinced? Reviews on the Premium Clean site speak for themselves.
Giles McLoughlin rated them five stars, saying "Excellent service. The technician Kiril was prompt, courteous and highly knowledgeable about getting stains removed from both upholstery and carpet. Highly recommended".
Lee, another five star reviewer, said: "My carpets, curtains and upholstery were long overdue for a cleaning and I chose Premium Clean for the job. I am so glad I did. My technician showed up on time and got right to work. It was clear he was an expert, taking into account the materials, age of textiles etc.
"I couldn't be more pleased with the results. The carpets are fresh and clean, the curtains, which were cleaned while hanging, have never looked better. The biggest surprise, though, was the arm chair which I thought had been ruined by dog dirt. It looks brand new! I have already recommended Premium Clean to friends."
Who can Premium Clean help?
Whether you are a tenant moving on, or indeed someone relocating to the city, a landlord who wants to spruce up their entire portfolio or a commercial client looking for help, this is the firm for you. They cover all areas of London, including Hemel Hempstead.