Job titleProperty developer and TV presenter. I've worked on A Place in the Sun, Points of View, The One Show, Love it or List It and George Clarke's Flipping Fast. I was also a contestant on I'm a Celebrity, Get Me Out of Here last year.
How did you get started as a property developer? After attending performing arts school, I worked in musical theatre and joined arena tours as a singer and dancer.
But my brother, Stuart, a professional footballer, advised me to think about the future.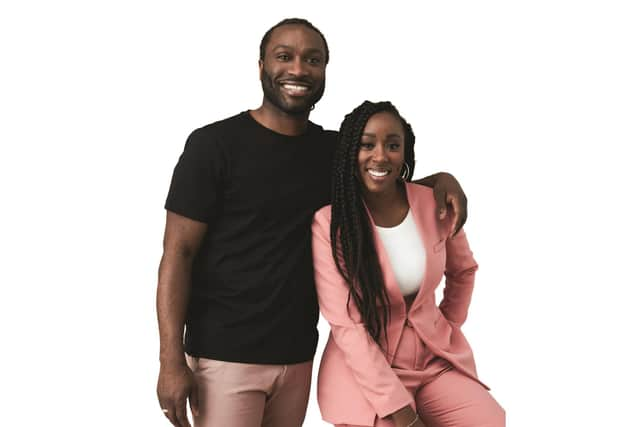 We started developing properties together when I was 24, and I found that I had a creative flair when it came to interior design – and it suited me to fit in working on projects when not on tour. We first bought a ground-floor one-bedroom flat, which we reconfigured into a two-bed, with an open-plan living room and kitchen.
We are now tackling bigger houses with Stuart and I having definite, different, but complementary roles. He doesn't like to get his hands dirty, so he is all about the redesign and project management, then I will tackle the interior design.​
How did your presenting career come about? On tour, I always loved interviewing my friends backstage, I worked with Ant and Dec as a backing dancer and was inspired by them. Their management team gave me some great advice – that if you want to get into presenting, have an expertise. So I mentioned to my agent that I developed properties and, sure enough, it got me a screen test for A Place in the Sun, which I went on to present for six and a half years.
What advice would you give someone wanting to develop a property now? Start small and always try and stay within your affordability level to begin with.
It can be a good idea to develop the house you are living in, if you are on a tight budget. You can add value to a certain degree with cosmetic changes, but if you want to make a decent amount of profit you have to add more than decor – an extra bedroom, a loft conversion or an outdoor office space – so that buyers will see what they are paying for.
Maximising the floorplan is the key to profit.
How does the advice differ north of the Border? There are huge differences in price around the UK, but the basic principles are the same. If you are doing-up to sell, you are still looking for bargains to keep to your budget but give a luxury look.
Buying a property in Scotland for a young person is a lot more achievable than the south-east of England. We find that when we are at the Ideal Home Show in London, we talk to people who plan to buy in perhaps five years' time, but in Glasgow there are many in their 20s and 30s who will be in a position to start their first project immediately. And, particularly for a first-time buyer, purchasing something that you can add value to is crucial.
Where do you live? When I first left home, I moved into the flat we had renovated as our first project. But now I am in a three-bedroom terrace house in Cheshunt, round the corner from my mum and dad, which means I can pop round for dinner. It was built in the 1950s, so it needed work, but I've renovated it from top to bottom and I'm likely to stay here long term.
After your years on A Place in the Sun, what would be your stand-out favourite location to buy abroad? My ultimate is Aruba in the Caribbean. I had heard of it, but when I went to film there I found a tiny island paradise.
In terms of Europe, where you could possibly fly for a long weekend, Valencia in Spain stands out as there are so many elements of it that tick boxes for all sorts of travellers.
On the programme, we advise people to look at destinations that might not be too mainstream – there is so much to explore and there are some really good deals out there. For instance, Turkey offers huge value for money in not just property but the cost of living. And Madeira is sometimes overlooked, but it is subtropical with lush banana plantations, and it can feel like the Caribbean but it is just a three-hour flight away.
How do events like the Ideal Home Show help homeowners? We have been going to the show for years, and it always gave us ideas about how to tackle projects, innovations and what was trending. Being involved in it now is an opportunity to meet people who are just getting into property development and hopefully help them avoid mistakes.
We like to explain all the things not to do – particularly if you don't have a lot of money, because Stuart and I have absolutely been there.
Born and raised In Cheshunt, Hertfordshire, where I still live.
Education I went to local schools, and then went on to Laine Theatre Arts School in Epsom to do a three year diploma in musical theatre, before performing on the West End stage for nine years.
Family Mum and dad, my eldest brother is Stuart, who I present with, and I have another brother, Andrew. Both played professional football – our parents really encouraged us to pursue our passions.
First job A Saturday job as a bridal consultant – helping brides find their perfect dress.
Retirement plan I've just heard of a new cruise that takes three years to go around the world, and that is my idea of the perfect retirement. Seeing lots of places without having to pack and unpack.
Personal motto Lead with love and love will follow.
Scarlette and Stuart Douglas will be among the experts at the Ideal Home Show Scotland at Glasgow's SEC, for four days from Friday, 26 May, see www.idealhomeshowscotland.co.uk