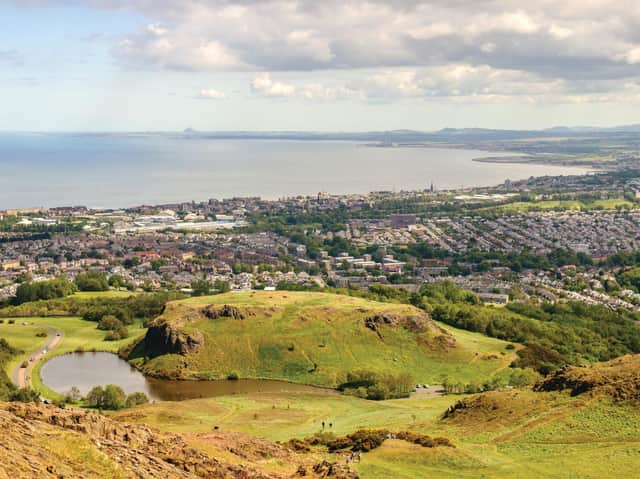 Picture: Shutterstock
Scotland is set to overtake the UK's prime property market over the next five years, according to research by estate agent Savills
Figures published by the firm show that Scotland's prime property market prices are likely to increase by 22.8 per cent by 2025, while those across the UK will rise to 20.5 per cent.
The research included analysis of data by TwentyCi which also shows a 28 per cent increase of agreed sales for residential properties priced at £1 million-plus between July and December 2020, compared to the same period in the previous year.
Savills, which has eight offices in Scotland, says that buyers' needs have evolved as a result of the pandemic, with lockdown largely influencing how prospective buyers are choosing properties.
Faisal Choudhry, Savills' head of residential research in Scotland, told a Scottish Home Truths webinar, hosted by the firm last month, that the market has been driven by a "renewed appetite for more space with a requirement for homes that offer outdoor space, garden space and a separate space to work or study".
He added: "Against a backdrop of a change in buyer needs, the Scottish residential property market reopened in June last year and has shown exceptional performance.
"The number of agreed sales and new instructions between July and December last year, compared to the same period in 2019, was
36 per cent higher and 30 per cent higher respectively, and this was amplified in the prime markets due to the relative financial security of buyers."
This performance comes despite an overall drop of sales throughout 2020 as the property market stalled between April and June as a result of the social restrictions put in place to tackle Covid19.
Last year saw the third-highest number of top-end transactions carried out in Scotland, with most of the 256 total prime property transactions being recorded in the last quarter.
Domestic buyers have accounted for 72 per cent of sales and top-end activity has been most notable in rural locations, including Ayrshire, Perthshire, East Lothian and the Scottish Borders, where sales have more than doubled during the last three months of last year compared to the last three of 2019.
However, industry experts also believe Edinburgh is likely to generate more growth in the prime property market.
James Whitson, director of Edinburgh Residential Sales at Rettie & Co., says: "Edinburgh's population is growing quickly while remaining a city with history and, in a pre-Covid world, a very popular tourist destination.
"Local planning laws, including a number of listed buildings and conservation areas, can also be prohibitive to how and where buildings are developed.
"Popular towns, particularly those in East Lothian on the coast, which are accessible and offer a great lifestyle, have been very sought after in the last year and will continue to be so."
He adds that he believes the prime market is set to rise faster than the rest of the property market, largely as a result of property owners returning to Edinburgh from other locations.
Whitson explains: "Over the course of the last year, property purchasers have been predominantly from domestic buyers. There has been an increase of people returning to Edinburgh from London and further afield.
"Viewing properties has not been easy for people from afar, as they can't stay over night, and so many of these buyers remain active in their search for an Edinburgh property."
Richard Loudon, chairman at Simpson & Marwick, believes that the Scottish prime market has more room for growth because of the quality of life offered in and around the prime property areas, in particular Edinburgh and East Lothian.
He says: "A lot of people have decided that they don't need to work in places such as London any longer and can educate their children for cheaper in Edinburgh, and commute to London once every fortnight if they have to.
"There has been an increase with people with significant seven-figure sums wanting to buy in East Lothian because they don't have to travel down south or into Edinburgh every day of the week."
Across Scotland, the Savills research shows there has been annual growth in the prime property market of 5.5 per cent in cities, 3.9 per cent in towns and
5.1 per cent in rural areas.
Choudhry told the webinar: "The prime markets across the UK and in Scotland have been driven by a desire for more space and a change in lifestyle, and I don't think that's going to change much in 2021 as a commitment to moving remains.
"Looking ahead, prime price movements will be dictated by the wider tax environment and the long-term implications of Brexit as that will impact the spending power of those who are looking to buy."
A message from the Editor:
Thank you for reading this article. We're more reliant on your support than ever as the shift in consumer habits brought about by Coronavirus impacts our advertisers.
If you haven't already, please consider supporting our trusted, fact-checked journalism by taking out a digital subscription.