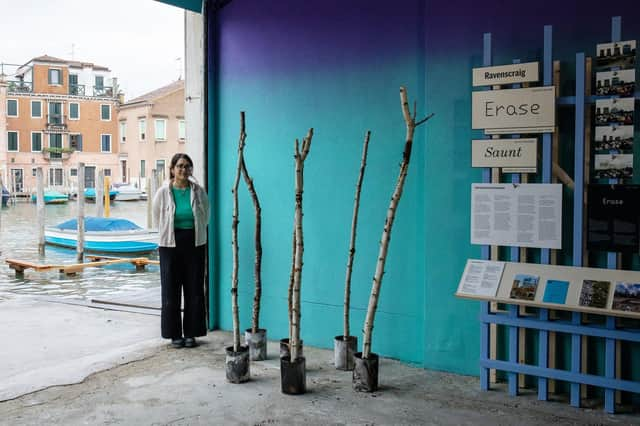 Neil and Alasdair Stephen, who founded Dualchas Architects in 1996, have been invited to take part in the main curated exhibition at this year's Venice Architecture Biennale, which opens its doors to the public this weekend.
A four-screen film exploring the founding principles of Dualchas is showing at the heart of the Arsenale in Venice alongside work from around the world, following an invitation from this year's curator, Scots-Ghanaian architect and academic Lesley Lokko.
The Architecture Biennale, which runs until November 26, happens every other year, alternating with the Art Biennale which is the biggest festival of contemporary art in the world.
Lokko, who grew up between Scotland and Ghana, and is the first black architect to curate the Biennale, has described the two principles of her programme as "decolonisation and decarbonisation". Her show, called 'The Laboratory of the Future', brings together 89 participants, more than half from Africa or the African diaspora.
She invited Dualchas to take part as a positive example of architecture which is inspired by local landscapes and culture, rather than fashion or the ideas of "celebrity" architects.
Neil Stephen said: "We were introduced to Lesley Lokko through a mutual friend, and then we discovered she is a big fan of Dualchas.
"In many developing countries, people look to architecture from outside rather than being inspired by their own culture. We are inspired by where our family is from, by the traditional building forms of the Highlands. Lesley saw us as a practice connected to our own community, a story of optimism and strength."
The brothers were still students when they decided to set up Dualchas on Skye at a time when few architectural practices were based outside cities.
Neil Stephen said: "We went to hear an architect giving a talk at Strathclyde University where we were studying. He said the reason that there were so many kit-houses in the Highlands is that Highlanders were philistines.
"My brother, who was learning Gaelic at the time, stood up and said: 'How dare you call my people philistines? The Gaelic world has a rich, deep culture. The reason people are building kit-houses is because there are no architects offering any alternatives.'
"He got a big round of applause. After he sat down, we looked at each other and I said: 'We're doing architecture, maybe we should do it?'
"It does seem crazy now. We had a desk each and a drawing table in a room at my gran's house. She was answering the phone for us. We didn't know very much, but within a year we had built our first building, then people started to take us seriously."
Dualchas now employs 16 people, and has built around 200 houses. The practice is currently working on an Arts Hub on the Western Isles and a visitor centre on St Kilda as well as projects in the Scilly Isles, Guernsey and the USA.
The Dualchas exhibition is just one aspect of Scotland's presence at the Architecture Biennale. The "official" Scottish exhibition is part of the Biennale's collateral programme, and is being staged at Docks Cantieri Cucchini, the venue used by the Scotland + Venice partnership since 2019.
Also opening to the public this weekend, the show, titled A Fragile Correspondence, is a collaboration between the grassroots organisation Architecture Fringe and two young architectural collectives, —ism magazine and /other [Note: this is how they are written, see www.scotlandandvenice.com]. The exhibition explores the connections between land and language, and how this can help architecture become more attuned to the environment in which it operates.
Described as "a journey across Scotland", it focusses on three locations, Loch Ness, Orkney and the site of the former steelworks at Ravenscraig near Motherwell, exploring issues such as sustainable forests, lost languages and working in partnership with landscape.
Andy Summers, co-founder and co-director of Architecture Fringe, said the show had a "natural kinship" with Lesley Lokko's ideas. He said: "We're in a climate emergency and we need to take a deep pause and review how we build. What this Biennale is doing is trying to force us to reorganise how we use archicture because we're ruining the planet.
"Like a lot of the work in Venice this year, we're trying to widen and explode what architecture is. It's not just about designing and building buildings, it's about people and systems, landscape, ecology and materials."
Jim MacDonald, chief executive of Architecture & Design Scotland, which is part of the Scotland + Venice partnership, applauded Scotland's "strong presence" at the Biennale.
He said: "I'm struck by the quality of the stories and messages Scotland brings to the world stage. We more than measure up to the work of larger nations and Lesley Lokko's connection to Scotland gives extra weight this year.
"The resonance with other shows is strong, and the clarity and power of our content stands up in a really positive way. It underlines the importance of Scotland's participation in this event."
Concerns have been voiced about the future of Scotland's representation at the Venice Biennale after it was announced that, after a 20-year presence at the event, there would not be a collateral exhibition at the 2024 Art festival.
A statement from Scotland + Venice in March cited "the present financial and planning environment", saying a "pause" was needed "to allow for a period of reflection and review".
Jim MacDonald said: "Maybe we have to reinvent what being here means, I'm sure there are things we could do differently. It's right to review how we do things with the various pressures on public expenditure.
"But my message is: don't lose sight of the value this has and the greater value it could have. Connections to the rest of the world have never been more important in a Scottish context and each time I come to Venice, I'm reminded of the connections and relationships we are able to forge by being here."