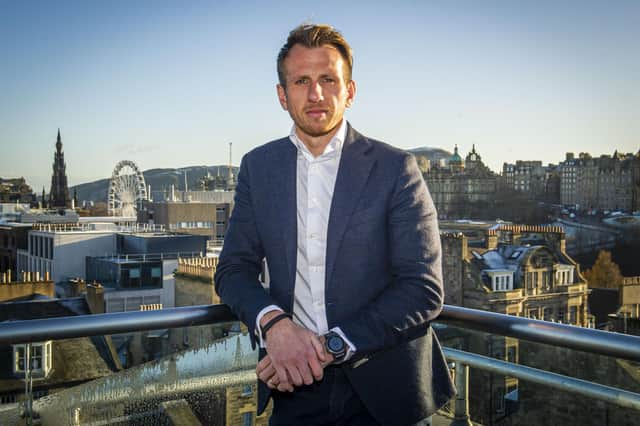 Just this year, Revere has won four: Gold Winner Estate Agent in Edinburgh at the British Property Awards, both Best Local Estate Agent and the Customer Service Excellence Award at Build magazine's Real Estate & Property Awards, and the SME News award for Best Modern Estate Agency.
Barrie is from Edinburgh and has extensive experience working in the property market both here and abroad. He explains: "I spent a few years working in the industry in Dubai, which gave me a really different perspective. There are many aspects that I've brought back and implemented in Revere."
The Dubai market is based on the American model, so while Barrie says that some of its cut-throat practices would not sit well in more genteel Edinburgh, he spotted attitudes that Scottish agents could emulate – including the close relationship between agents and clients.
He says: "I believe that clients gain a better service by having one-to-one contact with an individual agent all the way through the process, which is really what we have built Revere on.
"I am the sole point of contact for clients, from the first valuation right through to the property going under offer, so you aren't dealing with three or four different people within a firm which may result in a breakdown of communication. Clients have taken really well to that concept."
Revere covers the whole of Edinburgh and sales this year have included everything from modest one-bedroom flats in Leith, to grand detached houses in Greenbank, with prices from £120,000 to just under the million mark, all with a standard selling fee of 1 per cent.
Another take from the Dubai market is the essential role of a professional to negotiate on behalf of a seller to get the best deal – and Barrie believes this is more important now than ever. "Coming into a tougher market, it is crucial. In the past two years it has been a strong seller's market, but that is going to change and become more balanced.
"Strong negotiation skills from an agent is a large part of the market in Dubai, and sellers here really benefit from our abilities in that."
A bespoke method to marketing each individual property, rather than a one-size-fits-all approach, is also something that sets Revere apart, he explains. "We target different buyers depending on the property, for example a centrally located family home would merit a completely different marketing approach to an investment property, or a bit of a do-er upper. It's up to us as the agent to add value and advise the best marketing strategy prior to listing a property.
"We carry out extensive research on key aspects that buyers will want to know, from school catchments, ease of commuting and likely rental returns so that the information is really tailored to likely interest."
While he builds relations with sellers, his colleague, Ellie McCallum, concentrates on working closely with purchasers. Barrie says: "It has been really tough for buyers in the last two years and Ellie gets to know their requirements so she can contact them immediately if she finds a good property fit.
"There are a lot of off-market sales in Edinburgh, so we liaise with letting agents, portfolio owners and even other estate agents to find opportunities out there for buyers, which they may never have known about otherwise. Ultimately, having such a large database of active buyers will benefit our sellers too."
The modest size of Barrie's company makes it easy to adapt to change – which is more important than ever this year in a volatile selling environment. He says: "In the larger firms, when I worked for them, if you had a good idea it would take months to do anything about it, but we are nimble enough to implement changes quickly."
As well as the industry awards, clients are appreciating Revere's approach too. The firm maintains a perfect score in its Google reviews, and Barrie reports that word-of-mouth referrals are their biggest introduction to new business, from people who have first come to them as buyers but have a house to sell, to recommendations of friends and family of former clients.
As to the immediate future of the market, Barrie observes: "There has obviously been a big shift due to the increase of mortgage rates, which will stifle demand and will require a change of approach for vendors in the next year or so.
"Presentation of a house for sale will become more important but having an experienced negotiator working on your behalf will be crucial."
All of which is an argument against sellers cutting costs on estate agency fees, according to Barrie. "We get a lot of clients who have tried a cut-price route first and then come to us. A lot of estate agents have been very busy for the last few years but – in a slower market – quality counts."To find out more about Revere go to www.reverehome.co.uk