Property interview: urban regeneration specialist David Westwater on his Rowanbank development
Job title: Regional director for Artisan Real Estate in Scotland. We are an urban regeneration specialist in both residential and commercial property, and we work across the UK. Our Rowanbank development in Edinburgh has just been given the first-ever Excellence in Sustainability Award at the 2023 Scottish Homes Awards.
How long have you been involved in the Rowanbank project? Since the very beginning. We have been onsite since the middle of 2021 working with our partnering contractor, Cruden.
We are building 126 sustainable homes, 33 of which will be delivered as affordable housing, but using exactly the same ethos and philosophy for both types.
What was on the site before? It was a nursing home which was demolished to make way for new housing.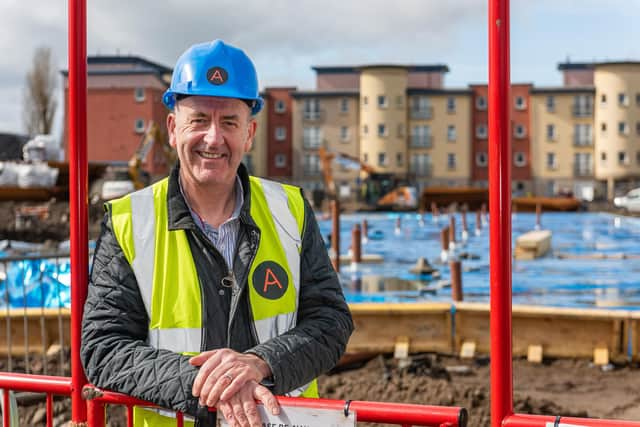 Where possible, we save existing buildings – repurposing and enhancing them – but in this case the building wasn't suitable. We did recycle and upcycle a lot of the materials from the demolition to use onsite, for instance, in levelling the ground.
​How important is sustainability to the company? We are committed to delivering sustainable homes, not just green homes, but sustainable from all aspects.
This starts from the beginning of the process. We select sites in areas with established communities and good links to public services, in line with the 20-minute neighbourhood national planning framework.
We like to deliver developments where there is already good community, public and wider infrastructure, so that our developments integrate and enhance the area.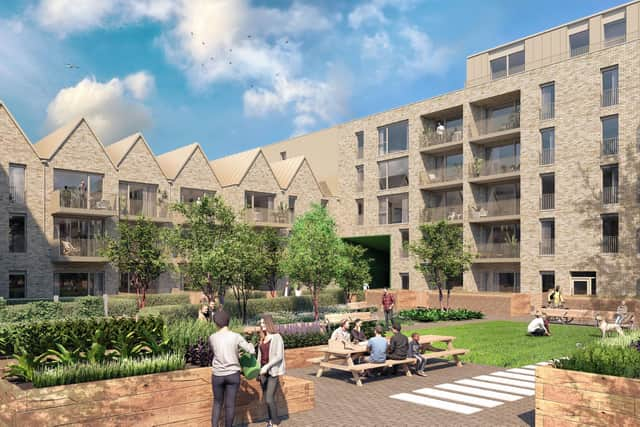 It goes from selecting the best site for sustainability, right through to ensuring that new residents have sustainable transport on their doorstep, which Rowanbank absolutely delivers.
We will provide each resident with an individual travel plan when they move in, to show exactly the walking, cycling and public transport options to get them to work or school.
​How do you source materials?We always try to use a local supply chain, with an established footprint and locally sourced materials.
That is to ensure that we aren't bringing materials unnecessary distances and adding to the carbon footprint of the build.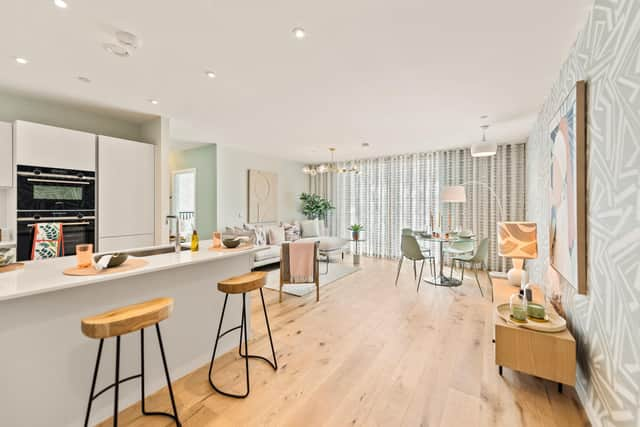 What about the design of the properties? Energy efficiency is at the heart of the design and we really do push the envelope in terms of what is possible.
At Rowanbank, for instance, there is no use of fossil fuels. We have put in individual heat pumps to all the apartments, which will provide all hot water and heating.
The homes are very well insulated with fantastic air tightness credentials as well, which obviously will be kind to the environment,but also kind to the occupant's finances too.
The green roofs are proven to provide natural insulation – to keep homes warm in winter and cool in the summer.
​What about the wider development? We like to make sure that it is not just the homes we design, but the environment and surroundings.
At Rowanbank, we have put in a large courtyard, with fruit trees and small allotment areas so residents can grow their own food.
It is all usable space, which enhances the entire local area for residents and neighbours.
To have that amount of outside space in a city-centre development is unusual, but we believe it is what people want.
It is still a dense development, but it has excellent place-making credentials.
​How successful have sales been so far? We have sold 45 per cent of homes already, off-plan, and we have now opened a showhome, which has already attracted over 100 visitors in a short time.
The first owners will be moving in shortly, and the whole development is due for completion at the beginning of 2024.
Not all the units at the site are released yet, but we have a good selection available.
​What kind of people are buying? We have quite a lot of downsizers, who are definitely attracted to the provision of outside space that they don't need to look after themselves.
The apartments are generous in their square footage, which also appeals to downsizers moving from a larger home.
And we have had quite a few first-time buyers, but no matter what the stage in life, the buyers so far have been mostly owner occupiers – we have sold very few to investors.
It is mostly people wanting a home for themselves.