Property interview: firm foundations for family concern
The Carling Group: probably the largest private property portfolio in Scotland. Kirsty McLuckie meets Leanne Carling, one half of the eponymous duo behind the Broughty Ferry-based operation.
How did you start in the property business? Graeme and I both worked in distribution for the same company when we originally met in Falkirk.
He is very entrepreneurial and wanted to start his own property business. He gave me a book, Rich Woman by Kim Kiyosaki, which inspired me to want to consider working for myself, and so we both quit our jobs in 2007 – just when I was expecting our first child.
We had just bought a house too, and I think both our parents thought we were crazy.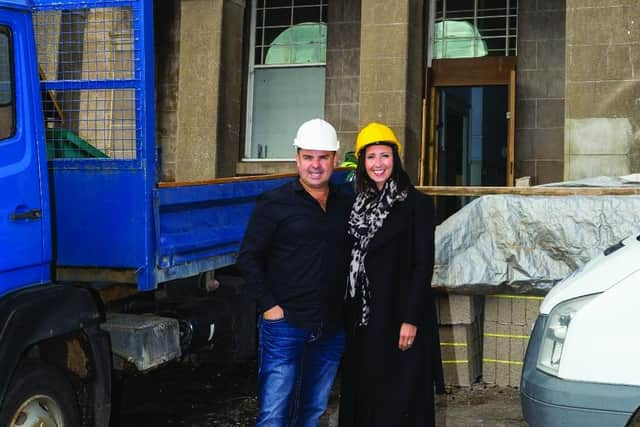 We had £20,000 of savings to cover our bills until we could earn some income.
How did you find your first properties? We created leaflets and I took our baby in his pram and walked round different neighbourhoods to deliver them, wherever we had identified as being a good target area, asking if people were looking to sell. Our plan was to aim for mid-market, affordable housing for families.
We searched for about five months before managing to buy anything, and our emergency fund was starting to run out, but then we made our first purchase in Aberdeen in March 2008.
We used none of our own money, but at the time we were able to refinance immediately – the sameday – which gave us the equity for the next purchase, and we bought the first four like that. That is certainly not something you can do today.
​How big is your portfolio now? We have 350 units, although I've sold more than I've bought this year. Something like 95 to 97 per cent of landlords only own one or two properties, which can be very difficult if anything goes wrong, but with our portfolio spread we are better able to weather ups and downs. Predominantly they are in Scotland –in Angus, Tayside and the Central Belt. And we also have property in Spain, renting to both British and Spanish people.
​How did you expand into developing property? I am a deal junkie, so if the numbers work we will look at converting existing buildings to provide housing. We have converted several buildings that were standing vacant – an old school, a bank, a pub –and all of them [reconfigured] into six or eight apartments each.
It was just a natural progression from buying properties.
I love working on these projects, but it is a very true saying: "man plans, and god laughs", because some unexpected things always crop up. For instance, we converted the school, dating from the 1800s, in Blairgowrie into six apartments, but when we lifted the floor we found that it was sitting on two bricks, so you can't plan for things like that. We found a car engine under the floor in another development.
​How many people do you employ? Throughout all the businesses in group we have about 300 employees, but we use a lot of tradespeople, legal staff, accountants, etc, in addition to that.
​Do Graeme and yourself have defined roles in the company? As we have grown, we definitely have our own lanes – and we tend stay in them, otherwise there is a chance of us clashing.
Initially, I will approach properties that we are looking at and start sorting out the deal. Then Graeme will take over for financial details, legal requirements, and dealing with fellow investors, to see it through to the completion of the acquisition. And then it will come back to me to deal with managing the property.
​Would you advise other landlords to rent to families in particular? Definitely. Families want a secure place to stay long term, particularly if they have school-aged children.
I've got tenants that I've had since 2008, and we've seen them grow up. I don't see why landlords would discriminate against families, but I have heard of it happening.
Born and raised I was born in Glasgow's Rottenrow Hospital, and raised in Cumbernauld. I went to the school featured in Gregory's Girl [the 1981 Scottish comedy film classic].
First Job I worked in Dobbies Garden Centre when I was at school and got a holiday job in a logistics company at the weekend and after school. I planned to go to university to study languages, but I loved logistics so much that when I was asked to go full-time, I jumped at it.
Family Husband Graeme, son Mitchell, aged 15, and daughter Blaire, who is 13.
Where do you live now? We moved from just outside Dundee to Dubai two years ago, because we were expanding the business globally. It is an energetic place, with a real can-do attitude and we love the combination of East meets West.
Hobbies Every day I have to walk or cycle and I take an hour to myself to do that, otherwise you can find yourself sitting at your desk at 9pm without having left it all day. Graeme and I love hiking, and we got to Everest base camp in May.
Personal motto I'm inspired by Art Williams, the American football coach, who gave a famous speech urging people to: "Just DO it."