Prestige property: hidden gem in Granite City invites firm offer
Rotunda Lodge, in one of the Granite City's most popular residential neighbourhoods, appears to be an unassuming, single-storey villa viewed from street level on Polmuir Road.
But, tucked away neatly behind the stone-built walls that border its half-acre grounds is a noble three-storey 19th-Century mansion.
The C-listed detached property was built in 1842 for John Roy, owner of the former Ferryhill Gardens – also known as Roy's Nursery – which once extended from Ferryhill down to where Duthie Park is now situated.
A real surprise, however, is its striking, split-level rear conservatory, designed by agricultural architect Ronald Harrison and added during the 20th Century.
It is enjoyed on sunny days by owners Professor Stan Urbaniak and his wife, Kate, who bought the six-bedroom house 17 years ago.
"We had lived nearby and often walked down this road," the latter recalls. "We always thought thehouse looked very interesting, although you can't see much from the road.
"We went and had a look at it when it went up for sale and, even though we were a bit older and it was just the two of us, it was a very beautiful house so we had to buy it."
The couple hired the help of Aberdeen-based building surveyors and architects Squire Associates to supervise improvement works, which included building a garage with a first-floor room to the side of the house, where there had been lean-to with corrugated roof.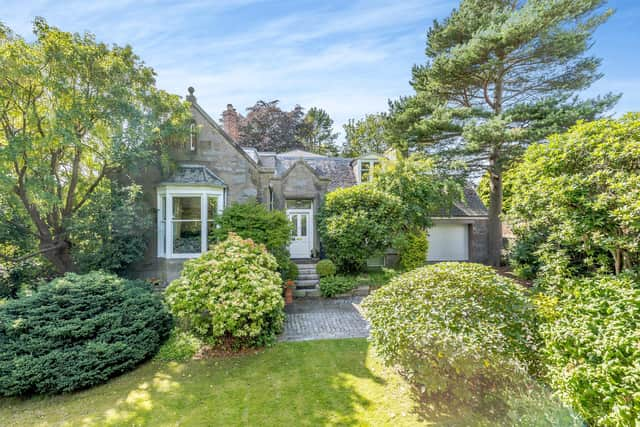 They installed double glazing to all of the windows, converted a coal vault into a wine cellar and cold store, and re-slated part of the roof.
With more than 4,000sq ft, the home has a wealth of space for hosting visitors. "We have children in Australia, so it is a lovely family house when they come to visit," explains Kate, a retired teacher.
"We did have an instructor from the Big Noise music charity living downstairs for a few years, because there is basically a self-contained flat there."
The lower-ground floor of number 16 has three bedrooms, one of which is currently used as an office, and a kitchen with sitting and dining area in the conservatory.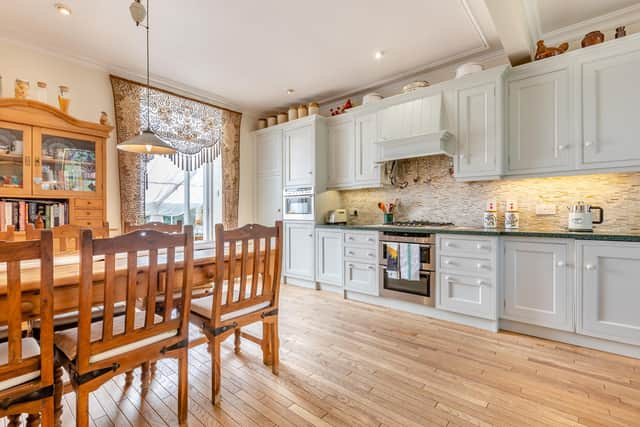 This storey affords buyers the opportunity to create a separate flat by closing off the stairway from the main accommodation of the house.
A front-facing ground-floor sitting room has feature bay windows with original working shutters, and a dining room with elegant cornicing is also on this floor.
Double doors here open to the conservatory, making it an ideal space for entertaining.
A Clive Christian kitchen with beautiful stained glass window is found to the rear.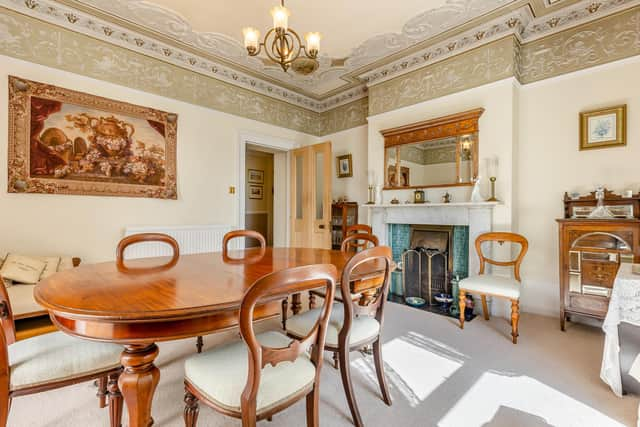 Two bedrooms and a family bathroom, complete with with clawfoot bath, are on the top storey.
The exterior grounds play host to a stunning and very sheltered garden, which benefits fully from having no neighbouring homes overlooking it.
"The garden is very low maintenance, in that it is mainly a woodland garden with many protected trees," says Kate. "It is particularly joyous in the spring time, and there is just a lawn to be kept up.
"When you are in the upstairs conservatory, it is just like being in the country, because you can't see any other houses. It is very secluded and special."
Ferryhill is sat squarely in the much sought-after southside of Aberdeen, and the area is within easy reach of the city's many amenities, with Union Street in walking distance.
Nevertheless, the Urbaniaks are now relocating elsewhere to be closer to their family but not, it seems, without an element of wistful regret.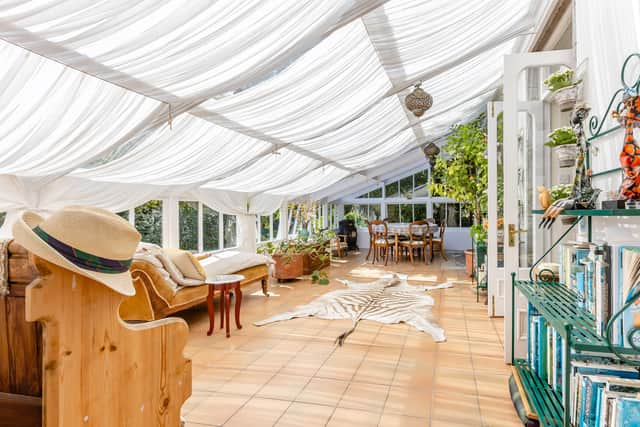 Kate concludes: "I couldn't have wanted to live anywhere else in Aberdeen because it is such a wonderful house. It is a little enclave of solitude in the middle of the city."