Pictured: Scottish Storm House with James Bond furniture and a hot tub with a view
Owners of Stormhouse, Jim Milligan and Nicola Meekin readily admit they were obsessed by the view and it's not difficult to see why.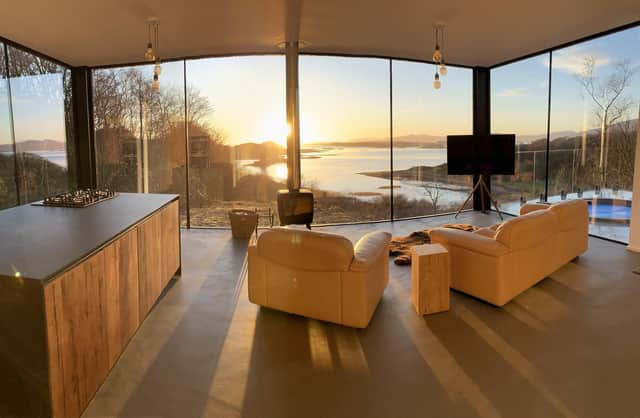 The interior of the stunning Storm House. Picture: Coolstays
This fabulous view however wasn't readily available when Jim and his partner, Nicola first viewed the site at Appin ten years ago as he explains: "The site was covered in rhododendrons, birch, oak and chestnut trees.
"It's about ten acres in size and you could hardly walk through any of it, you were quite literally on your hands and knees."
Living locally however, Jim knew that the site followed a seam of rock which runs all the way down to Oban and he knew once the site was cleared the views of Castle Stalker and Loch Laich would be stunning.
Patience is a virtue and the couple needed plenty of it as the planning process took several years.
However, it gave them time to get the site in good order and obsess about how to encapsulate the spectacular views.
"We had a really clear vision of what we wanted but fortunately our architect was excellent and made sure we didn't go the wrong direction.
"Our first idea had been to have a cantilever design but after we spoke to the structural engineer he pointed out that whilst the design looked great on paper and conformed to all the planning regulations with regards to strength, safety etc; as a rule these regulations didn't take into account the weather on the west coast of Scotland."
The sheltered hot tub - which is monitored and maintained remotely - is a centrepiece of the property. Picture: Coolstays
The cantilever idea was shelved, and a new plan hatched to maximise the outlook whilst hitting all the insulation targets which come with so much glazing.
"Once we knew we had the view we became a bit obsessed about the exterior but fortunately the architect reminded us that the interior was just as important, and we started to focus on that as well."
A concrete floor running throughout the property was first on the wish list but not the easiest to source.
"We looked at several different concrete products but most of the companies were geared up for commercial spaces.
The remarkable view from the Storm House. Picture: Coolstays
"Eventually we found a company in Glasgow who were willing to do a smaller area and we now have concrete floors everywhere except the bedroom.
"We don't have any skirting, so it runs right up to the glass in the living area which looks great and in the wet room we used it on the walls as well."
The wet room's wall-to-wall concrete finish allows guests to splash away to their heart's content under the spacious waterfall shower and there's also an inbuilt SONOS sound system to make it a real spa experience.
Whilst the couple were aiming for a minimal look; they didn't want sterile and comfort was key. "We steered clear of a white gloss kitchen and chose a rustic oak version which came from Gideon Robinson in Glasgow.
The stunning Storm House. Picture: Coolstays
"The oak adds texture and with the underfloor heating and the retro-style, wood burning stove, it's a sleek but cosy space."
The Swiss Desede sofa and armchair also soften the look and asides from being incredibly comfortable they come with a great story too.
"I think we bought them from Christies," Jim recalls. "They're about 40 years old but the leather is still so soft and they were used in the James Bond Film, On Her Majesty's Secret Service. I think they came from an old film set company.
"We have a little homage to them in the form of a photo on the wall. It features a scene with Telly Savalas as Blofeld sitting on them. Not many guests catch on to it, but we know it's there."
Something else guests don't notice instantly is the glass balustrade around the sunken hot tub outside.
"We don't like to talk about the hot tub because of the money it cost. We wanted to make it as maintenance-free as possible, so again it was fitted to a commercial standard and it is remotely monitored and that is why it cost a fortune.
"However, it does look great and with the glass balustrade you get the view with shelter. The wind can be blowing at 100 miles an hour and you could still be in the hot tub."
With this level of comfort and luxury, one can imagine that guests won't want to leave Stormhouse but Jim and Nicola were keen that the property offered more than just a great place to stay.
"We own the Old Inn at Appin at the bottom of the hill and also the Castle Stalker View Cafe & Gift Shop at the top, along with a seafood restaurant that we've just opened.
"The plan is that Stormhouse would complement these businesses. We want to offer guests an experience of the area not just a self-catering stay.
"Everything is in walkable distance, you can be ordering a drink at the bar within five minutes, you're that close even though you feel like you're completely remote."
With extensive experience in the hospitality trade, Jim has found himself in a unusual position with Stormhouse.
"What I've found strange, is that Nicola and I have found ourselves staying here quite a lot. Down at the bar, I don't like staying for a drink as I keep seeing things I want to fix or do, but up here it is different.
"It's a really special place and I enjoy being here and of course, there's that view..."
A message from the Editor:Thank you for reading this article. We're more reliant on your support than ever as the shift in consumer habits brought about by Coronavirus impacts our advertisers.
Want to join the conversation? Please or to comment on this article.