Low-cost tips on how to make your home appealing to potential buyers
If you're thinking of putting your home on the market it's important to stand out among the rest.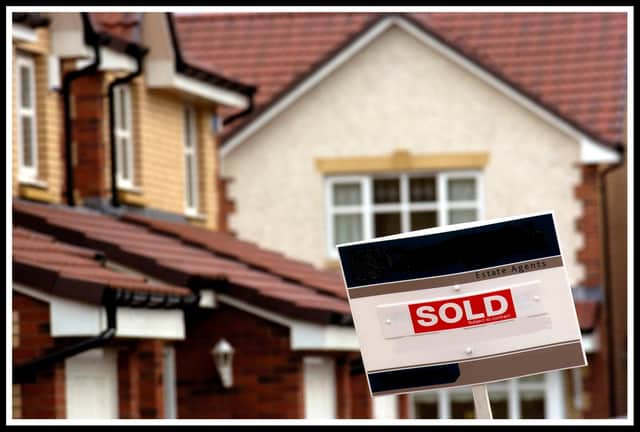 There are simple things you can do to help sell your house. Pic: Donald MacLeod.
Interiors specialist Richard Petrie at window furnishing experts Thomas Sanderson has put together the following tips on how you can make your home more appealing to potential buyers without breaking the bank.
1 First impressions matter
A potential buyer's first impression of your home really counts and they're judging your home way before they step their foot across the threshold. Although your house might be gorgeous on the inside if the outside doesn't look great it could still put a buyer off making an offer. Try tidying your garden, cleaning your front door, and buying a new welcome mat, you'll be surprised at how inviting it will make your home.
A neat kitchen will give a good impression to potential buyers.
2 Tidy up
Prospective buyers want to check inside cupboards, check the water pressure in the shower and have a nosy everywhere, so if your cupboards are full of clutter and your shower is full of limescale this could really put a buyer off. Deep clean your home from top to bottom and then keep on top of this throughout the viewing process. Many others won't bother and your home will stand above all the rest!
3 Fresh Coat of Paint
If you have painted your home previously in bright or bold colours it might be good to paint over these colours in more neutral colours. Having the right lighting with the addition of neutral colour will make a room seem much bigger than it is and also help potential buyers see your home as a blank canvas for them to put their mark on.
4 Upcycle dated furnishings
The bathroom and kitchen can be a huge deciding factor when buying a home, if these rooms in your house need some work it might be worth considering a tiny facelift to revitalise them. Painting cupboard doors and replacing door handles can completely transform a kitchen to seem brand new!
You can replace fixtures like shower curtains or swap out old towels to refresh a space in the bathroom. You can also paint the tiles or deep clean them to give them the facelift they need.
5 Hide the clutter
A buyer wants to be able to imagine themselves living in your home. So if you have boxes or clutter these might reduce the chances of your home getting sold quickly. De-personalize your space by removing family photos, organising your desk, and clearing counters. This will help a buyer imagine themselves using the space with their things instead.
6 Eliminate bad smells
Nobody likes to think their home smells but odours from cooking, smoking, pets, and full bins can really put a buyer off. Make sure all bedding and laundry are freshly washed and drains are cleaned to minimise the chances of odours lurking. Also, air your home often while it's on the market. To keep your home smelling fresh and inviting, introduce flowers or a single scent across your home in the use of candles, wax burners, or diffusers.