Lewis Capaldi house: where is the Someone You Loved singer's £1.6m mansion - and what upgrades is he making?
Capaldi bought the converted barn in Castlehill in East Renfrewshire in 2019 and luxury refurbishment plans have now been approved
Scottish singer-songwriter Lewis Capaldi has often spoken about his life in Bathgate, where he lives with his parents.
However, his latest investment and the extensive renovations that will be made to his new mansion casts doubts over his claims.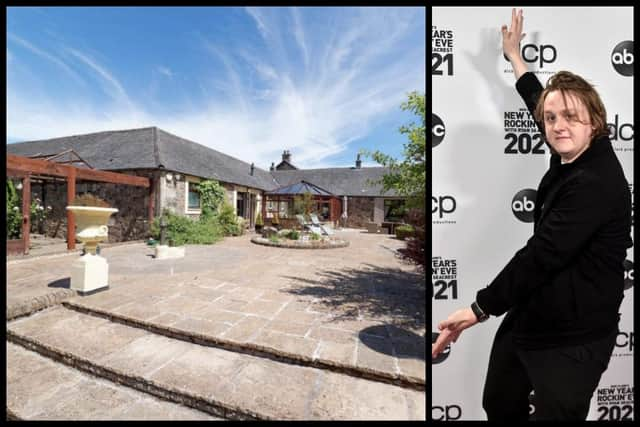 So, where will the hilarious founder of 'Face Like Thunder Limited' be living and what work is being carried out at the barn? This is what you need to know.
Where is Lewis Capaldi's new home?
Capaldi's new residence is in the Castlehill area of East Renfrewshire, just outside of Glasgow.
But he won't be rocking up to a semi-detached in a leafy suburban street.Instead he now has ownership of a luxury converted barn surrounded by 10 acres of rolling countryside.
The luxurious mansion also has its own man-made island and bridge and was purchased by Capaldi in 2019.
The musician hasn't moved in though, instead submitting substantial renovation plans to the local council in September 2020, which were approved on 11 February.
What renovations will be carried out?
The barn contains several sets of stables, which the Scottish star will convert into various leisure and living areas.
One set of stables will be renovated to contain an exercise room and a gym, while another will be converted into other spare bedrooms and a vast garage.
An extension will then be added to the farmhouse to create space for a media room, home cinema, an expanded master bedroom and a new kitchen.
Plans made public by East Renfrewshire Council also showcase a floor-to-ceiling glass front to the main block, beaming light into an open-plan lounge and dining room. Another section of the house will have skylights and a zinc roof.
Planning documents said: 'In light of the considerations noted above, it is considered that the proposed development will not result in any adverse impacts.
'In addition, the proposal generally complies with the terms of the Local Development Plan and there are no material considerations that indicate otherwise.
'The proposed external finishes albeit contemporary are considered to complement the character and setting of the traditional building. It is therefore recommended that the application is approved.'
Capaldi is single, as far as the public are concerned. The singer is known for his romantic, heartbreaking ballads and has shared some information about his previous relationship with Love Island star Paige Turley.
He was then off the market again briefly in 2020, dating fellow Scot Catherine Halliday but they split up in September.
Therefore, it isn't expected that he will be moving into the house with a significant other, but could welcome friends, siblings - Warren, Anthony and Danielle - and his parents.
During lockdown, Capaldi refurbished a spare room at his parents property to create a home gym - including a squat rack, dumbbells and exercise bike.