Kirsty McLuckie: properties to suit home-loving pups
When choosing a place to live we should try to satisfy the desires of all members of the family, but should the ticklist of our four-legged friends supersede our own wishes?It was National Dog Day last week and in response Barratt Developments Scotland commissioned a survey of pooch-owning Scots to ask just how important the needs of their pets are in the home-buying process.
We know that we are a nation of dog lovers – a third of us now have at least one – but the research reveals that over half of owners would prioritise their dog's needs over their partner's when it came to choosing where to live, with a quarter saying they'd always put Fido first.
So strong is the love that 70 per cent of those surveyed would pass up the opportunity to own their dream home if it wasn't right for their dog, and almost nine in ten agreed that among the top criteria for choosing a home would be that it suited the needs of their canine chum.
While I haven't, as yet, bought a property to suit the family dog, I have got rid of a car because our elderly collie could no longer get over the high lip in the boot, so I can see my next move might be viewed through a dog's eyes.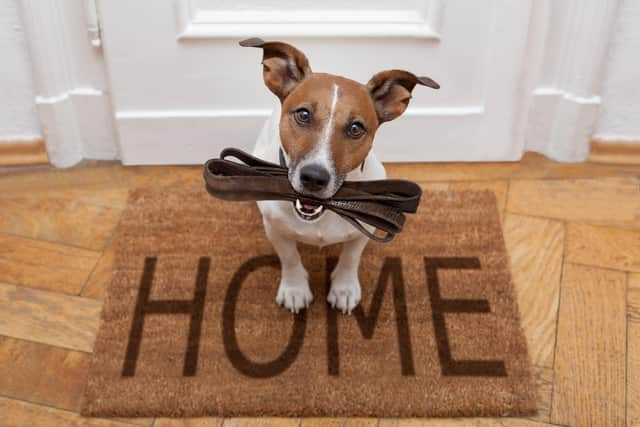 Obvious features that will make a pet feel more at home include a secure garden and enough space inside to wag a tail.
For owners, an outdoor tap or a utility room to clean muddy paws is a boon, whereas a door that opens onto a busy road would be a no-no.
But Edinburgh-based Pamela Moffat of Dog Training by Design says that there are other things to look out for in a new home, to make for perfect canine contentment.
Floors can cause problems, particularly for new arrivals, she says: "Laminate flooring causes issues with dogs, especially growing puppies if they slip regularly, so you will need to secure rugs and mats to stop them hurting themselves.
"And full-length windows or patio doors can cause barky dogs to react to every passing car, bike, dog or person, and you may find yourself having to draw the curtains to get some peace!"
Garden access is a problem for some dogs more than others, Pamela explains: "For puppies who are being toilet trained, sick or older dogs with weak bladders and bowels, life is easier when there's easy access to a garden. It can be tricky for guardians who have to navigate shared flights of stairs during the night in pyjamas when their dog needs to go out."
A fenced garden is a must, but it depends on the type of fencing. She says: "If there is just one layer of panelling so dogs can see into neighbouring gardens, then the result may well be reacting to children or dogs in neighbouring houses."
And gardens with just a patch of grass can be boring for dogs – they need trees and shrubs to create interest for sniffs, smells and widdles.
But Pamela advises that those who prioritise their dogs when looking for a new home should also scrutinise the area, as well as the property.
"Housing estates with no pavements to walk on means there's no obvious boundary when walking on lead and the open grassy areas at the front of properties seem fair game as toilets."
And, like us, canines can have problem neighbours. Pamela says: "Lots of dogs in one area can make for issues. There's bound to be one who your dog takes a dislike to, and in an area with close proximity to lots of dogs, when one starts barking they might all join in."​